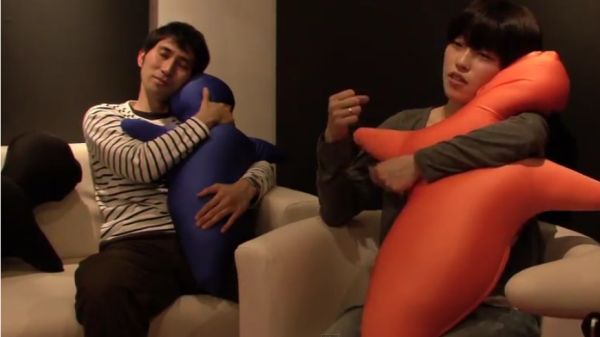 This robotic pillow has the generic shape of a person and is currently targeted at the children and the elderly. It is to replicate the lost human connection while communicating from long distance on the phone. The developer, Hiroshi Ishiguro of Osaka University, has drawn inspiration from the Telenoid robot to shape this soft bot.
The Hugvie
Hugvie is the name given to this generic and brightly colored pillow robot where one can keep a smartphone in its pocket. This becomes a sort of physical communication medium as the robot has micro controller and vibrators, which can mimic the characteristics of the caller's voice. This enables for people to have a richer communication experience with loved ones who are far away. The robot produces the sound of a heartbeat, which intensifies as the volume and tone of the caller's voice changes according to emotions. The heartbeat sound is produced by the two vibrators, which can translate the emotions of the caller's voice into a very physical form. The replicated human heartbeat can be a source of great comfort for someone hugging the robot pillow while talking to loved ones.
For whom it is developed
People are beginning to miss out so much on the tactile human touch in this fast paced world, so this lovable Hugvie comes in as a comforting substitute for the elderly and children. The developer wants to create a Hugvie for lovers who are in a long distance relationship. This robot becomes a convenient source of parental love when a child is left at home while parents are of town for business. Likewise, the elderly can use this while speaking to the primary caregiver or any family member over the phone.
Currently, the Hugvie is showcased in Tokyo's Vstone Robot Center and is priced at $60. The developer wishes to put in internal frame with many vibrators and sensors in future, so as to make it feel like a real person while it is being hugged.
Via: DigInfo