Be it your kitchen sink or the sink in bathroom, the space underneath the sinks never goes unnoticed. It is usually seen that such a space is used for laying the dustbins there. But, have you ever thought of making some sort of smart use with this small space. Yes, making use of that space will let you help with many unnecessary scattered daily things used on frequent basis. Just with some of this cool tips provided in the later half, you can decorate that not so useful space and manage your home much more effectively. Follow on to the tips mentioned below.
Place down some pots and pans with Roll Out Cabinet Drawers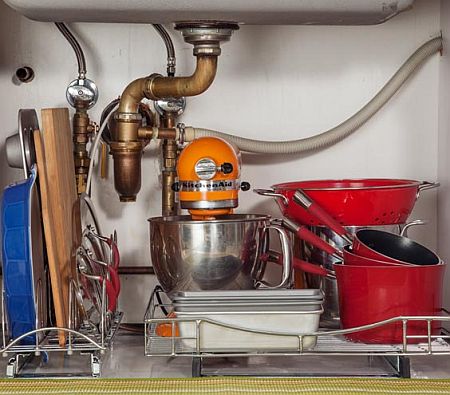 If you are running out of space in your cabinets, then this would be a perfect idea to store out your pots, pans, mixers etc underneath your sink. Organize such petty home appliances with roll out cabinet drawers. They are mini cabinets with rollers attached for smooth mobility and easy availability. You can perfectly store some pots, mixer, slow cooker etc that are used on daily basis in the cabinet. It will act as a cozy sweet little home for your extra utensils that usually had no space for storing them. Available for $75 only. You can also use the Axis Over the Cabinet Hooks for hanging those pans comfortably. It is available for $12.
Lazy Susan & Linus Stacking Bin for storing Kitchen Cleaning Supplies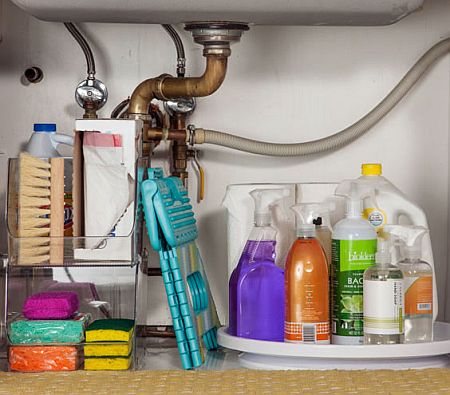 Available for $25 only, the Lazy Susan will help you organize the kitchen cleaning supplies by taking a minimum of space. You can store all kinds of kitchen solvents necessary in your kitchen cleanings. So be it a hand washer or all-purpose spray, a dishwasher detergent or a scrub, all this can be placed on to Lazy Susan and Linus Stacking Bin with proper alignment. It can be the best idea to store under the sink space. This will eliminate the hassle of searching cleaning items every now and then.
Pull Out Recycler & Over Cabinet Bag holder for keeping trash and recyclables at one corner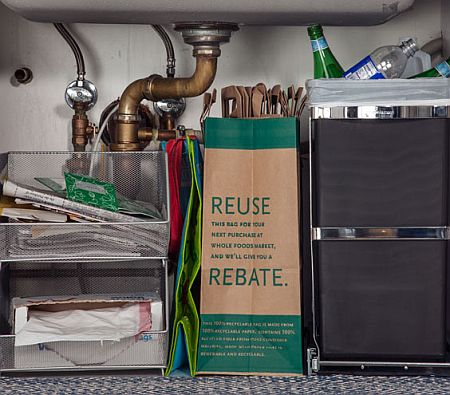 Let all your kitchen trash be organized with these amazing handy tools. You can separate those paper, magazines, plastic bags, glass bottles, plastic bottles etc, in other terms all the trash and the recyclables, in different cabinets. Pull out Recycler is a gliding bin that will store all the dumps in it while you can separate all those recyclables in the over cabinet bag holder. These tools can be easily made even at the home with spare tins and can be fitted below the sink area comfortably. It can also be availed in the retail shop at a small amount of $80 and $11 respectively.
Tension Rod and Vinea Storage Baskets to organize bathroom cleaners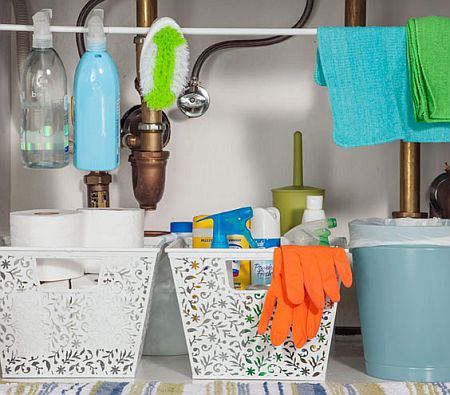 Keep your bathroom clean and tidy with Tension rods and Vinea storage baskets. Store them underneath your bathroom sink using that space efficiently by placing all the toiletries such as soaps, large bottles, solvent bottles, detergents, scrubs and toilet papers comfortably organized in these tools as directed in the pic. I liked that hanging bottle idea on the Tension rod. Isn't it unique? Available for $6 and $12.50 respectively.
Organize cosmetics and toiletries with Elfa Mesh Drawer Units & Over-the-Door Cabinet organizer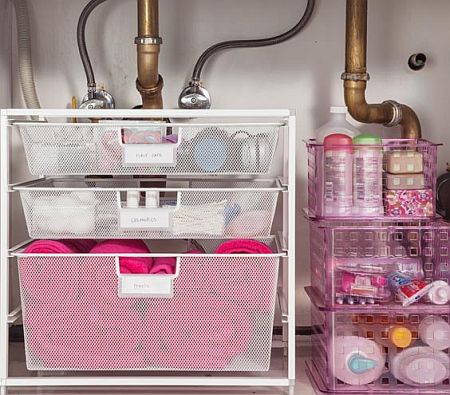 If you thought keeping only kitchen and bathroom items can be a great idea below the sink, then you are wrong. You can now decorate the space underneath the sink with Elfa Mesh Drawer Units & Over-the-Door Cabinet organizer. It is useful for placing all your cosmetic items such as hair dryer in the over the door bin, then from hair brushes to rubber bands, nail polishes to towels, etc all organized perfectly in the Elfa Mesh Drawers. You can get these handy tools at a price of $30 and $81 respectively.