A hallway has to be the smartest and the best designed part in a home, as it is something that you first see in house when you enter and the last you see when you leave home. Sometimes, guests just enter for a moment and then leave. In that very moment, the hallway is the only part of your home that they get to see, and form an impression about you based on the hallway. Therefore, it is imperative to make your hallway extremely attractive so that it leaves exclusive impression on guests. Well, following are some tips that you can follow to make a great hallway.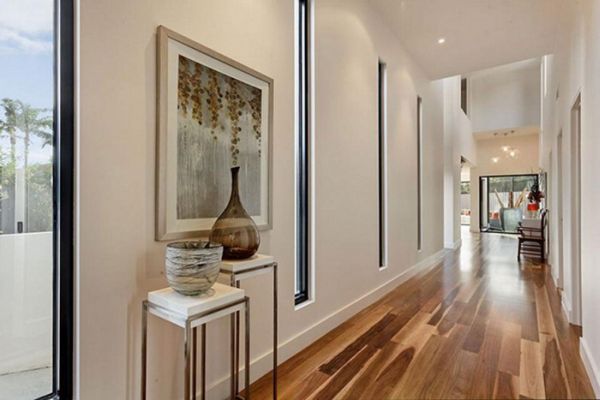 Use bright colors
If your hallway is a broad, big place then you can surely use dark colors, but if it is a narrow passage then it is wise to choose light and bright colors that will make your narrow hallway look bigger. The light and bright colors would include pale blues, grays, beiges, greens, and obviously white. One trend that is followed by many people while designing the hallway is to paint the front door in a bright color. Not only does it look good but it also serves as a way to alter the narrow nature of the hallway. It creates a kind of illusion that makes the hallway look bigger.
Use wallpaper
Wallpaper is a great option you can use to make your hallway as unique and eye pleasing as possible. As hallway is a spot just next to the main door, it is the first spot in the entire house that a visitor gets to see and forms an impression about the entire house. So, definitely it has to be the best and wallpapers are an amazing way to enhance hallway's beauty. If you have small kids and pets at home, they tend to make the hallway dirty especially during rain time. In this situation, wallpapers serve as a shield and prevent the walls from getting dirt stains. Wallpapers look trendy and are much easier to change as compared to getting the house white washed.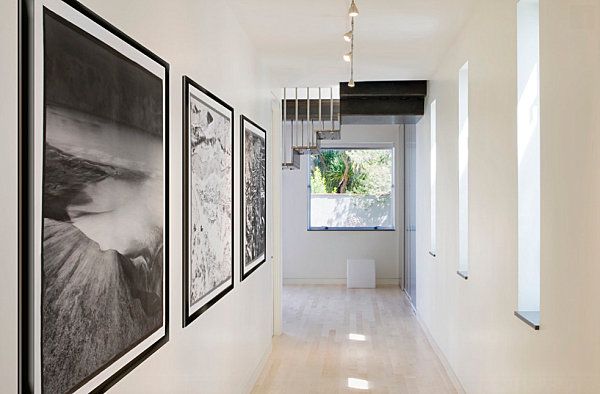 Show creativity in hanging pieces
Hanging brackets and hooks are an integral part of hallways, which people use to hang their overcoats and bags, and to keep their umbrellas when they enter home. You can show some creativity with those hanging pieces. You can design some classic hanging spaces yourself by making use of waste things also. Moreover, assign more hanging spaces in the hallway so that the stuff that you hang does not look cluttered.
Choose the flooring carefully
Flooring is one aspect that needs a careful planning when it comes to a hallway designing. Hallway tends to have more dirt in comparison to the other parts in a house. You need to choose floor tiles that are easy to clean and can hide dirt and stains. In case the hallway is narrow, the checkerboard tiles can be installed because they create an illusion and the hallway looks wide enough.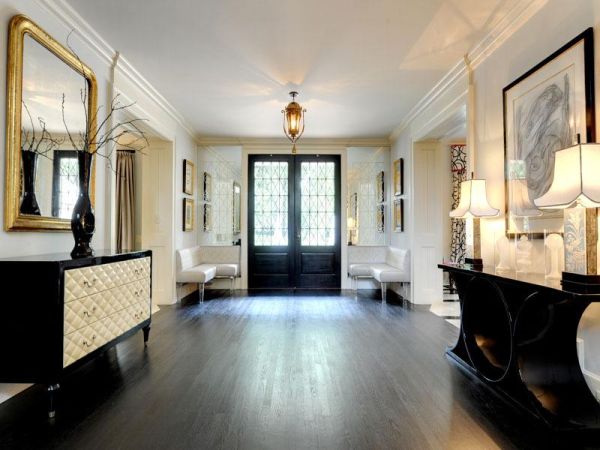 Lighting
A hallway should not be dark and gloomy, as nobody likes to enter a place that is dark and unwelcoming. You should aim at making your hallway as welcoming as possible and proper lighting is one of the best ways to solve this purpose. Use chandeliers and lamps, focus light is also a very good option. You should plan your hallway in a way that it gets maximum natural light if possible.
Summary
A hallway has to be an eye-catching and a welcoming spot in a home. It is the first place to become visible to the visitor, and the first impression can be the strongest impression.