Natural light is always wonderful for your home. Sunny light can lift up your mood and brings a positive energy inside the house. That is why a big and well-designed window invites people to spend more time there. But some houses have this issue of enough windows which makes the place dark and dull. If you are facing the same issue with your home, Skylight installation is a great idea from which the light will keep pouring into the house and makes it a better place. Let's consider some of the skylight ideas for homes from which can add light to the dark corners.
Planning before going for Skylight ideas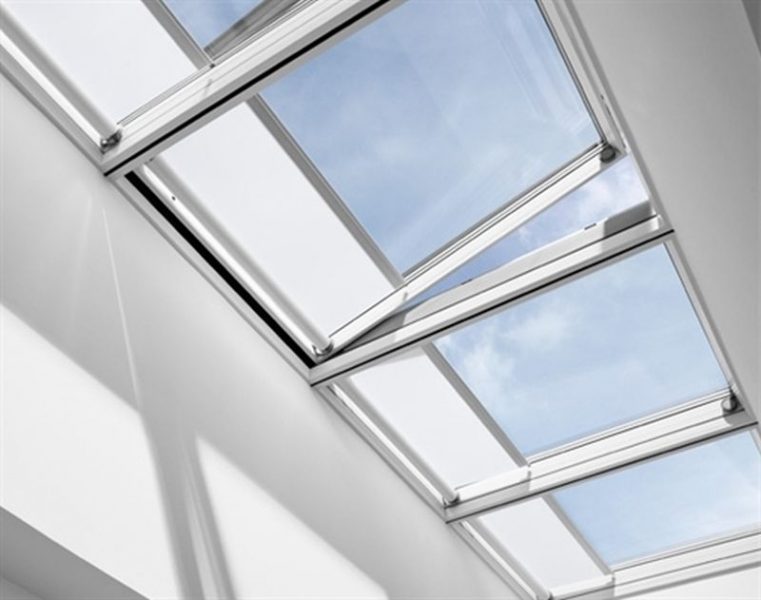 Skylight provides brightness to homes. It's very important to know where the sun is more effective so that the architect can do effective placement of it. Every home has a different face, and the sun keeps changing its direction all day. Keeping in mind all these elements, the planning should be as how much light will enter a room and whether it will be a bright or dull light. Take a tour to all your rooms and see which areas need to lighten and which corner is dark. Then hire a contractor who has better knowledge of all these things. There are some precautionary and pointer to keep in mind before the planning.
hire a licensed contractor to buy the highest quality product
keep in mind the space size of your home
keep in mind the concern of your neighbors
Tubular style Skylights
When we say skylight, tabular skylight comes first in the mind as it's the most popular skylight nowadays in home renovation. It has got many advantages, it is flexible and easy to install. Tabular skylight is available in various sizes and it allows 90-degree bends, with various diameter sizes and long shaft which is very good for living room skylight design ideas 2018. This tabular skylight is good in various ways because your home doesn't need a structural modification to the roof frame to install a skylight which makes it more flexible.
Long skylight for your home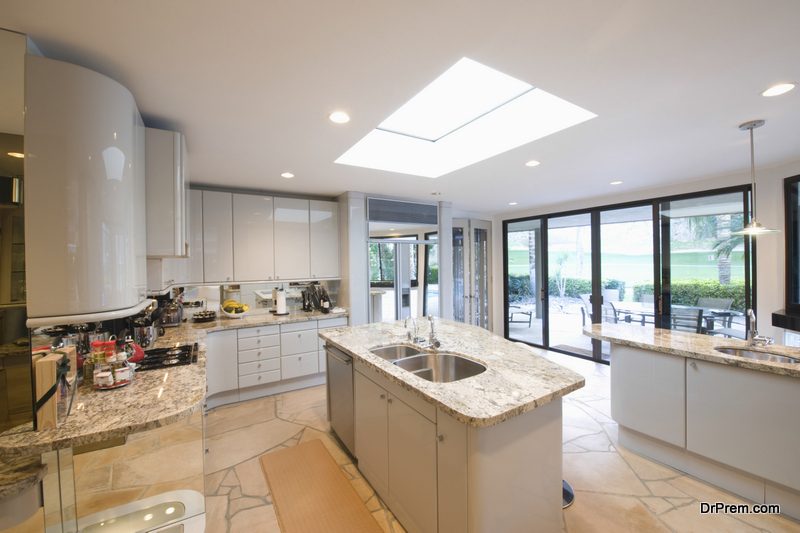 Skylight should be installed keeping in consideration the design of the house in terms of types and location of the windows. If you are living in a house with limited windows, the skylight is a good option. You should also keep in mind that installing skylight doesn't hinder the privacy of your neighbors. Installing skylight in any direction without any planning will be a bad choice. In order to allow light in the living space, you can go with this long and narrow skylight that should be installed in the roof and at the side or you can go for the large square skylight in the central area of the ceiling which provides ample light to your home. This is the best living room skylight design ideas in 2018, which will transform your house and living space making it appears larger and brighter.
Stained glass colorful skylight
This is the problem faced by many people when living in a small house next to a larger house. It makes it less privacy as the balconies or windows of the neighboring house can overshadow look a skylight, making it less personal for you. To solve your problem, this stained colorful skylight is the best solution. It looks beautiful as it has got intriguing patterns with different colors and clear glass. Select with varieties of different color patterns and design of your choice of color. This way, you can install a skylight and which help you have your own private space. It gives a beautiful and unique appearance to your home with the sunlight moving and making your room appear bright and colorful.
Quick tip: – You can use these skylight ideas for bedrooms too. It gives a plain bathroom a private space as well provides bloom of colors and contrast effect with your wall.
The perfect skylight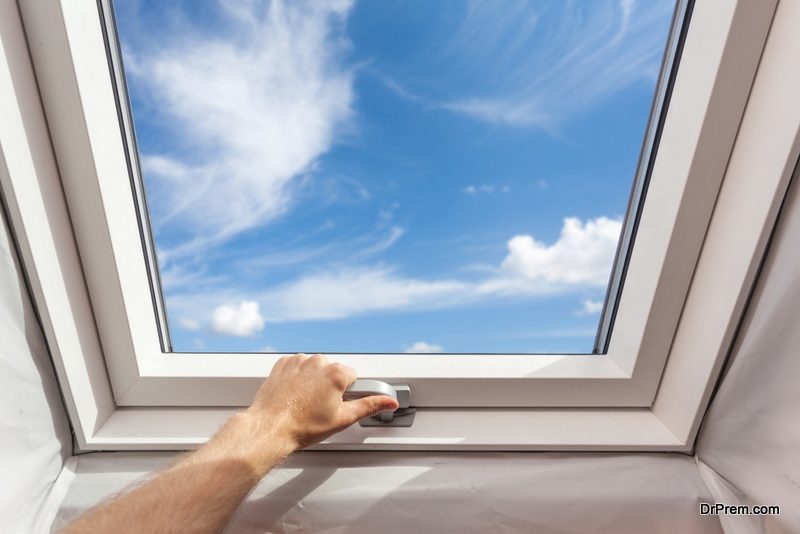 Most of the modern house has a confined room area which includes a small bathroom space. It consists of a toilet and shower which is very small. People find it very restricted inside it which has almost no windows to have natural light. One of the easy ways to open up the spaces is to install a skylight in the bathroom. With its inclusion, the bathroom spaces appear larger than it actually is. Skylights for bathrooms bounces off the light in your white or yellow walls of the bathrooms making it appear big, spacious and bright. Apart from this, there are many advantage and benefits of installing a skylight in the bathroom.
Benefits of Installing a Skylight 
A natural source of light
A natural, sustainable renewable energy source that can reduce your power bill
Bathroom needs a fresh air, so it boasts a natural exhaust effect on space.
good source of vitamin D which is good for your health especially eye health
So skylight in the bathroom is definitely a good idea to consider.
Narrowly shaped skylight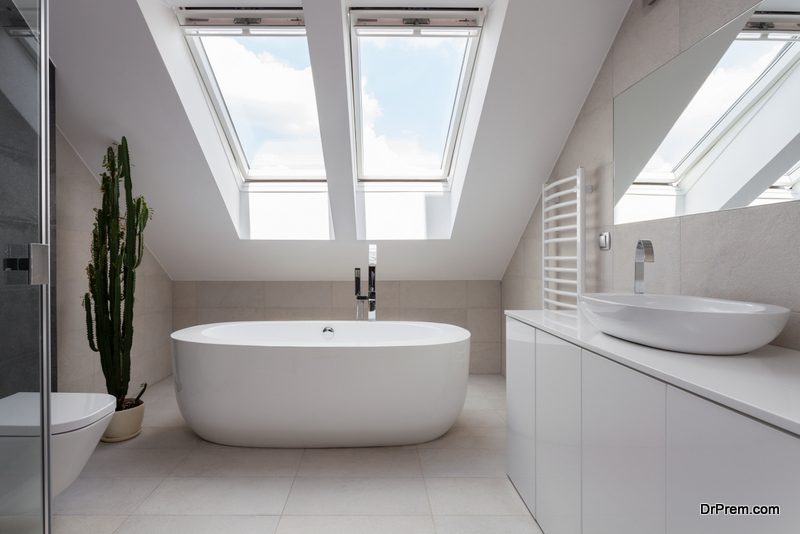 In a house where you are surrounded by so many high rise building, the area gets enclosed with darkness during the day also. In these locations, the use of skylight may be limited like this location because of the neighboring house property. If you are having a problem with installing a normal skylight, go for long, narrow skylight. It can be installed along the roof of the house and down the one side. This skylight can help allow natural light to enter the room whatever weather any time of the day making your room brighter and opens a room up.
Green' Skylights
We should always keep in mind the energy element of our house. Saving on energy has to be a foremost thing to consider and skylight help with the same. It can save the countless household costs like electricity cost; heating bills which contribute to building the better environment. A natural light provides your room with warmth and coziness in the winter than the artificial heating light and heating appliances. Apart from all this, it is known that natural light is always healthy for your family as it helps in making a healthy body and healthy mind.