The smell of freshly brewed coffee, first thing in the morning, is absolutely refreshing and injects the senses with an altogether different vigor. But, if you are a coffee addict and just can't get out of your duvet without the aroma of your favorite morning cuppa, then it's time you brighten up your life with Decafe Fixtures designed by Raul Lauri.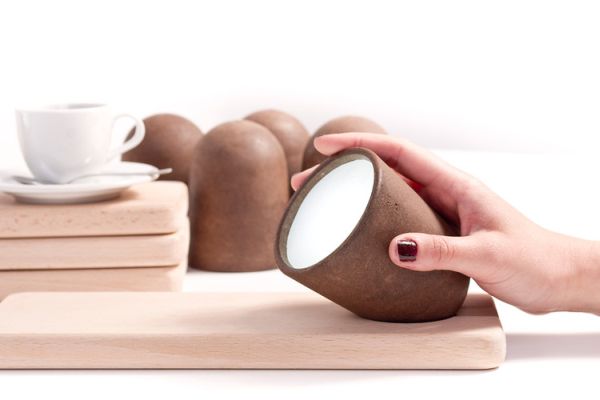 The aesthetically designed lighting fixtures give out the same aroma like freshly brewed coffee and that too while oozing a lot of style. The Spanish designer worked closely with culinary experts to come up with a composite biodegradable material, which is a lovely amalgamation of natural glue and coffee grounds. Decafe Fixtures will grab a lot of attention because of its smart design, which comprises of a light that has been shaped like a coffee mug. The light rests on a wooden base and the temperature emitted by it is kept low in order to produce heat, which is sufficient to further intensify the smell. This is achieved by using efficient yet low temperature LEDs that will illuminate the area as well as fill it with the aroma of java.
The intensity of light produced can be tweaked by tilting the base of the light, while placing it upside down will switch off the light completely. Each light unit uses standard electricity supply, which has been made possible by introducing some kind of special electronics inside the elegant design. The battery doesn't take a lot of time to charge and once all juiced up will love for a long time. But, the most astonishing part being these beautiful pieces can bear up to a temperature of 100 degrees as well. Decafe Fixtures are functional, efficient and will take over your senses with its pleasant aroma in no time at all.
Via: Fastcodesign