Curtains are an important accessory that completes the look and feel of the interiors. Curtains, apart from controlling the light and air entering inside our house, also reflect our moods and tastes. The color of the curtain can make a room appear bright and lively or dark and cozy. Curtain hangers or rods too are very important in enhancing the beauty and style of your curtains. Read below to know some of the most interesting curtain rod ideas that would add fun and style to your windows in a unique way.
Often the most extraordinary designs are a result of ordinary efforts and objects. Here is how you can create astounding curtain rods out of commonly found materials.
Branches for a rustic appeal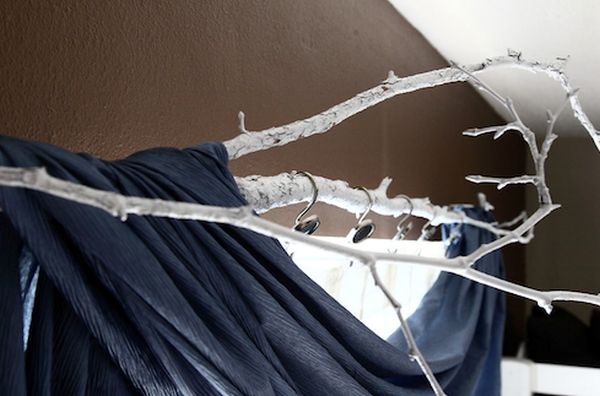 The key to a rustic home décor lies right there in your backyard. The nature inspired curtain rod can be created out of any straight tree branch which is cut properly and painted in white. However, you should see to it that the branch is sturdy enough to support your curtain panels and does not bend. Use sandpaper to even out the branch and remove any small points. Hang tie-top curtains that adjust according to the curves of the branches. You can even paint the branch in a color that complements your interior décor.
Go trendy with ping pong balls: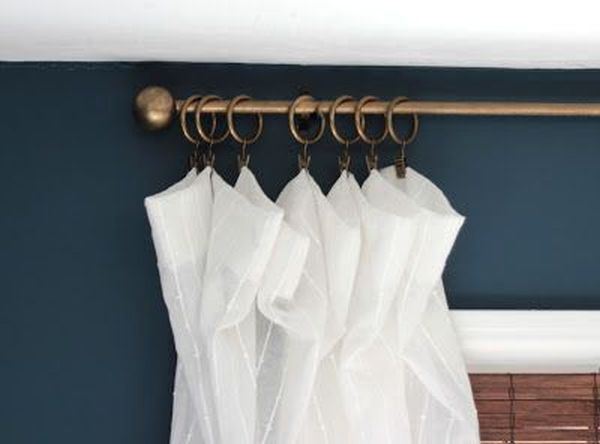 Ping pong balls are one of the most commonly found play items at every house. They are extremely affordable and lightweight. To create attractive curtain holders you first need to carefully drill holes into these balls and paint them in a color that matches your dowel rods. This way you would create some really eye catching curtain finials that would add to the beauty of your interiors. To add extra elegance, paint the rods with metallic finish paint.
Manila rope to have a beach theme: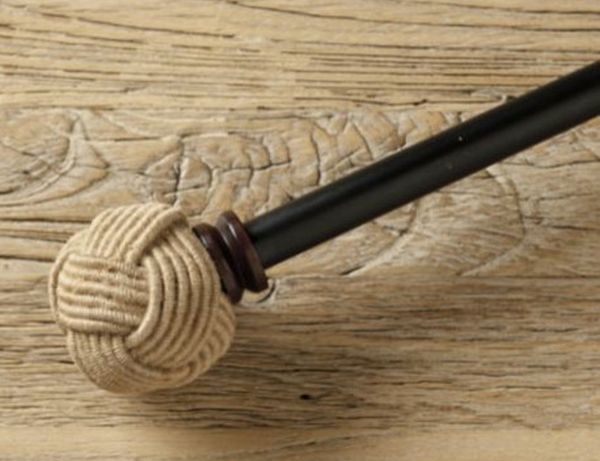 A strong and sturdy manila rope is simply perfect for designing a coastal theme based bedroom. In order to create a mesmerizing beach effect, use marine cleat lag and screw eyebolts to work as brackets. Install the cleat on the wall adjacent to the window wall and position the eyebolts at equal distance over the window. Tie a knot at one end of the rope, pass the rope through all the eyebolts and curtain rings one by one. Pull the rope tightly and wrap it around the cleat with a knot. The arrangement will make you feel extremely fresh and happy.
Pipes for an industrial appeal: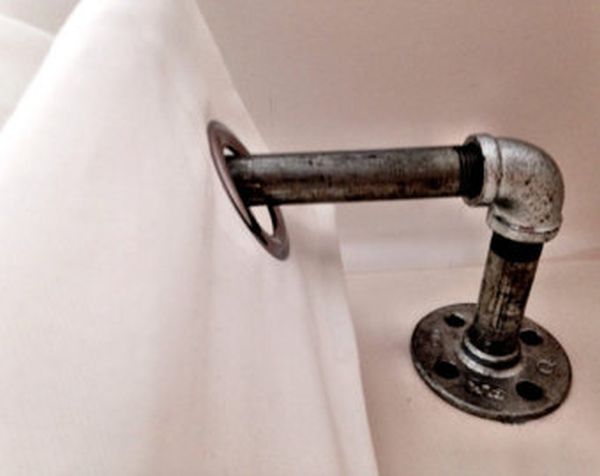 Galvanized pipes are a good way to create a distinct industrial look for your house. Take a properly cut galvanized pipe of length at least 6 inches larger than your window (for easy installation). Attach floor flanges to the wall and have a wonderfully curved curtain hanger without joints and finials. Use steel clamps as curtain rings and set them onto the rod before installation.
Electrical conduit for instant curtain makeover: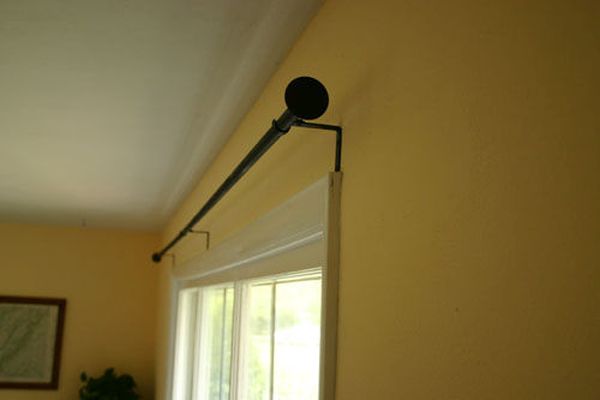 For those who think that the beauty of their expensive metallic curtain rods is simply unmatched, here's something really jaw dropping. Even commonly available things such as electrical conduit when teamed up with some chic brackets, spray paint and finials can form really attractive curtain rods. Paint the wooden finials with a paint matching the color of your electrical conduit rod.
Ribbons for romance: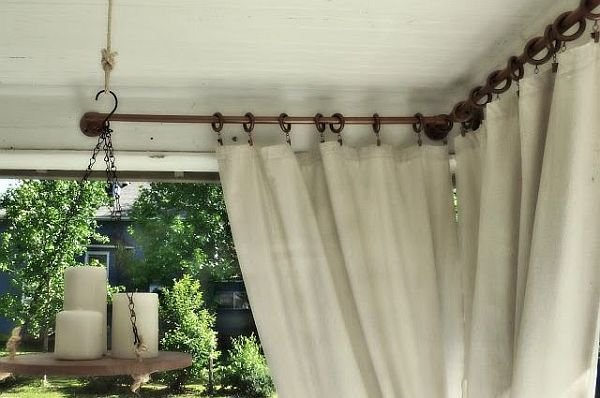 Cover a PVC pipe with satin ribbon of your favorite color and see the magic for yourself. This looks more beautiful in a girl's bedroom.
Hockey for the sports freak: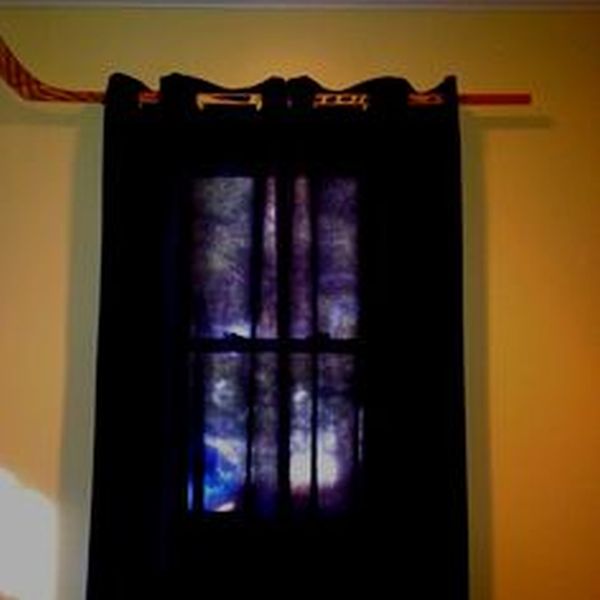 Love sports? Here is a unique way to add a feel of your favorite sport to your décor. Simply hang a hockey stick in place of a curtain rod and make proper arrangements to attach it to the wall using bolts and screws.
Fishing net for a nautical room decor: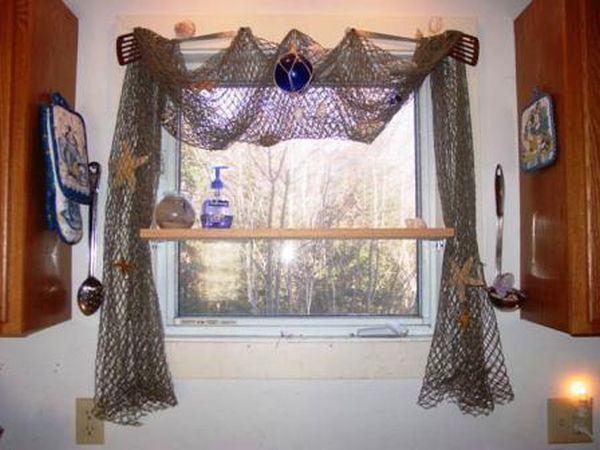 Striped shower curtain hung over a net curtain rod where you use a fishing rod as a curtain rail and the net as a curtain rod is simply best to create a marine atmosphere.
Summary
Curtains are very important to add to the aesthetic and visual appeal of your room. But while you get excellent curtains, do not forget that the rods need to be awesome as well.