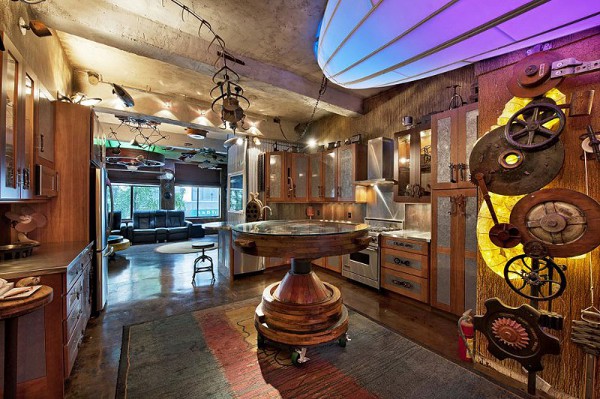 The love for steampunk designs stirred filmmaker Jeremy Noritz to decorate his home in a way that looks straight out of a science fiction. The steampunk themed home is a great blend of reality and fantasy that creates a fascinating environment of a representative period. The alluring housing unit is located in Chelsea, New York City.
What it is
Steampunk is much more than just brass and parts out of an old watch. It is a great way to bring the past into the present and further combine it with the future to create something that is totally flattering. Jeremy Noritz's apartment has been designed keeping all these aspects in mind that sprinkles an old fashioned aura all around the space while speaking about the future at the same time.
How has he done it
The bewitching 1800 square foot apartment comprises of a living room, two rooms, two bathrooms and a kitchen, all styled in a punkish way. Giving the staggering apartment an eye roving appeal are vintage machinery parts, chains, gears, parachutes, nautical pulleys and colossal zeppelin knobs, which have been repurposed for today. The apartment comes smothered in black, natural earthy tones and autumn hues, which have all been transported right inside the living space.
The use of expressive parts is not only confined to the inner spaces, but also starts right at the entrance with a remodeled door that strongly resembles a submarine. The apartment is nothing less than a piece of art and will wow onlookers at first sight.
It can be yours!
Steampunk fans will be delighted to know that this dream like steampunkish home is up for sale for $1.75 million, which is of course, as steamy as the design.
Via: Dailycool