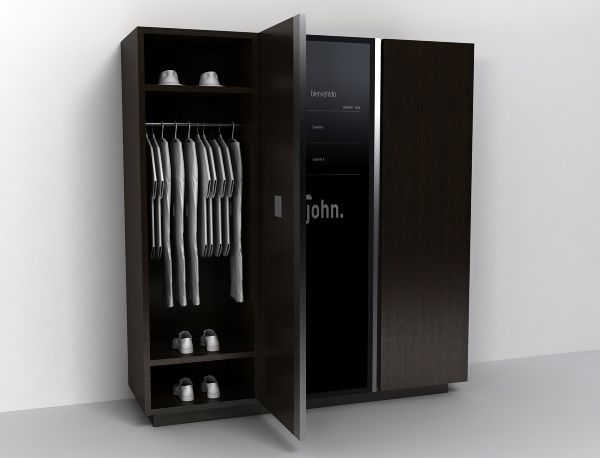 You decide to wear a pretty chiffon dress for lunch with friends, and as soon as you step out it starts pouring. Ouch! Such a condition can ruin the whole moment forget only the dress. How about a wardrobe that will tell you about the weather conditions in advance? Yes, you read it right. After digital watches, cameras and kitchen, it's time our wardrobe's went digital as well. Sebastian Ribas has come up with one such concept, named John, the Digital wardrobe.
The designer collaborated with Natalia Coll & Eduard Tio for this. The plain looking cupboard will come embedded with latest technology. Your wardrobe will be coupled with the internet, which will give live updates about the weather outside. After assessing all the conditions, it will ingeniously come up with a list of clothes that will blend with the climate. It will also keep a user updated with latest trends, which will match their style.
This digital wardrobe will be wedged with RFID technology that will shower more convenience. It will help you find clothes without even opening the cupboard. The product will have an ingenious interface that will keep a track on all the stuff inside. John, with so many amazing features, can be any shopaholic's dream. The time we waste to select an apt outfit can be utilized in a sensible manner. The digital wardrobe proves that anything is possible in this high-end world.
Via: CargoCollective