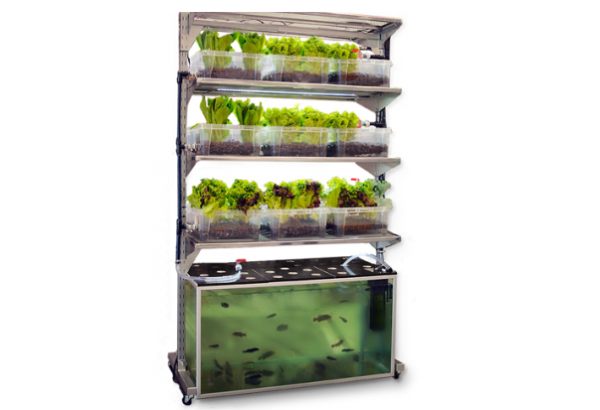 Going green is the new motto everybody adopts these days. Eating green has become the latest trend too. But with rising expenditure on commodities and the overuse of chemicals in food, organic food has become even more expensive. So why not grow your own food? But certain issues like space and time constraint crop up. And the end result might not even be worth it. So here's Malthus bringing you good news. Introducing the in-home aquaponic unit designed especially for organic food-loving people.
The concept of the traditional system of aquaculture and cultivating plants in water is adapted here and it is designed to take up minimum space. The byproducts of fish are filtered out for the plants as nutrients and clean water is circulated back to the aquarium. Thus they exist in a symbiotic environment and we get to have fresh organic vegetables. Wouldn't it be great to pluck out those fresh leaves off the plants and make a salad? And also take a fish out of the tank and cook it, even before the word "fresh" fades away!
This wonderful appliance is the brainchild of Ola Nilsson who got the opportunity to present it at the 10th edition of NESS – Nordic Environmental Social Sciences Conference at Stockholm. The appliance uses a do-it-yourself concept where you can buy the apt tools from a local hardware store. Its size could be that of two refrigerators and its weight could equal that of a bathtub. The fish tank can hold upto 400 liters including 2 kgs of fish and is placed below three cultivated grow beds. These beds filter the water that is pumped through them which is then reprocessed and regulated to the fish tank. The only thing you need to do is to feed the fish and watch them grow in harmony.
Via: conceptualdevices/swiss-miss