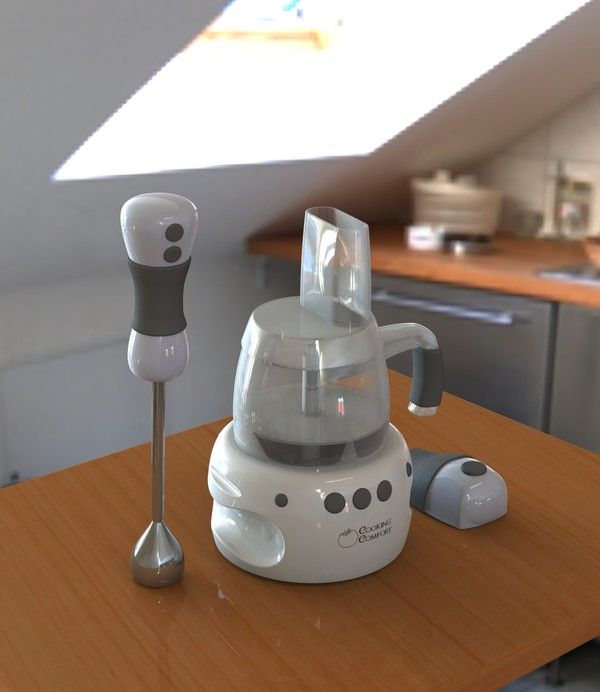 `
What is it?
Cooking Comfort is a special 3-in-1 combination of an immersion blender, food processor and a sophisticated electric can opener. This rare combo appliance will help in faster cooking of all sorts of time consuming traditional recipes. This smart kitchen appliance is by and large meant for the aged person enabling them to cook their favorite traditional cuisines in a smarter way.

Designer:
Kristin Hare, a fourth year graduate student of Georgia Institute of Technology.
Key features:
The elegantly designed immersion blender, food processor and electric can opener presenting an appealing look is of high utility to the user. The immersion blender and electric can opener fits smartly onto the body of the food processor giving a compact look. These detachable appliances can be recharged through induction plugging the food processor to the power point of the wall.
Food processor:
The ergonomically designed rubber handle of the food processor enables firm grip providing comfort to the user. Buttons are provided for easy release of the immersion blender and can opener from its body. The solid base provides firm support to the side appliances. Different types of blades carry out different operations in food processing.
Immersion blender:
The slender eye catching design of the cordless immersion blender is made out of stainless steel with a strong grip. The blender can be switched on and off through two press buttons at the top and can be recharged through the food processor base. You can easily adjust its length according to the size of the pot used. Switch on the blender and see your tomato puree get ready within seconds.
Electric can opener:
The can opener opens your can with a single touch and the rubber grip enables firm control on the operation.
Utilities:
With Cooking Comfort, you do not have to spend long hours in kitchen trying out your traditional recipes. Its light weight provides enough portability. The plastic sheathed processor blades ensure safe handling and cleaning preventing serious cuts and wounds. The cordless feature of the immersion blender enables smooth operation without creating any mess and the detachable parts helps in easy cleaning. The firm handle grip prevents slipping of the blender. The special electric can opener opens all types of cans and bends the sharp can edges inwards preventing injuries.
What's in for me?
Cooking Comfort provides all in one facilities of cooking in a compact manner that enables you a faster and safer way of cooking. In place of cumbersome food processors, this elegant food processor along with the blender and opener can be recharged through induction consuming minimum power. So forget your age and cook your favorite recipes in a flash with Cooking Comfort.
Via: Behance