When you are building or remodeling your kitchen, you would probably look for some interesting kitchen sink options. The market is literally overcrowded with several kinds of kitchen sinks, making it hard for you to choose the right one.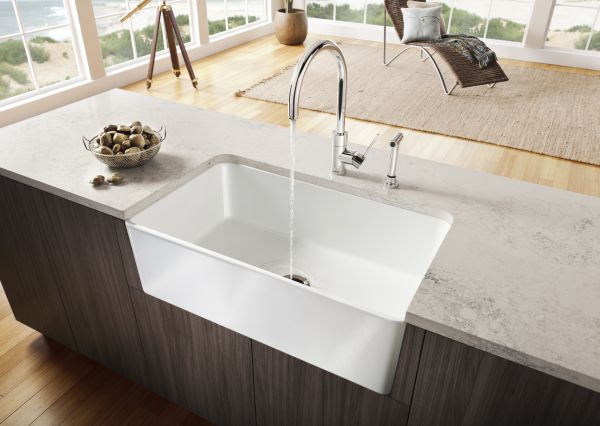 One of the common types of kitchen sinks happens to be the apron sink, aka farmhouse sink. The design of the sink is that it does not stop at the edge of the countertop. Rather, it drops all the way down to the cabinet, giving a unique look to your kitchen.
Considered as one of the best sink types for kitchens, the apron sink was traditionally used in farmhouses (and so the alternate name) owing to its durability as well as minimum maintenance requirements.
You can easily opt to buy an apron sink for your kitchen, as the sheer number of colors, sizes, materials and designs they come in would amaze you. Accordingly, here are some factors about apron kitchen sinks that you need to know before you head out to the store to buy one.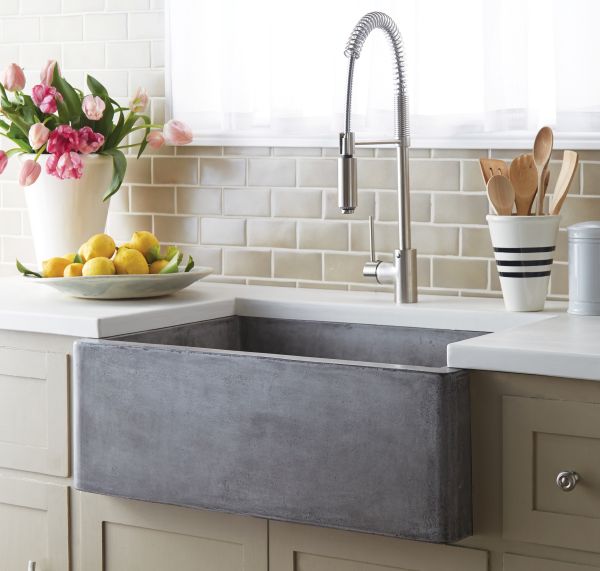 Apron Kitchen Sink Sizes
Apron kitchen sinks usually come in different sizes. The first and foremost thing you would therefore need to consider when opting for an apron sink is the particular size you want for your kitchen. While a smaller sink would not fit in properly, a larger one would protrude from the countertop awkwardly. A good-sized sink ensures proper fitting. So take measurements of the kitchen countertop beforehand, including the size of the area where you would install the sink and the required depth. In case, you are not able to find a sink that matches these measurements, you can have custom built for your kitchen.
Apron Kitchen Sink Materials
Apron kitchen sinks are also made of different materials. You would need to choose one that complements the kitchen décor as well as suits your kitchen requirements. Some of the more common materials used to make apron kitchen sinks include marble, stainless steel, iron, fireclay, slate, soapstone, vitreous china, acrylic, granite, fiberglass, porcelain, copper, etc. You can also choose from a wide range of designs like embossed patterns and beautiful engravings for the front apron in order to enhance the look of the sink.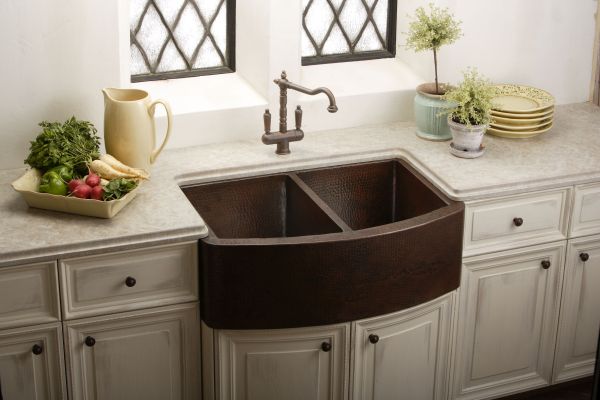 Apron Kitchen Sink Designs
Apron sinks come in a wide range of designs as well, with the double bowl (aka 2 basins) being the most commonly used in households. However, some still prefer single bowl sinks (with just one basin) for their kitchen. Double basin sinks are great for cleaning dishes or segregating them (separating the clean dishes from the dirty ones). However, you would need to know that they come in different models and configurations. While some come with equal sized basins, others come with one large basin and another smaller one. Your choice for a particular apron sink design would therefore depend on your usage. Go for a design that is both attractive and utilitarian.
Apron Kitchen Sink Colors
Finally, a point that is not so important, but can play a crucial role in how your kitchen ends up looking at the end of the day is the color of the sink. While most homeowners opt for the standard white sink, you can get creative and choose a different color that would make your kitchen stand out. Some of the other common colors available for apron kitchen sinks include black and copper. So choose one that complements your kitchen décor nicely.
Summary
Here are some of the points you need to consider when opting for an apron sink for your kitchen. In addition to being durable and strong, these sinks come in a variety of sizes, shapes, models, colors and materials, all of which would make your kitchen look aesthetically beautiful.