Flagstone patios are so eye pleasing and attractive as compared to its boring counterpart, the gray dead slab. Not just patios, Flagstones are a preferable choice for lawn paths as well. Not just its beauty makes it so popular but also its usability and functionality. They have narrow packed joints that do not let water runoff but make it permeate. Its earthy shades including shades of browns, blues, greens, frays, and reds give them a very natural and an organic appearance.
Benefits of Flagstone patio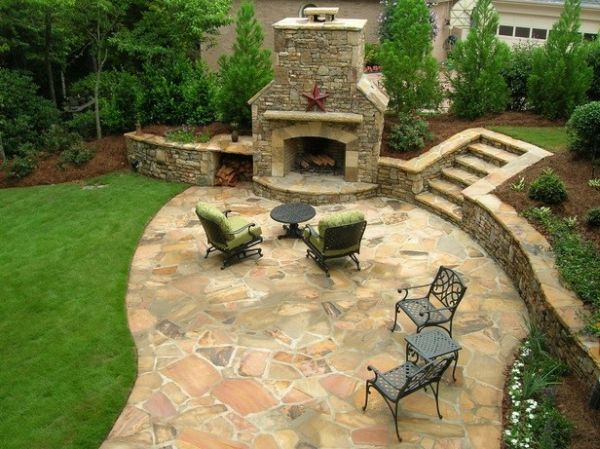 Sandstone, limestone, and lime are the most popular and common types of flagstone being used for patios and landscaping across the world. Durability, beauty, and value that its usage brings into a landscape is what makes it a sought after material. Its flat-cut design, texture, and unique lines make it an ideal material to be used in patios, driveways, and rooftops.
It is durable enough that makes it an inexpensive material for patios. People choose it for its permeable surface and also for its design that enables grass and moss to grow in between that looks all the more beautiful. Coming to its maintenance factor, it requires little maintenance, as in occasional sweeping to remove dirt and stains off it.
Minimal maintenance required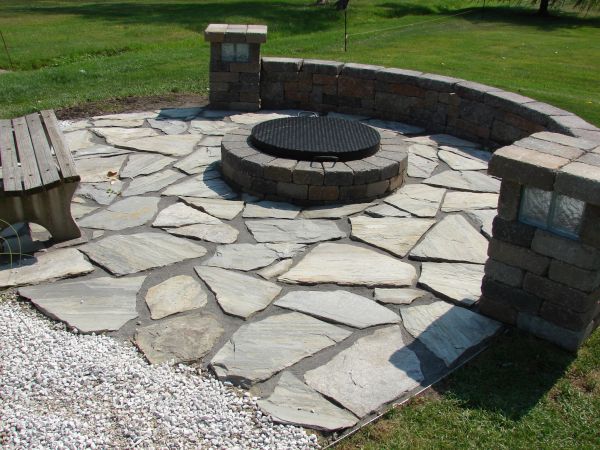 You have an option to lay flagstone over sand or over a concrete surface. If you choose the sand option, it will demand regular readjustments as the level disrupts over time. On the other hand, concrete option is the permanent one, as in you really do not require doing anything to maintain it. In case a flagstone chips or breaks, you can easily remove that one piece without disturbing the others and replace with a new one.
Steps to a Flagstone Patio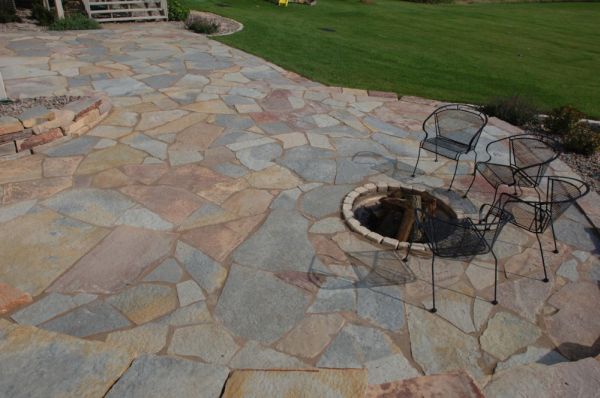 Making a flagstone patio is a task you can do on your own, here is how:
First, make a plan regarding the size of a flagstone patio you want to make, decide the patch and consider the types of flagstones available. One more thing you ought to decide is whether you want to lay flagstones over sand or a concrete base.
For making a new patio, you will obviously have to remove the old one. If the old one a plain sand base, it would be much easier to remove it, but you will have to put in quite some efforts to break and remove the old concrete patio.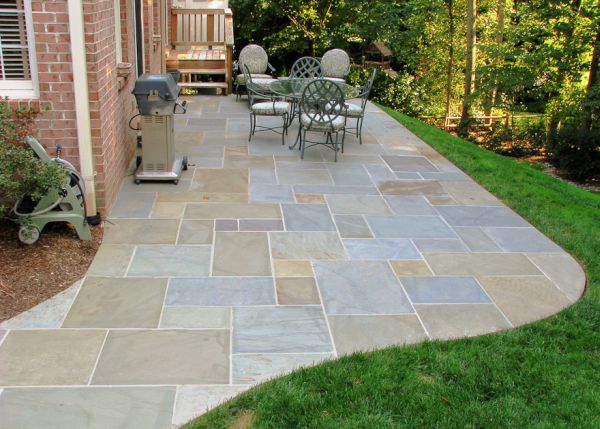 Excavation you will have to do to facilitate drainage, as flagstone patios support water permeation. A minimum of eight inches down would suffice, and the level of your patio after it is done should reach the existing ground level.
Decide what should go beneath flagstones
You have a variety of options to choose from as a base for the flagstone layout. There is cement, gravel, sand, and soil. In order to make a choice, you need to consider a number a points that could affect life of your flagstone patio.
Cement or a concrete base is a good choice because it is much more durable than other bases and does not require a great deal of maintenance. However, when it starts to crack, you will have to put in many efforts and repair work to get rid of it, which is not much for the other options.
Sand should be your option if you are looking for a temporary option because it gets washed away with water and ants also leave considerable damage to it. A mix of gravel and stone dust seem to be a good option though but is less durable than a concrete base. Your native soil can serve as a very good base provided it contain 20-40 percent clay.

Flagstone patio and landscaping is becoming increasingly popular owing to its gorgeous and a natural look. It is pretty durable and does not require a great deal of maintenance.