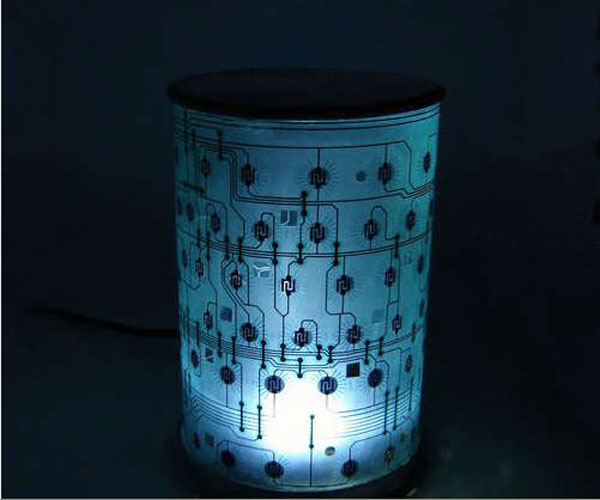 What will you do with an old and broken keyboard? Throw it, right? We say – don't throw it the next time; instead create the beautiful lamp shown in the pic above! Yes, it is created out of an old key board.
The inspiration: Chrys N, used the otherwise useless circuit sheets found inside a keyboard to make this pretty light fixture.

The resources: Stuff used to make this recycled lamp includes old circuit sheets, light & power source (LED puck light connected to a USB cable in this case), an old metal tin, glue, cello tape, hole punch and screw driver. No major expense! Half the things you'll find in your home.
The making: To make the Keyboard Circuit lampshade, all you need to do is take out the circuit sheets, roll it into a cylindrical shape that fits inside your tin base, cut the excess sheet once it overlaps and paste with the tape. Then you can make the electric connections. Detailed making can be read here.
Utility: The lampshade not only looks beautiful, thanks to the blue tint of the circuit sheets but also gives you a chance to put a waste keyboard to a great use. It will look great beside your bed, computer or even as a night light as the LED is just perfect to not to disturb your sleep.
Via: Instructables