Modular kitchens, as insignificant s they seem, play a major role in influencing the overall look of the house. If you are looking to renovate your home, don't forget to invest in one of the latest kitchen designs to ensure that your kitchen looks as good as the rest of your home. Comfort must be the first priority when you are looking to design your kitchen, especially if you only have limited space.
Colour, style, pattern, and cabinet layout all come secondary. Invest in designs that are convenient and also simple and easy to maintain. Some ofthese designs are mentioned below. All of these styles are quite budget-friendly, and they won't be burning a hole in your pocket in the bargain.
High contemporary kitchen: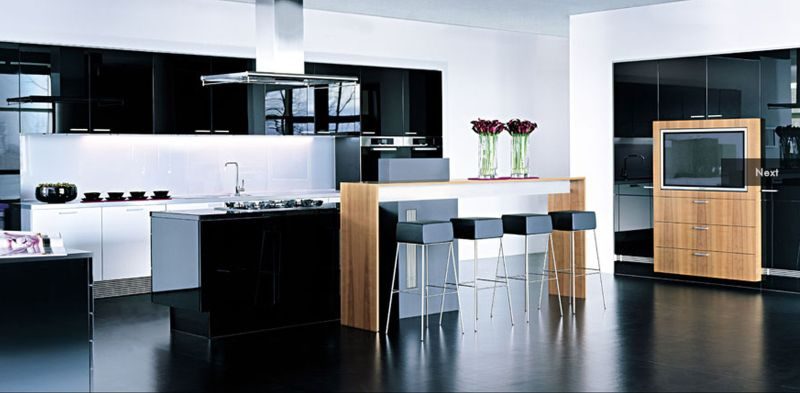 This design has many unique features, the most striking one of all is that it uses metallic black and brown paint. Not many people are aware of this kitchen design anddecorative ideasthat can be used to improve its look. Its innovative design gives a warm feel and a friendly and welcoming vibe. It consists of striped euro towers, laminated in looks. Aloft-look is provided by these towers along with its ceiling, which is around 10 feet tall.
The ravishing light brightens the area of the kitchen, which provides a place to display someshowcases or décor items. The slab paneled doors are given a luxurious look by the toned contemporary hardware. It consists of many artistic elements and you can even introduce a few more to give your kitchen a personalized look altogether. Many other latest kitchen designs can be combined with this style to give a different look altogether.
Parallel shape modular kitchen: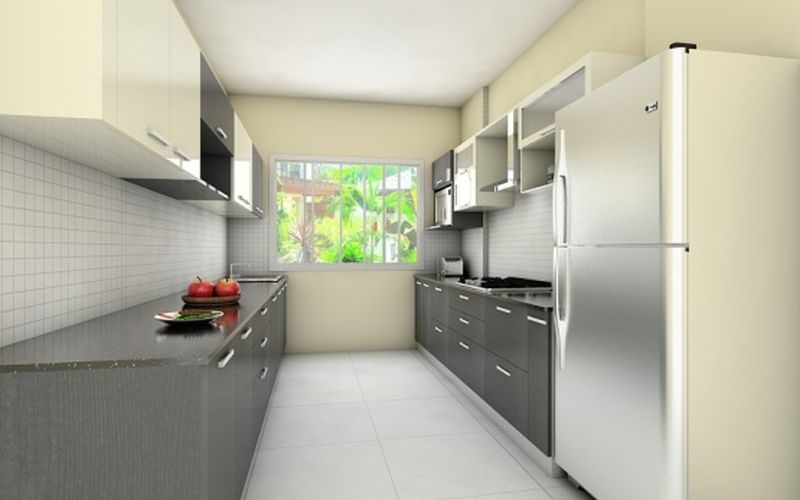 The highlight feature of the parallel kitchen design is that comes with a passageway style of look. The cabinets and sink can be set on both sides of the passageway as per your preference. Thiskitchen design, with a couple of alterations, is being consistently used by many families and are quite in trend currently. Parallel shape modular latest kitchen designs can be used by one ormore people.  This is one of the best and the most practical design ideas for small kitchens.
With this kitchen design anddecorative ideas,there is ample space for other storage. When cabinets are placed on both the sides of these parallel modular kitchens, the doors open and close with ease without creating a hassle. Top chefs always prefer parallel modular kitchen designs along with stylish drawers and cabinets for an easy cooking experience. Another advantage is that these are pretty easy to clean and maintain.
G-shaped modular kitchen: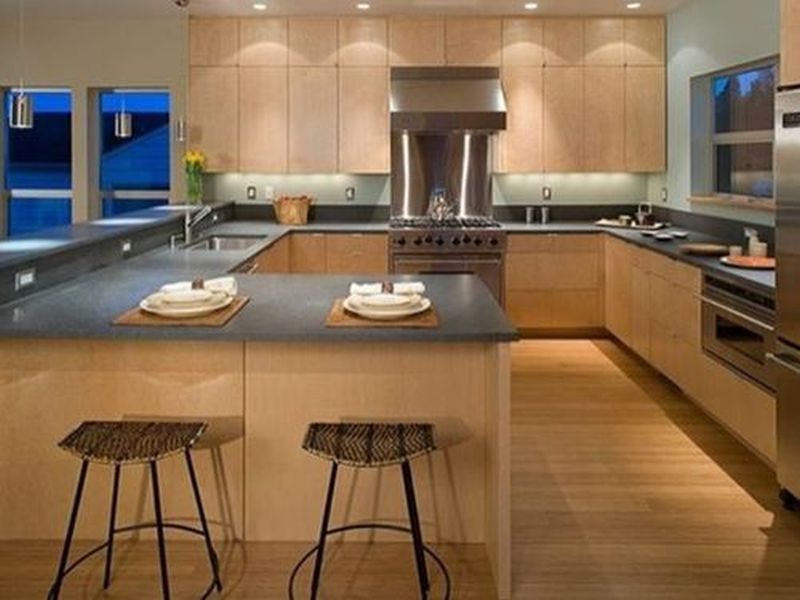 G-shaped modular kitchen is actually an extension of the U-shaped modular kitchen. With this style, more than 2 people can work on preparing a meal simultaneously with no problem in moving about freely. This is the best option to consider if you have a large family, especially with small kids.
This is one of those latest kitchen designsthat can easily accommodate an inbuilt refrigerator, a deep fryer, ample of drawers and shelves, and even a barbeque station – all without a pinch. Installing wooden cabinets is one impressive way to take the look of this style several notches higher. Moreover, you can combine the island kitchen with a G-style kitchen for a more personalized and decorated look.
Island modular kitchens: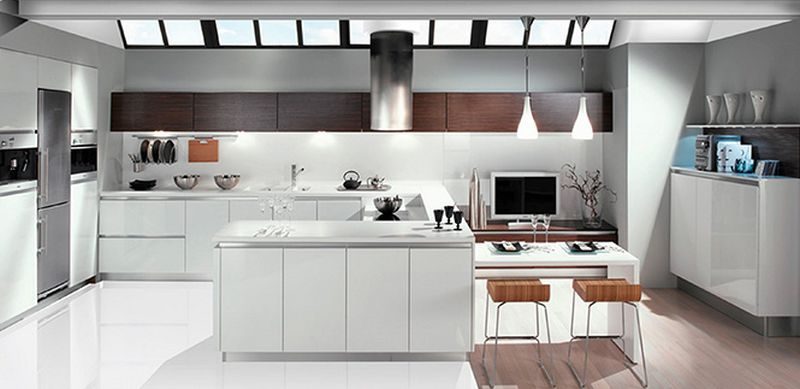 Island modular latest kitchen designs are now the new trend if you are looking for a good space as well as a stylish look. This style of placing your kitchen suppliesenables you to have enough space for storing your kitchen itemsand also for preparation. Not only that, having an island kitchen also looks quite impressive. True that this design is not meant for kitchens with very limited space, but you can always go for it to make your kitchen stand out from the other generic styles.
In addition to this, there will also be an area for your dustbins and other stuff right below the counter, as it has no connection with the cooking area. If you are hunting for creative kitchen design ideas for small spaces, this is the most ideal look.It is a very good option who have kids franticallyrunning and scramblingaround. This design also provides ample space for seating so that parents can keep a watch on their kids.  It can also double up as a dining place for them.
Organized small modular kitchen: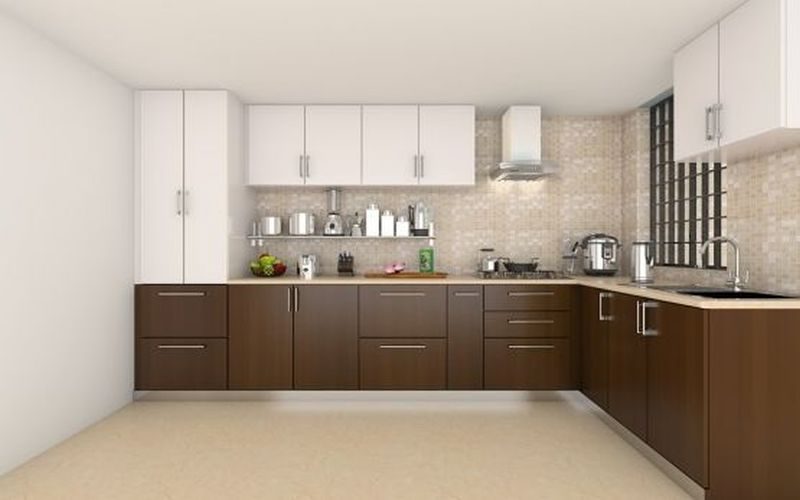 If you are looking for design ideas for small kitchens, this is it. Small kitchens are simple in look with nothing extraordinarybut its elegant style. These are quite in fashion nowadays. The neutral palettes, excellent furnishing, and smart storage are all responsible for providing this awesome look. This look is complemented by cabinets which are structured properly and the countertops that are hard-edged.
In addition to this, having a Tulip table and Lucite chairs tagging along with your latest kitchen designswill impart a whole new vibe and giveyour kitchen a fantastic look. Even geometric shapes and patterns can be used for decorating the walls and cabinet doors. Don't hesitate to experiment with different colors.
Conclusion:
It has been noticed by many interior designers that, given the ongoing trends, green and red colorsarelargely being used by many Indian homeowners for styling up their kitchens.These colorsgive a really beautiful look along with improved kitchen space for your essential supplies. In addition to that, a goodamount of glasswork on the latest kitchen designsworks like a cherry on the cake.
The correct position of the chimney, the color of the walls and cabinets,and placements of appliances such as the refrigerator andthe oven all play a huge role in making creative kitchen design ideas for small spaces. Modular kitchens are the least expensive ones to have, and hence they are definitely worth the investment in the long run, especially if you are looking to create the illusion of more space in an already cramped up kitchen.