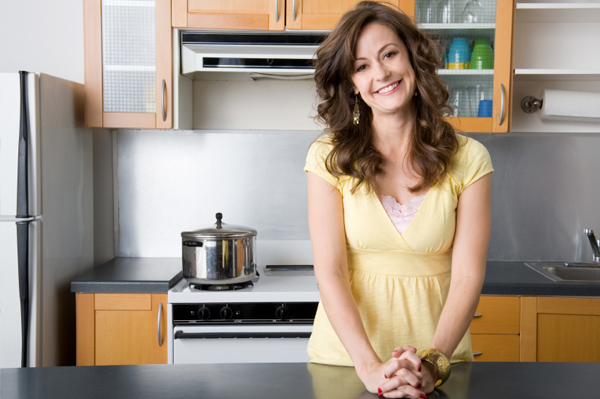 A messy kitchen is liked by none. Although, most of the times, the cause is the spoiled look, one fails to notice the unseen and dangerous health hazards lurking behind the clutter, giving birth to problems like weight gain. Because people do not want to work in an unorganized kitchen, they end up ordering unhealthy fast and junk food from restaurants and eateries. It is definitely not their fault as well, as clearing up the kitchen clutter after a long day gets really impossible. So, here we have given three simple basic tricks that will do the magic for you.
Organizing your pantry is very important
A messy pantry never works. You pantry might include edible stuff that has passed its expiry date and is not supposed to be consumed. Unorganized, untidy and an unhygienic pantry is a turn off. Let's start with organizing your pantry first. First of all, you need to remove everything from the shelves. Make sure the place that you decide for your pantry in the kitchen is at a quick access distance. Now clean the shelves first. Set a news paper before placing everything back.
Now the most important thing is to sort the pantry out first. Remove every item that has crosses its expiry date. These items might include canned and packaged food as well. Keep a garbage bag with you to dispose of everything that is not of use anymore. Make sure that remaining pantry items are stored in well cleaned and dried bottles. Label these bottles with the name, the start and the expiry date of the products. Organize these bottles back into the shelves and while organizing, make sure you arrange them according to their utility, for example, the most frequently used items need to be kept in front where as the least organized behind. Don't forget to label your drawers of what items they contain, for example, you can name them as grains, spices etc.
An organized pantry will help you trace the wanted and unwanted items, help you clean your pantry when ever required and also intimate you of the short falls of items in your kitchen. An organized pantry is very helpful in sorting out your busy life along with cooking at home.
Organize all your kitchen appliances
Your kitchen requires a number of appliances. Most of the times we tend to dump these appliances in one part of the kitchen drawers which is not the solution. The solution is organizing these appliances according to their sizes and requirements.
Let's start with the small sized appliances. Organize all your small sized appliances in one drawer. When organized in one place, you will have quick access to them. Now, make sure that you place these bigger appliances according to their utility. The appliances that you need the most need to be kept in front and the least utilized appliances need to be placed behind. Put unwanted appliances in a donation box. Do not forget to clean the drawer and the appliances before placing them into the drawers.
Organize empty boxes and other storage items
Arrange a space or a drawer near your refrigerator to keep in all your foils, clean wraps, zipper bags. Make sure you store freezer containers, microwave containers, other empty bottles and storage containers in one place.
Clean and arrange your refrigerator by wiping it clean and throwing away all the items that have crossed its expiry date. When you store anything in your freezer, you must not forget to label the freezer container of what they contain. Also, label the date of storage to keep a track of the freshness and utility of the stored products in the freezer. Do the same with the refrigerator. Do not forget to throw away spoilt fruits and vegetables from your vegetable tray.
Once your kitchen is organized, it gets really easy to manage your routine cooking for your family and yourself. You have easy access to the required items in your kitchen and it also gets very easy to clean the kitchen. Get started with organizing your kitchen to lead a healthy lifestyle. A clean kitchen really can change an unhealthy lifestyle to a healthy one.
via: about