The best thing about luxury fitted kitchens is that they don't force you to conform to particular designs. However, this would also mean that you would need to put in extra effort in planning everything properly. It goes without saying for certain areas of the kitchen, including the kitchen flooring. The thing about flooring is that you need to get it right at the first instance, only because everything else would come on top of it, leaving little or no room for changes after everything has been fitted. So, if you are considering some flooring options for your luxury fitted kitchen, here are some of the best ones you can take a look at.
Tiles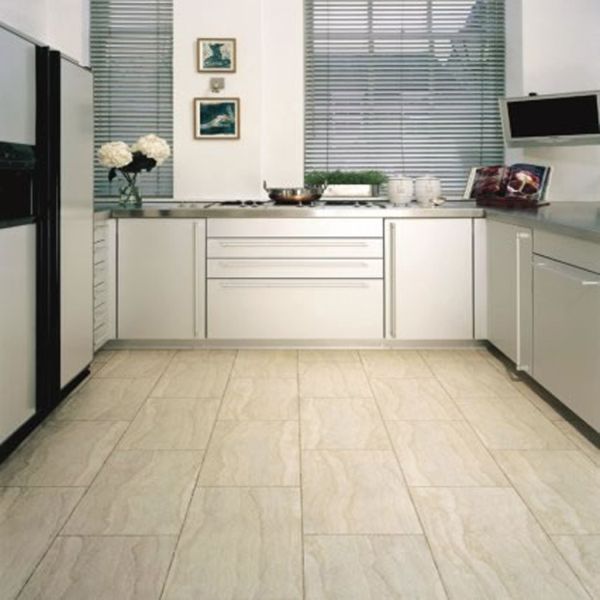 These are very common options for kitchen flooring, and come in a variety of interesting colours and patterns. The good thing about tiles is their hardwearing properties that can give your kitchen a neat, classic look that would remain for years on end. They are also water and stain resistant, making it easier for you to clean your kitchen and keep it that way.
The only downside to choosing tiles for your kitchen flooring is that they tend to become very cold and slippery during the monsoon and winter months. The walking surface is pretty hard and unforgivable on dropped dishes or glasses. There is also the cost factor to take into consideration, with tiles being very expensive to install.
Porcelain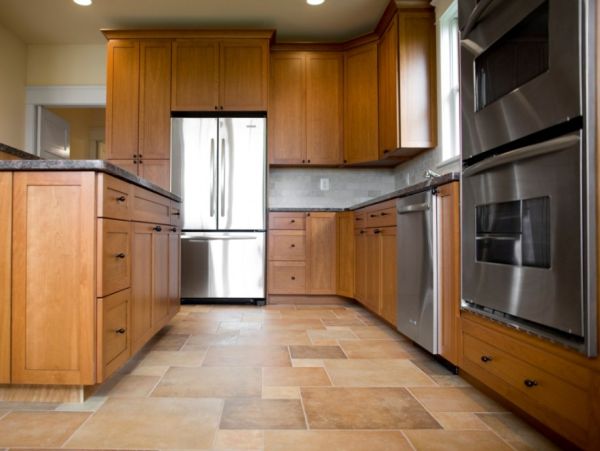 Porcelain flooring gives you the same look and feel of stone flooring, sans the costs involved. They are stronger than ceramic tiles and extremely durable. Maintaining porcelain floors is also not that hard as they can be easily cleaned.
The downside to porcelain, as in the case of tiles, is that they can become extremely slippery. Standing on these floors for long periods can also leave you with leg and back pain.
Vinyl Flooring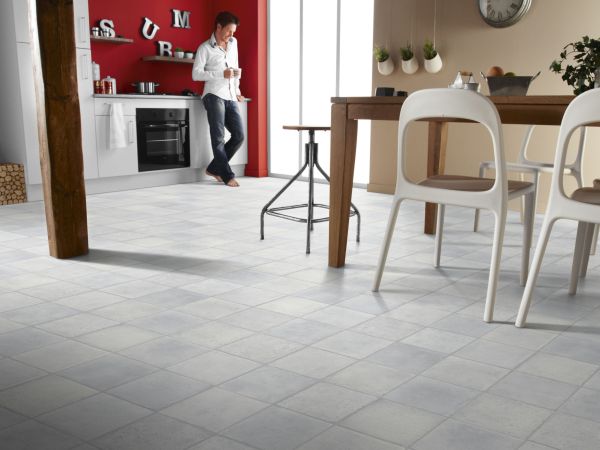 Vinyl flooring is another budget friendly choice when compared to tiles for rooms, including the kitchen. Vinyl would be a great choice for your kitchen if the latter is prone to spills and stains as the material is very easy to clean and is water/stain resistant. They come with a foam or felt padding that makes standing on them more comfortable when compared to tiles. The soft padding also prevents dropped glasses and dishes from breaking. Able to reduce noise levels effectively, vinyl floorings would last for years. Your best bet; to opt for a vinyl sheet rather than peel and stick tiles in order to prevent water seepage through seams.
Cork Flooring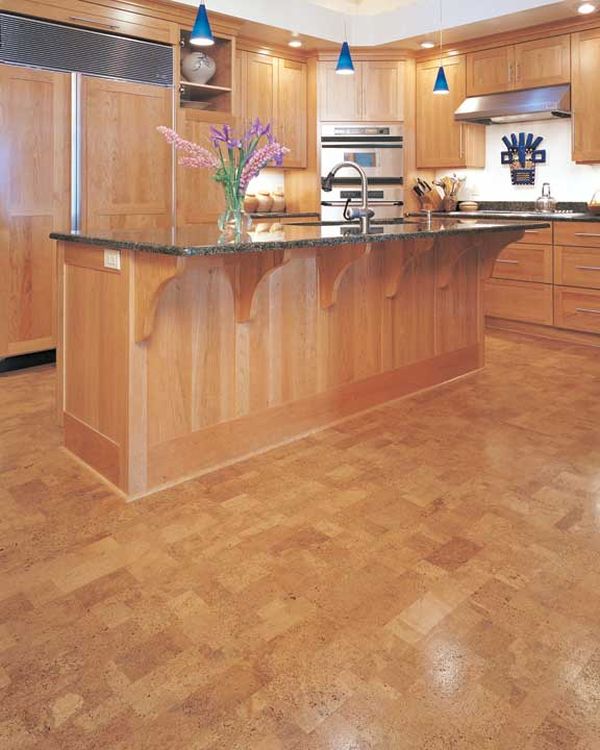 Cork is made of sustainable bark and is an environmentally friendly option for your kitchen floors. The air cells it contains makes the material spongy and soft, thereby offering you great comfort even if you stand on it for long hours. Cork floors are also water resistant although they are not waterproof.
The downside to cork flooring is that you need to reseal them every few years in order to prevent moisture build-up. They can also be hard to install and would need a polyurethane topcoat to make it easier for you to wipe off spills and stains.
Wood or Laminate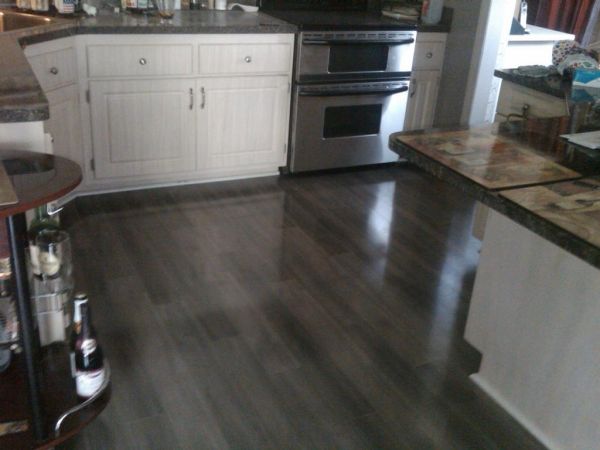 Your luxury fitted kitchen would look great with wooded or laminate flooring. This type of flooring never loses its popularity and give your kitchen a warm, classic look. Engineered wood is a better option than solid wood in this case as it would resist humidity better. If you are apprehensive of the costs involved for wooden flooring, you can opt for a more budget friendly option; laminate. Laminate being sandwiched between wear layers is more stain and scratch resistant than traditional wood. However, too much of water in the kitchen can most probably lead to extensive damage.
Summary
Your luxury fitted kitchen would look great with a clean, polished flooring. The above mentioned flooring options are the most commonly chosen ones for kitchens and can do great justice to your kitchen décor.