Lamps illuminate the area magically, but the whole thing gets annoying when one gets entangled with wires that accompany them. Want a lamp that comes sans any ugly black cables, which ruin the decor in just a snap? Here is a cordless rechargeable lamp, which has been blessed with simple looks and will give the space a clean look. Christened Luxciole, the eye catching lighting piece will be perfect for just any kind of a setup.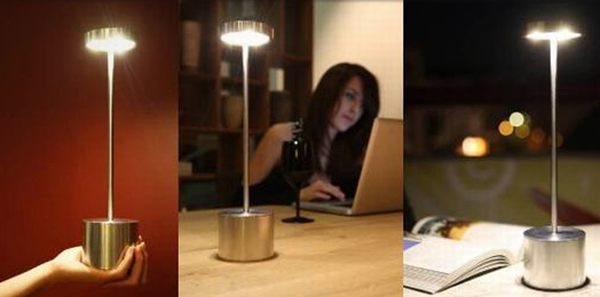 Luxciole will bow down to all the needs that surface when it comes to lighting an area as it can be used both indoors and outdoors. The LED lamp is quite power and its intensity is quite commendable as a single piece will kill all darkness on a table where 10 people can sit at a time. The efficient light source will brighten up an area for 5 to 25 hours, depending on the chosen level of intensity. It just takes 4 hours to get fully charged with a 12V charger that accompanies the lamp.
Crafted out of stainless steel and aluminum, it is as portable as a torch and can be carried anywhere. It is quite sturdy and comes smothered with a lot of style. The sleek LED creation can be used as a desk lamp, table lamp, a bedside lamp, on a terrace, in a garden or near a pool. Apart from this, it will be welcomed with open arms in hotels, restaurants, parties and various events. The low-voltage LED lamp doesn't come with any fears of electrocution, which makes Luxciole an ideal creation.
Via: Luxciole