Is it problematic to handle your desk lamp that only lights up a focus area? Would you want your lamp to be more flexible so you may receive sufficient light how and wherever you want? Now, designer Lefteris Tsampikakis has resolved all such issues with his newly designed lighting product called Magnetosphere Desk Lamp. Check out what is special about this lamp and whether it can actually add light to your life.
The concept behind the product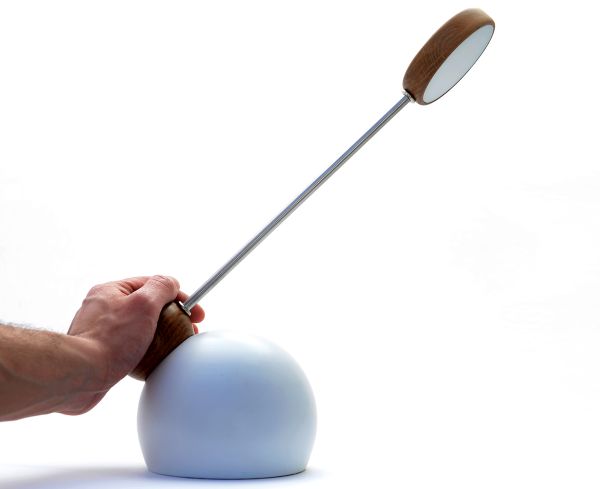 The design of this lap has taken its inspiration from our planet Earth. On the other hand, its functionality is backed up two major universal concepts of gravity and electromagnetism. As gravity causes objects to stay in contact with Earth and still move freely on its surface, the same way this lamp keeps the light source in contact with the base and still lets it move freelyin any direction or position. However, it does it with the help of magnetism of the lamp base.
Magnetosphere Desk Lamp design
A hollow metallic sphere,filled with sand,forms the lamp base. There is an arm developed with a smaller sized wooden sphere connected to one end and a wooden disk connected to the other end. The arm is actually a stainless steel pipe that holds the two oak wood structures together.
There is an LED board of 5.6 watts, covered with plexiglass and surrounded by the wooden disk enclosure. This board is the source of light. Further, you can find strong neodymium magnets fitted at the bottom of the wooden sphere. If you give a glance to the entire arm, then you may feel like looking at a radar or magnifier that can be grabbed and moved in the desired way.
Functionality and usefulness
As the wooden sphere in this lamp is magnetic and the other sphere used is metallic, you can actually move the arm freely anywhere on the metallic sphere. On the surface of the metallic sphere, the wooden sphere can be rotated to position the arm as you want. It would still stay stuck to the bigger sphere because of magnetism. Thus, the lamp gives you flexibility, along with stability during its usage.
Magnetosphere Desk Lamp is quite useful because of its functionality and ergonomic design.You can easily play with it to light up any area you want. Thus, there are lesser distractions while working on your desk. It will not even cast your shadow on your stuff on the table.
Magnetosphere Desk Lamp is a gravity- and magnetism-based device that can light up your desk and surroundings evenly and effectively. It is highly customizable for regular use in different spaces.
Source : Behance.Net