Canvas art has always been one of the best ways to decorate your house. In fact, this form of home décor has been popular since the olden times. Today, you can find a wide range of inspirational canvas art home décor ideas that allow you to design and decorate your home within a small budget. These sort of artwork is not very expensive and come in a huge range of designs and themes. Here are a few ways to decorate your house with canvases.
Herringbone canvas art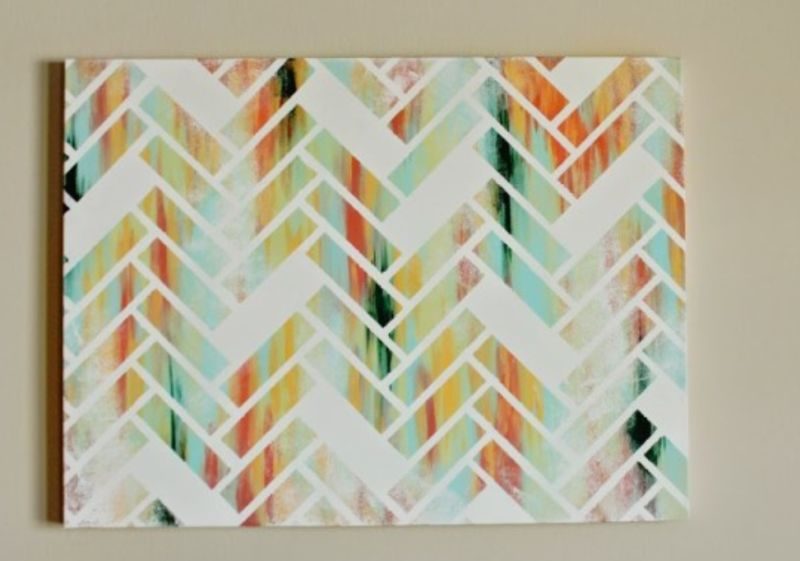 The Herringbone design has its own beauty even though it is a very simple one. While choosing canvas-decorating ideas for your home with the Herringbone, you can opt to go for the patchwork idea, the painting idea, or even an embroidering idea. Take this concept to a different level by using broken toys, glasses pieces, or even small sized motifs.
His and Her wall art
Want to relive a special moment of your life every day? Well, why not go for the His and Her wall art? Online stores like Canvas Vows offer different ideas wherein you can use the His and Her concept. Whether it is re-living your dating days, choosing a photo that was taken on your wedding day, or just remembering the vows that the two of you made; there are many His and Her designs you can choose from while decorating your home with canvas art.
Canvas art made from photographs
A photo collage is one of the easiest ways to remember your good old times. This is not only one of the inspirational canvas art home décor ideas, but also a beautiful way to have your loved ones close to you. You can choose different layouts and ways to stick the photographs. To make it more fun, why not add a few funny captions that can describe the moment?
The classic polka dots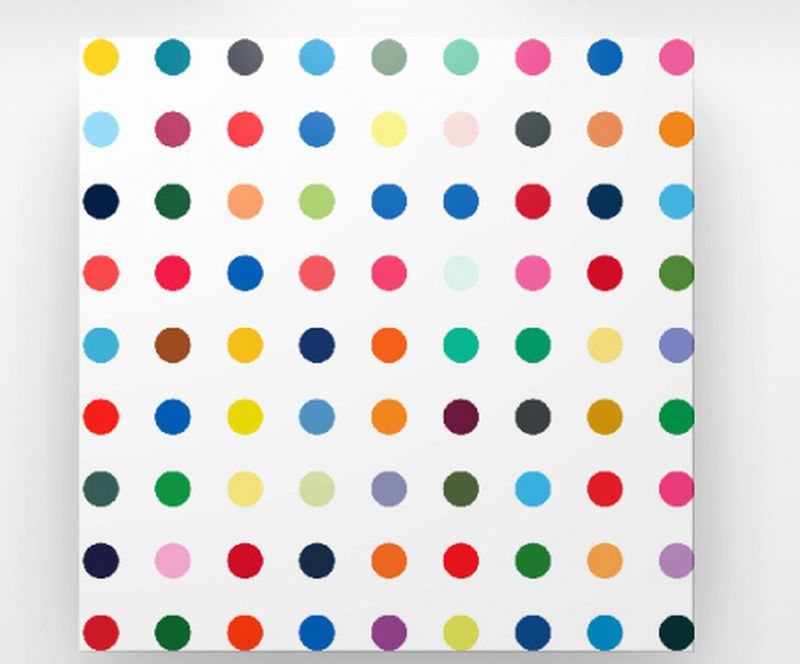 Polka dots are never out of fashion and the same is applicable with home decor as well. You can choose from a wide range of inspirational canvas art home décor ideas using polka dots. Use the polka dotted concept as a background or just add a touch of it to your painting. You will see an instant transformation on the final touch of your canvas.
Metal patchwork canvas ideas
People who love the metallic touch can definitely use this idea. While decorating your home with canvas art, you can cut out metal sheets, aluminum foil, or go with metallic colors. While arranging the metal patchwork, make sure that you sketch out the basic design so that it becomes easy for you place them.
Glitter and lights ideas for canvas art
Blend in the concept of home decor ideas with canvases and string lights in a beautiful way to uplift your wall decor. This idea is also a good variant when you want to put your string lights into good use even after the festive season. Instead of storing the lights in a box, you can make small cutouts to place the bulbs on the canvas. Floral based inspirational ideas are one of the best ways to bring in the beauty of this look. For those who want to go with the multi-colored lights, you can choose to opt for an oceanic front or the cityscape inspirational idea.
3D effect world map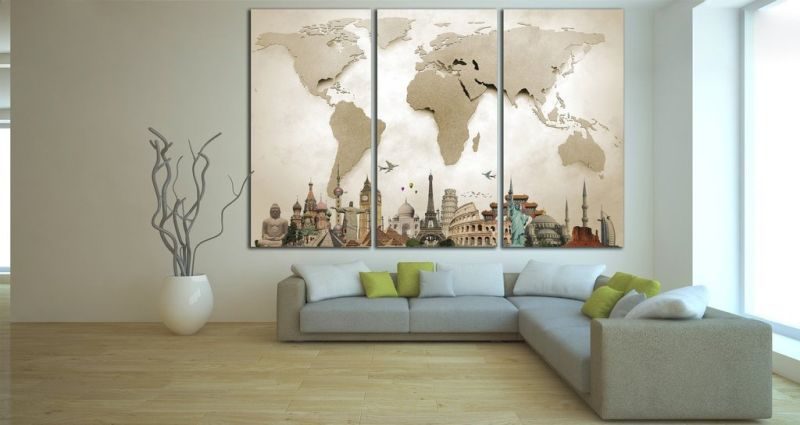 For people who love to travel, the 3D effect world map is one of the unique and interesting canvas decorating ideas for your home. This will not only suit long walls, but you can also use it to create a focal point in your living room.
Heart shaped photo collage canvas
One of the oldest but trendiest ways to make your photo collage, you can choose to use this concept in many ways. One of the inspirational canvas art home décor ideas you can use is by arranging different photographs in the shape of the heart. Another way to go about with this idea is to get the photos scanned and printed on a canvas.
5 piece canvas of nature inspired paintings
The beauty with nature-inspired paintings is that it is never dull. For people looking out for inspirational canvas art home décor ideas with nature, you can choose to go with the black and white image or even the dark or soft color pallet. If you place this 5 piece set in the living room, you do not have to waste any more time or money to decorate the space.
Cut and colored inspirational canvas art home décor ideas
The cut and colored inspired art has a unique touch. These sorts of canvases are ideal for people who love to have the element of color and yet want to play safe. The canvases that are inspired by the cut and color concept come in various shapes, sizes, and designs that will be a perfect addition to any space.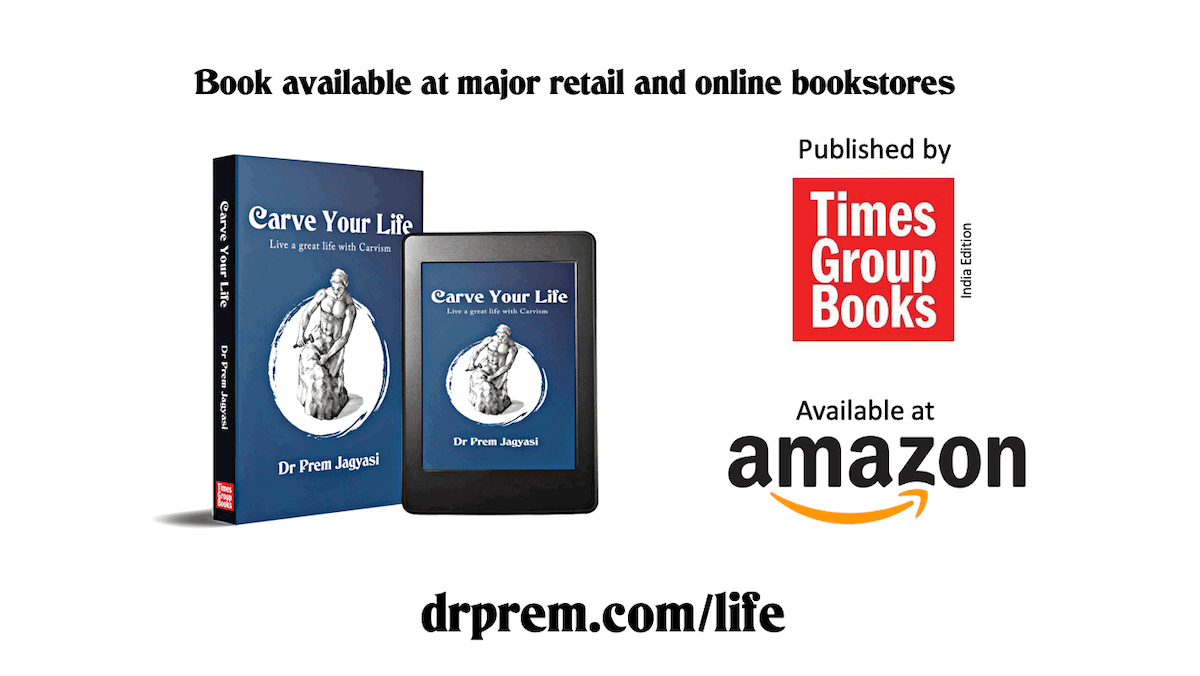 Article Submitted By Community Writer