If you are searching for quality home entertainment system and want something that is a perfect decor for your home;  here is a list of speaker designs to enhance home decor that would be suitable for you. These speakers would not just provide you high performance sound for movies and music; but, will also be an elegant addition to your interiors, enhancing the charm of your home decor.
Wall mounted speaker designs to enhance home decor
1. Matchstick wall speakers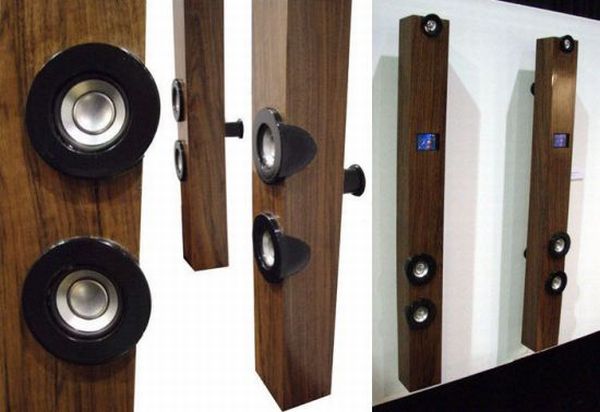 These speakers designed by James Loomis add a retro touch to your home theater system. These thin wall mount speaker are three and half feet tall and come in different finishes of cherry, maple and walnut to suit your interior needs. There uncluttered lines remind you of the 60s and 70s. At the same time, two tiny video screens add to the charm and visual indulgence. They are a perfect addition to your home and intrigue with their screens showing visuals of your favorite retro stars playing the rock beats.
2. Water proof wall mount speaker system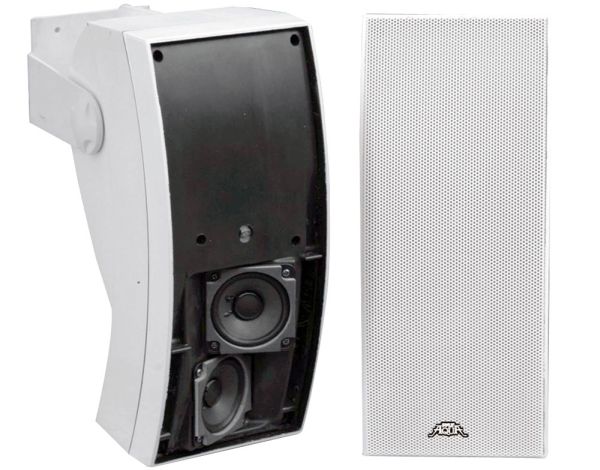 These speakers have a lot of power to boost your surround sounds. Manufactured by Pyle, this 500 watt, three way indoor/outdoor speakers can be easily mounted and installed on your wall without much worry. These high quality speakers have 5″ woofer that gives you great sounds in crystal clear quality. The 3″ high quality cone is for the producing smooth mids while 0.75″ aluminum voice coil is especially for the sweet high. Now you can listen to your favorite music with distortion as these speakers come with ABS plastic cabinet which keeps your drivers safe.
3. Super slim wall mounted speakers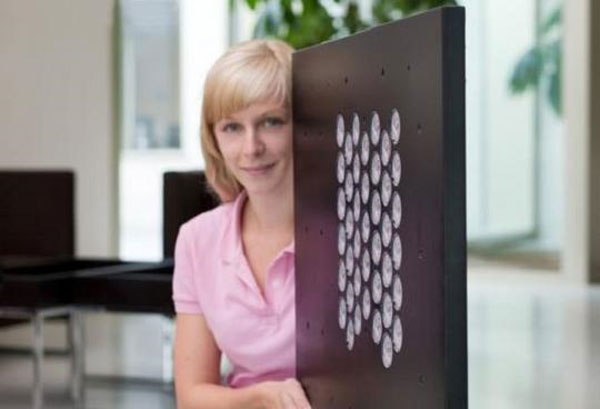 Sennheiser is known for its quality features. The company collaborated with the Franhofer Institute for Digital Media Technology and have produced wall mounted speakers that are barely an inch thick. These speakers are combined with professional surround sound that offers tonal balance. Although the other flat speakers ought to be kept a minimum distance from the wall, these speakers can be integrated into any media equipment and mounted straight to the wall. Reproduction range of these speaker is 100 Hz to 20kHz that allows you to explore wider music possibilities. A great option for those who feel that the slim is in!
4. PMC Wafer 1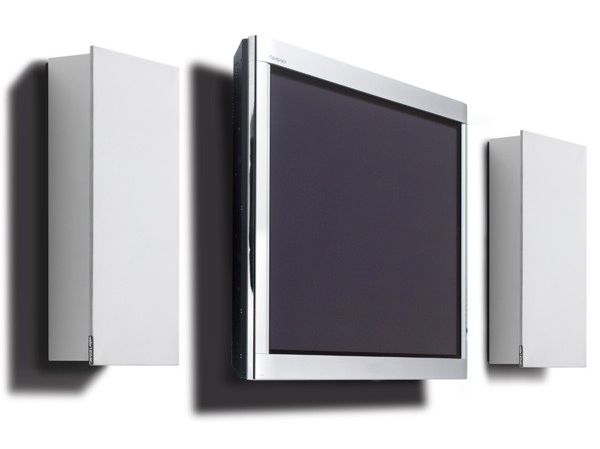 These speakers are practically designed and are a stylish installation. But, most importantly these speakers have great audio clarity and quality which makes them perfect for the professional. It is also used by major television and recording centers. The characteristics of these speakers make it a versatile addition as they are compatible with a wide range of home of professional equipment. Dubbed as the best performance wall mounted speakers, these speakers are for pure music who want the perfect clarity and quality of sounds.
5. Tree Stump speaker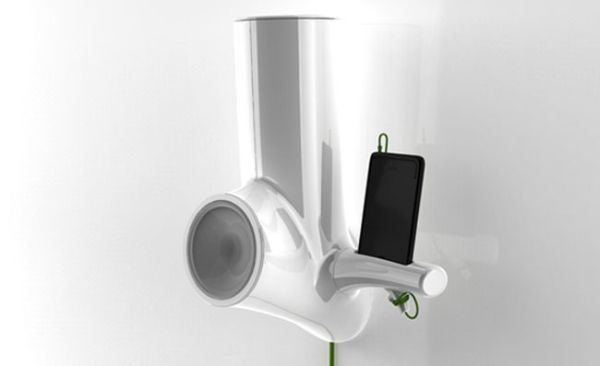 As the name suggests, these speakers appear to be a branch of a tree growing out of the wall. A small integrated branch can be used as a stand for your cell phone or music player. Created by Thomas Laenner, this design appreciates nature. The circular control disc is the main area from where you can switch on or off the system and adjust volume. These systems are available in white and black color and add luxury to your home interiors.
6. SMS Series wall mount loudspeaker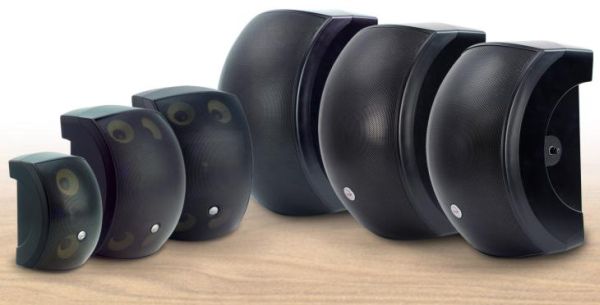 These wall mount loudspeakers are available in six different models and have a sophisticated electro acoustic technology for high sound output. The conventional wiring methods allow for easy installation while the loudspeaker has a variety of dispersion options for clarity and quality of sounds. This loudspeaker is an outrageous edition to your home decor and also provides wide, well controlled sounds. Start your party by switching this wall mounted loudspeaker.
7. BS-1034 & BS-1034S wall mount speaker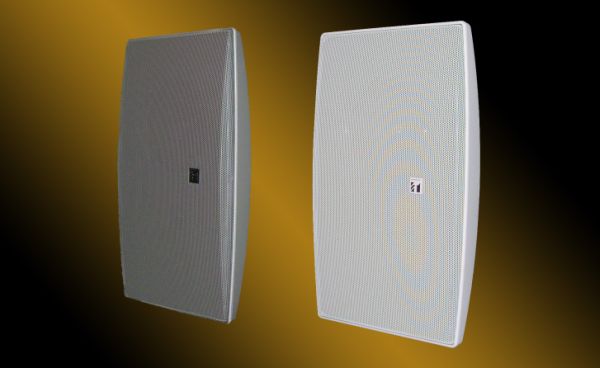 The name is simple, but the product is innovative. There is a plug cable receptacle which enables you to easily install the product. The low frequency of 5″ and high frequency balanced dome type speaker allows you to listen to a variety of acoustics. This low profile speaker have innovative design and can be installed both horizontally and vertically. Silver and off white colors ensure that you get the one which matches your wall and interiors.
8. Anchor audio wall mount speaker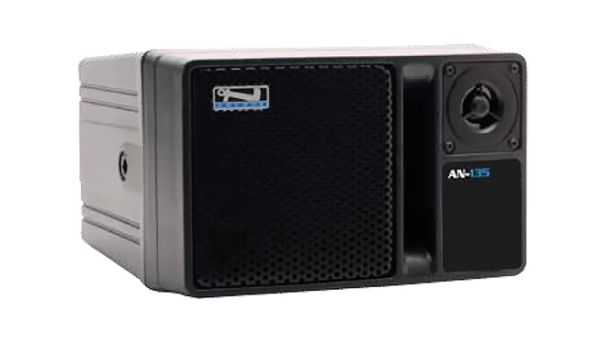 This audio system barely weight 3.5 lbs and therefore, it is a light weight addition to your living room. It has general audio applications and hence it can be easily operated by even those who aren't tech-savvy. 4.5″ neodymium woofer ensures that you don't compromise with the sound quality. Internal amplifier of 30w allows for clearer sounds. Add this if you want to keep your house simple, sober and elegant.
9. Fruity speakers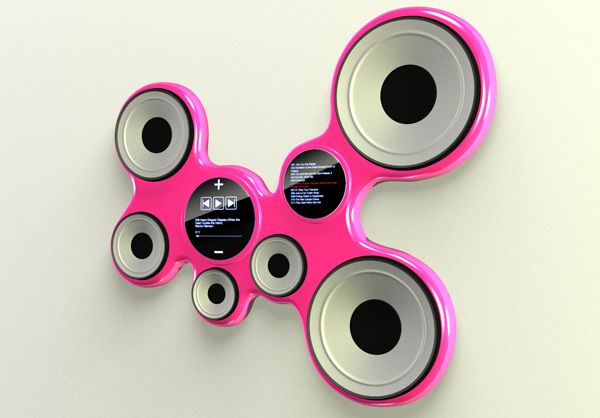 This is speaker is for those who want to make a style statement. Designed by Yue Li, these speakers appreciate nature and appears to be like blooming flowers. The best thing is that these speakers have six mini speakers along with two touchscreens to woo tech-savvy individuals. It is compatible with CDs and MP3 along with all types of media. They can easily change their shape and have the perfect audio. Choose this and your guests would envy you!
10. Q Acoustics Q-AV wall-mount rear speakers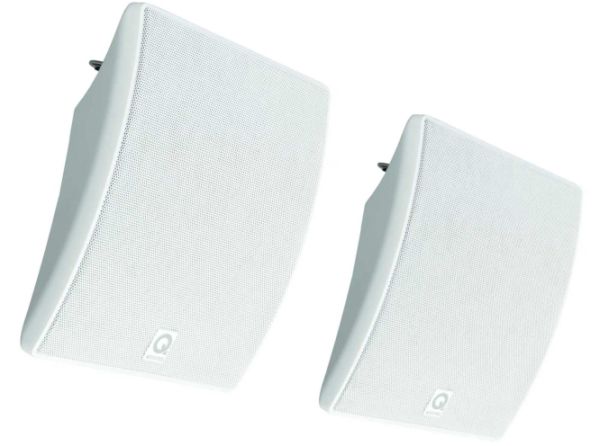 If you want stylish and non-obstructive speakers for your home, then this is a favored choice. These speakers can blend in with your wall and given their unique shape, they can be placed anywhere in your room and won't obstruct with the sofa, television or book shelf. The sound quality is also worth appreciation. A perfect addition for home that want style and utility.
Unique and innovative speaker designs to enhance home decor
1. Kanto Morph speaker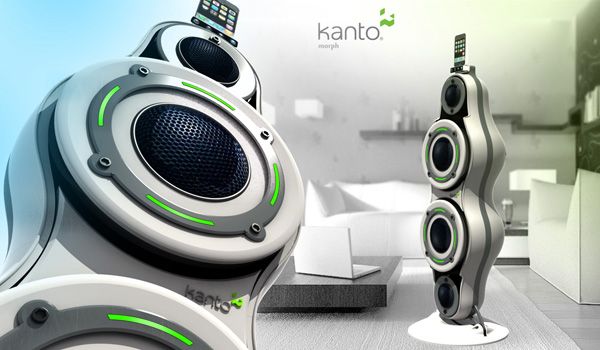 Alp Germaner, a South African designer, has designed the cool Kanto Morph speaker which reflects his unruly design ideas. The device is an iPod/iPhone dock but doesn't resemble traditional docks. Originally, the Kanto Morph speakers were designed to be entered into a competition but missed the opportunity. What sets them apart is that they don't look like regular Apple affiliates and are quite unique. The four-speaker system gives you a powerful listening experience without compromising on space. Apple users will, no doubt, be delighted to get a hold of the Kanto Morph speakers to complement their iPods or iPhones.
2. Woofer Speaker System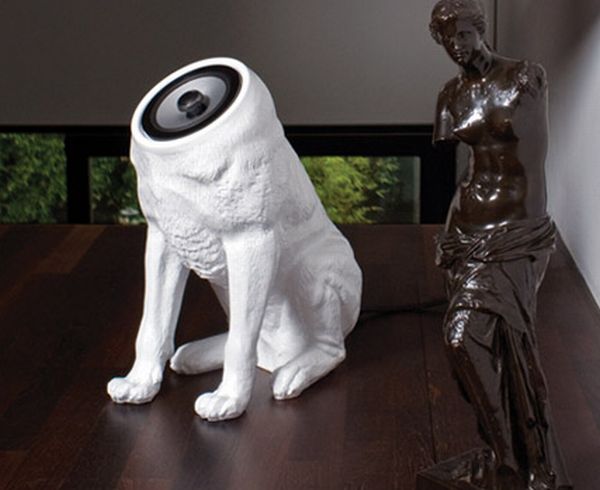 While it may not be appreciated by dogs, the Woofer Speaker System is perfect for those with a quirky personality. Two 20-inch headless dogs make up the system which sports co-axial speakers. Custom electronic filters make sure you get the best sound while appealing to your sense of the strange. The cost of this somewhat creepy system is around $999.
3. See the sound speakers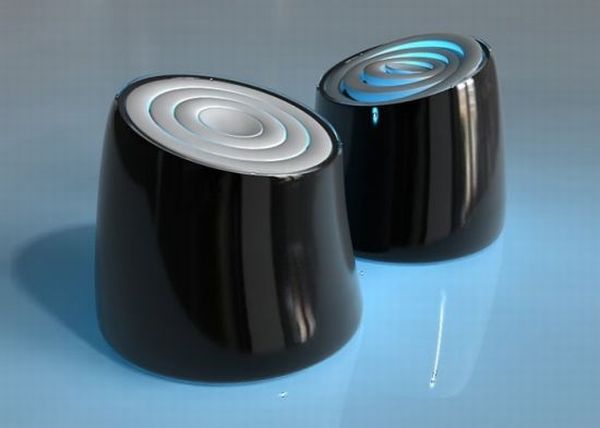 Generally, when we think of speakers, the very first pictures that come to our mind are of square or rectangular boxes. But talented designers across the globe are doing their creative bit to change our perception. The contemporary 'see the sound speakers' designed by Young Sang Eun will make your room look incredibly modish. Like the name, the speakers actually let you 'see' the music with the help of vibrating rings on the top. Similar to a graphic equalizer, the speakers are a work of contemporary art.
4. PLUG + PLAY wireless speaker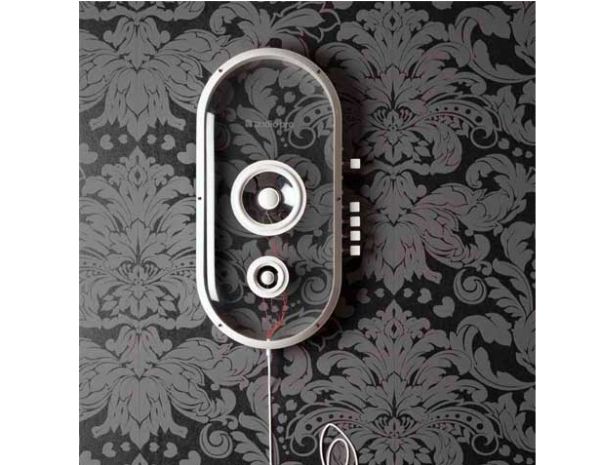 The PLUG + PLAY wireless speaker is an innovative piece of work. It lets you hide the speakers between a groovy wallpaper. This beautiful, edgy and transparent wireless system uses a Bluetooth receiver for functioning. You can stick the Bluetooth transmitter plugs into various MP3 devices such as mobile phones, computers, iPods and laptops and play your favorite music on the PLUG + PLAY wireless speaker. The transparent LCD display shows you what track is playing as well as an equalizer.
5. Hive speaker designs to enhance home decor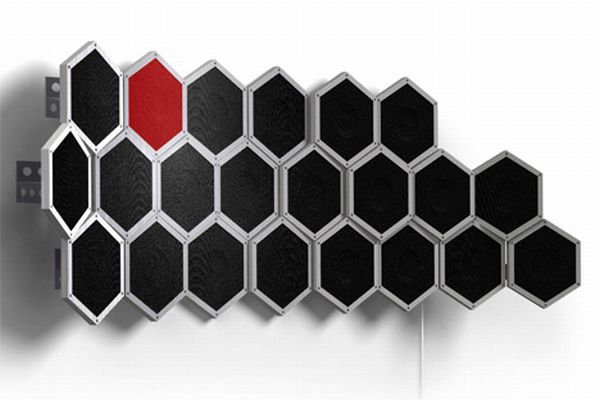 Taking inspiration from a beehive, the Hive speakers are designed not to look like speakers but more like a contemporary art piece. This modular system can be used as a single unit or used to fill an entire wall. You can hide all the electrical wiring within the wall-mounted frame, thus reducing the amount of cables to one which contains both audio and electricity. You can extend and pivot the speakers independently too so you can use them in various digital surround systems. Perfect for those tired of square or rectangular boxes.
6. Moonlight Sound Speaker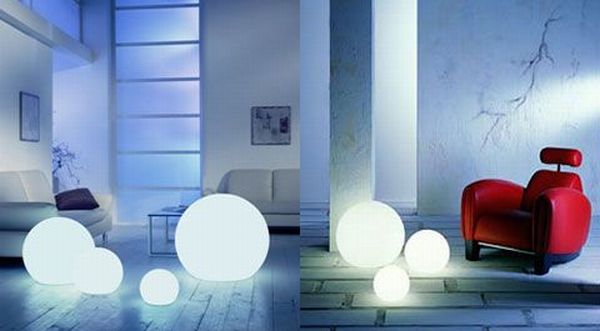 Looking like full moons, the Moonlight Sound Speakers handle 120 to 200 watts of amplification and project sound in a 360-degree dispersion pattern which means that they provide sound in all directions. The fluorescent light sources are available with a wireless LED bulb which can keep changing colors. The speakers are made of durable weatherproof polyethylene shell so you can use them outdoors as well. What is unique is that the Moonlight Sound Speakers can be used in extreme temperatures. Available in various sizes, you can choose to place them on the floor or hang them.
7. Tree speaker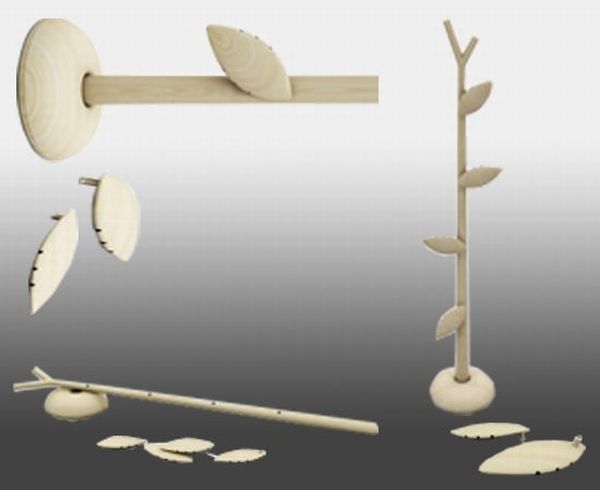 We all love to see birds sitting on a tree and listen to their lovely melodies. Taking a cue from this refreshing scene, Jihui Hong has designed an exclusive Singing Tree that allows you to enjoy your favorite music. You can place the system on a table or hang it up on your wall. All you need to do is to hook up your audio player to the tree speaker system and then insert leaves into the designated holes. The leaves are used to control the volume. The more leaves on the tree, the higher you can increase your volume and vice versa. This will make a perfect addition to a green home as well as it resembles the theme perfectly.
8. USB shoe speaker designs to enhance home decor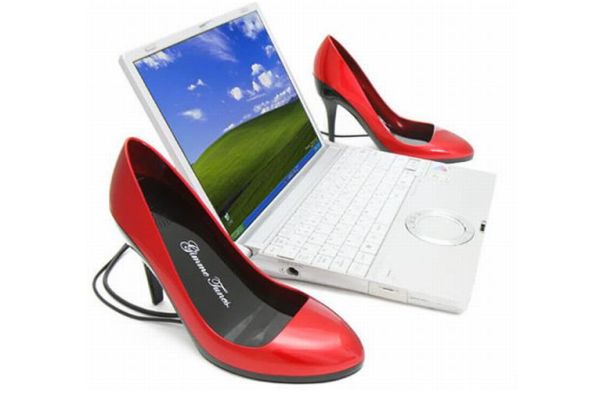 Stiletto lovers will definitely adore these cool speakers. Shaped beautifully like high-heeled shoes, the speakers have a 3.5-mm USB port which can be easily connected to a computer or an MP3 player. The system is available in various colors of pink, black and red. The approximate cost of these speakers is £24.99.
9. Horn dipole loudspeaker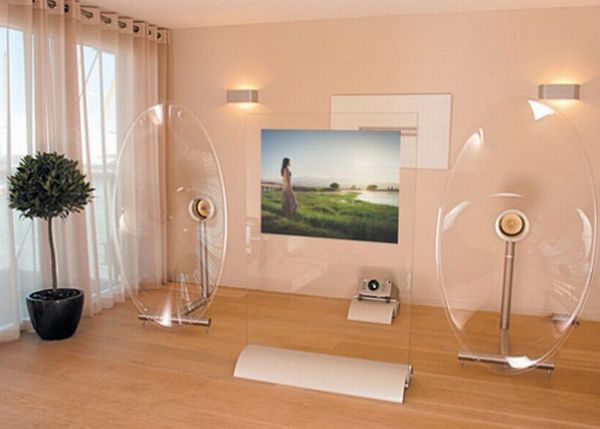 The Horn dipole loudspeakers are full range units from 150Hz – 20 KHz which can produce music of high level clarity, details and dynamics. This pair of speakers is highly efficient and can produce loud sound by using just 5 watts. The stands are made up of stainless steel and are satin polished. The horns are made using toughened cast acrylic and the phase plug and support ring are precision machined using aluminum alloy. The speakers sport a protective anodized finish. Classy and minimalistic, they're perfect for a modern home.
10. Dragon speaker designs to enhance home decor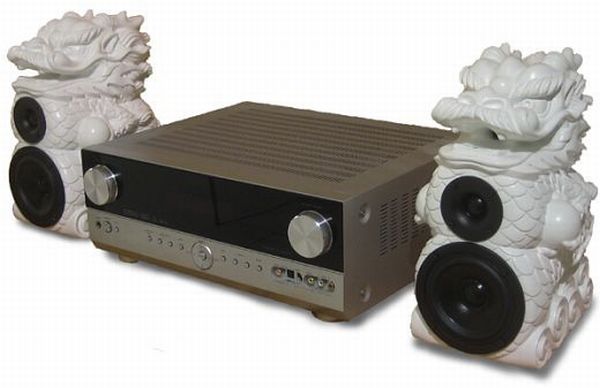 If you're planning to embellish your media room with some scaly reptilians, then these Dragon speakers will give a dramatic statement to your personal space. The two-way speakers are designed by UK studio, Axelsson Design, and are made using sturdy polyurethane plastic cabinets while the bass is ported via the dragons' mouths. The speakers also sport a 1-inch tweeter as well as a 4-inch woofer. Standing at 15.4 inches tall, the system is available in white, gloss black and candy apple red finishes. You can also get them custom-made. The cost of Axelsson's Dragon speakers is around $940.