Ever walked by a lamp that mesmerized you to the point that you had to slow down and take in its brilliance for a couple of seconds before moving on? One look at the Matrioshka Pendant Lamp and that is probably the same feeling you will have for sure. For these pendant lamps take the concept of artistic design and lighting to a whole new level.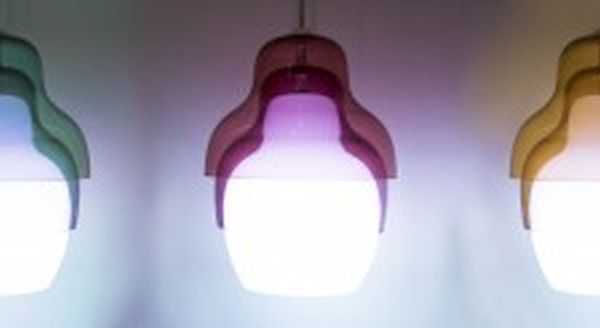 Design Features
Matrioshka translates to Russian nesting dolls that are re-imagined in glass. The pendant lamps by Innermost feature dome like designs made of pigmented, hand blown glass that covers an E27 light source. The pendant lamps are world renowned for the way they play with natural and artificial lights that pass through them. The glass filters these lights and the converges the colors in them to form new tones and shades, thus creating a beautiful, mesmerizing light that can change in lieu with its immediate surroundings.
Materials and Colors
The pigmented glass used for the Matrioshka Pendant Lamp finds its origins in the Czech Republic. The country is known worldwide for its exemplary glass artisanship, and produces some of the most beautiful glass artworks in the world.
The Matrioshka pendant lamps are available in colors of red, yellow and blue. Only recently, Innermost announced a fourth color to be added to this list. And the color happens to be the current flavor of the season, grey.
Salient Highlights
Grey offers a smoky look to the pendant lamp, offering a cloudy or rather, hazy look that illuminates the lamp's shapely form beautifully. Smoky grey colored glass is also considered to by mysterious and sultry, with its dark outline screaming intensity and drama. It offers the perfect contrast to a modern setting, creating a quiet sophistication about the space around it. The color was in fact, quite popular with the designs in the 1970s which were dominated by bold colors, patterns and attitudes.
Matrioshka owes its exemplary design elements to Stone Design, a firm which specializes in creating beautiful pieces of art using glass as a medium. Through its myriad designs, Stone Design aims to reshape the world through the reflecting and refracting properties of glass as light falls on it.
Innermost has announced a new arrival in the list of Matrioshka Pendant Lamps. The newest color to be added to the list is grey which offers a mysterious, smoky effect to the light.
Source : InnerMost.Net