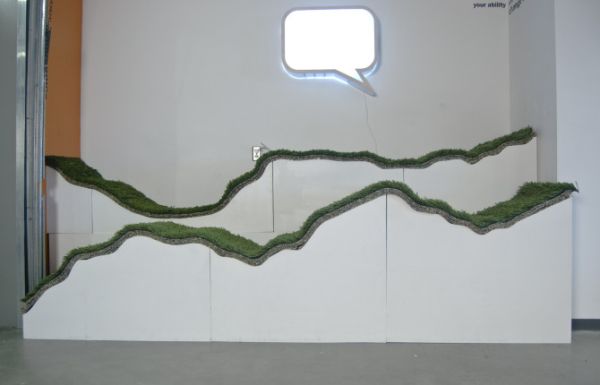 What would you choose from a stylish decorative piece and an useful piece of furniture? Designing the interiors of any space involves making hard choices like these and often style is sacrificed at the altar of functionality. But what if you did not have to choose? What if a seating area could add that coveted dash of greenery to your indoor area and at the same time look incredibly chic? The brand new Situation Lounger makes that possible. In our modern homes, space is always a crucial factor. Using any piece of furniture that is elaborate is a luxury that one cannot even dream about.
A perfect designer needs to be aware of this situation and should create designs that can easily be a part of the modern fast paced space-crunched lives that we lead. This is precisely what Montreal based , multi-disciplinary designer Dominic Liu has done. He has created the interesting Situation Lounger that is super functional and is guaranteed to grab more than a few eyeballs. Dominic Liu has designed other unique pieces of furniture like Knockdown coffee table and the Ht tube chair. He is not restricted to furniture alone, he is also involved in designing posters, book covers, brochures and landscapes created by intaglio printing.
The Situation Lounger is a very interesting piece of furniture designed by Dominic Liu. It is a seating area that offers a unique topography and is quite ergonomic. The green layering on the top almost looks like a zone of verdant turf. This lounger allows you to add some green zing to your interiors without having to bother about the hassles of growing plants indoors in an urban setting. You have a green zone and you don't need to bother about watering the plants. The undulating green surface of the top is highly unconventional and will set your interiors apart from any other mundane one. The maker also believes that this topography induces a spirit of discovery.
The Situation Lounger is designed for the modern home. It offers a comfortable space for relaxing and unwinding but that is not all that it has to offer.The lounger can be dismantled and separated into pieces that can be used as plinths for an exhibition or for keeping and displaying any kind of item. The white color of the base is a neutral color that can be a part of any interior color scheme.The unique multi-purpose features and a desirable blend of functionality and style, makes it a great piece of furniture for any urban, modern home.
Via DominicLiu