Jennifer Eshelman and Alex Shilin from Lebored are renowned for creating limited edition décor pieces that are centered on particular themes. For the month of September, the Texas-based design studio has chosen a very distinct end-of-summer-inspired theme which the designer duo has manifested through a collection of vessels. Made out of wood, the warm and summer-y vessels have a unique, minimalist appeal that is designed to fit seamlessly into Asian as well as western decors.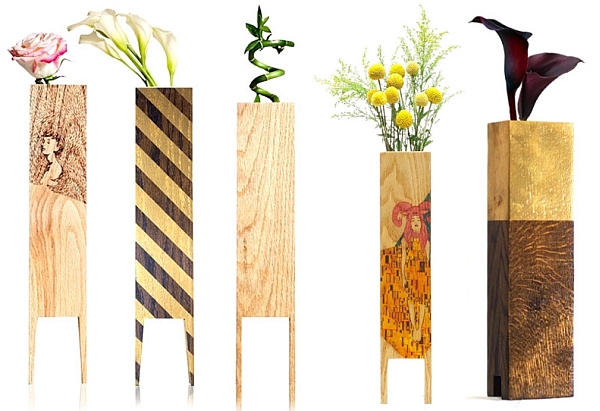 The limited edition designer vases are tall and rectangular in shape and present a strong nature-inspired aesthetic. A few vases in the line have been given feet while the others are designed to sit directly on their bases. This allows the users to mix and match the vessels to create a unique set or use them to compliment or contrast with the color scheme of the decor of a particular room. The angular appeal of the vases help them provide a hint of calmness and order against the chaotic beauty of stemmed flowers.
Some of the vases in the line have been left bare to expose the natural goodness and warmth of the wood to shine through while a few vases have been hand painted in earthy tone and come inscribed with moving and delightful imagery. The vases are created to be used purely as decorative pieces though they can also be used as fully functional flower vases since they come coated, lined and sealed on the inside with Epoxy resin to protect the wood from the water. To provide the wood of the vessels a layer of protection against the elements, the exterior of the vessels has been treated with Tung oil to protect the wood's natural luster. The limited edition Lebored Wood vessels retail for prices varying between $70 to $400.
Via: Design Milk