The entryway in your home is the first thing people see when they enter your house and first impressions matter. The way you design your entryway speaks volumes about you, and people can immediately gauge your taste and personality. The entryway sets the tone for your home, the pivotal design from which the rest of the design flows through your home.
Rustic materials used in tandem with contemporary forms, or distressed stone with concrete tables, the range and variety of materials and design to create a grand foyer or a functional but pretty entryway, is endless. Hanging paintings in the entry gives an arty look and creates interest. Read on to get an idea about some cool entryway ideas: 
Modern entryway bench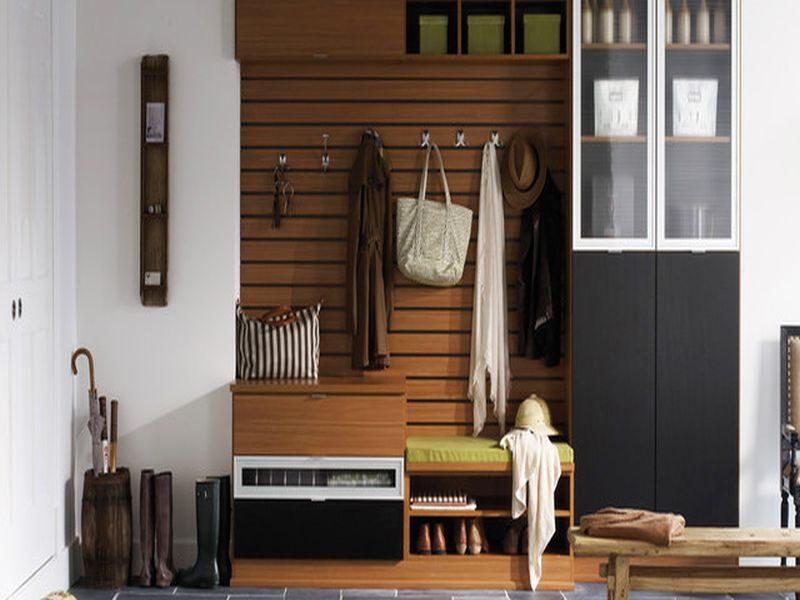 Having a bench in the entryway is a practical idea, especially if you have children. It allows them to comfortable wear their shoes, or open them. A bench in the entryway also lets grandparents and parents to rest for a moment after coming inside the house, before carrying on with their myriad activities within.
Apart from functionality, a bench which is co-ordinated with the rest of the design elements in your foyer, adds beauty and style to your entryway. You could also create a comfortable nook, using the bench as the focal point. Just add some pastel colored rugs, a wicker seat and floral patterns to curl up and have some alone-time.
Entry mirror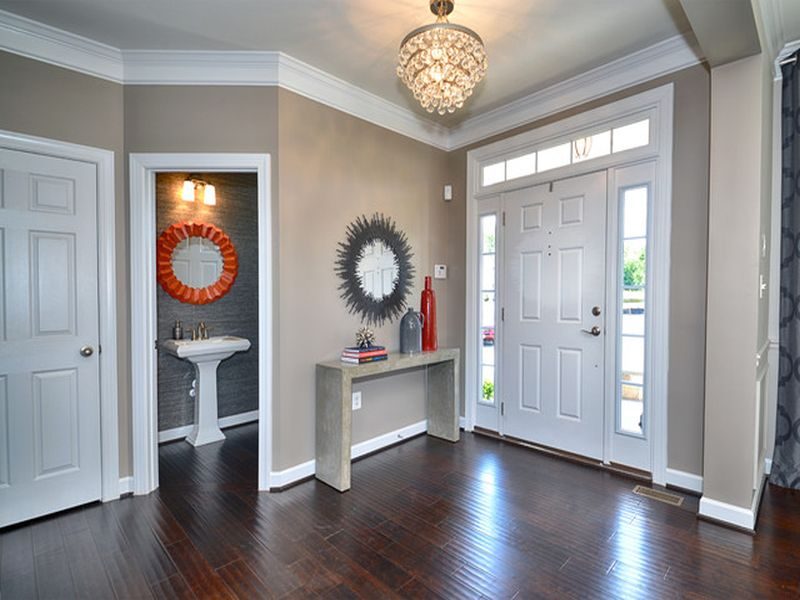 An entryway is often overlooked and under-decorated because we consider it just a pace to store our coats and shoes. But it's a space which can be both functional and visually appealing. A mirror with a modern design is an easy way to decorate your entryway. You'd be surprised how your entryway is transformed by the addition of this single element.
And of course, a last look at the mirror when you're going out never did anybody any harm! Guests too can use your beautiful but useful mirror to fix their dress or make-up before they enter your house. Floating shelves go well with mirrors in the entryway. They can act as storage, as well as give you space to decorate with flowers or other interesting curios you might have. A mirror reflects light and adds volume to your small entryway.
Wall panel with coat rack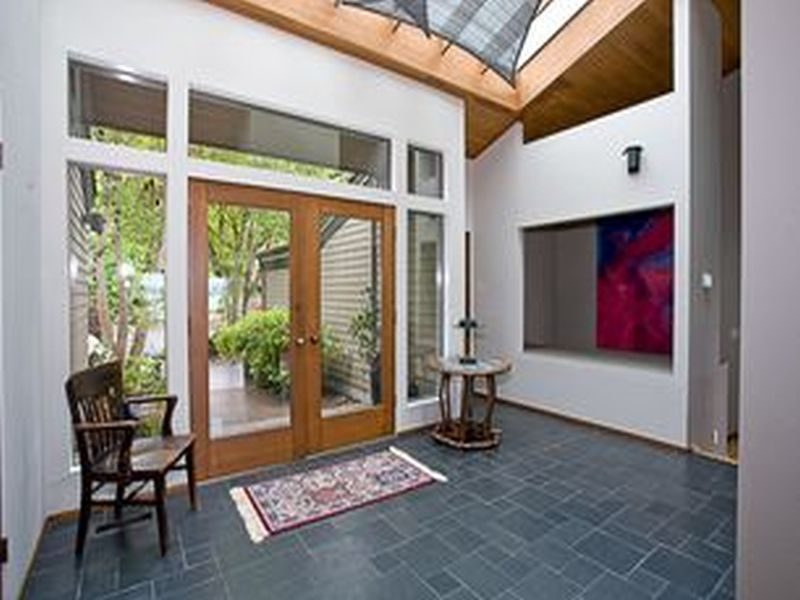 You could install a minimalistic wall mounted coat rack in the entryway. The hooks at different heights on the panel enable even children to hang up their coats with ease. The hooks are quite unobtrusive when the coat rack is not in use, and the natural pattern in the wooden panels adds grace and beauty to your space.
A wall panel coat rack saves space and allows you to add other functional and aesthetic elements like mirrors, cabinets, drawers, shoe cabinets and benches. Add a wicker basket filled with vintage walking sticks and canes to make the space more interesting. 
Slim, wall-mounted storage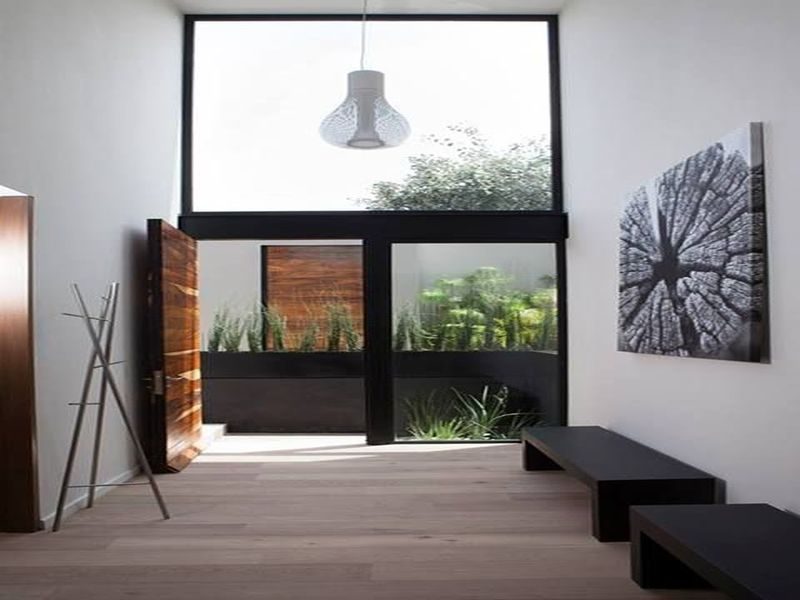 This is a great idea for the space challenged. In modern houses and apartments, there is usually a tiny entryway space. But even this small space can be decorated in a way to utilize the space and add some design element.A beautiful coat tree which is wall mounted adds personality and does the necessary task, without taking up much space.
If you have stairs intruding on your entryway, you might install some wall brackets or decorative hooks on the wall of the stairway to store / hold essentials, maybe even a vase of flowers. Another smart option is to hang a few hooks and have a boot tray underneath.  You can go for chic holders to store umbrellas.
Contemporary white foyer with potted orchids and art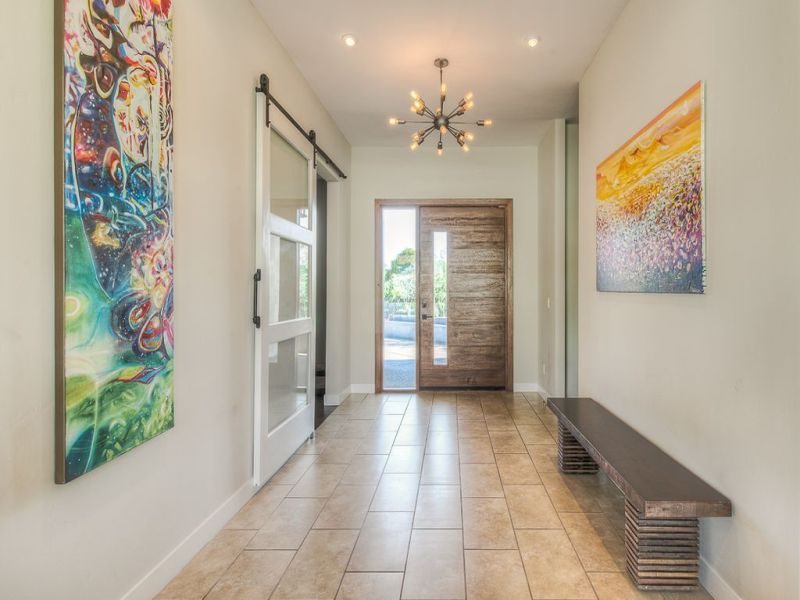 A contemporary white foyer can be decorated with artworks as the white of the walls becomes a neutral background for art. Black and white contemporary works of art and with some strategically placed potted orchids or just one orchid which takes center stage makes your foyer grand and stunning.
Whatever the materials that you may use, the focus is to create a space which is elegant as well as welcoming, is modern, could be minimalistic, but will wow anyone who visits your home.