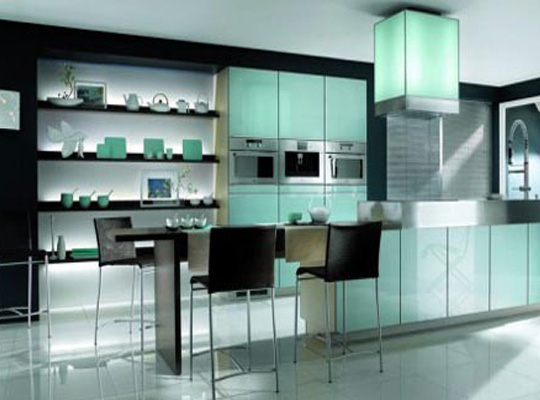 A kitchen is to a home as a sword is to a knight, of immense importance. Clean, sparkling with each space utilized efficiently, a suave and well maintained kitchen holds the key to earn accolades from the onlooker. When talking about modern luxury kitchens, the minimalist clean designs combined with lavish elements make for an awe inspiring cooking space that breaks all the barriers of traditional monotony. And who doesn't love to cook food in a place which suits their 'taste'? Read on for some amazing modern luxury kitchen designs.
All glass kitchen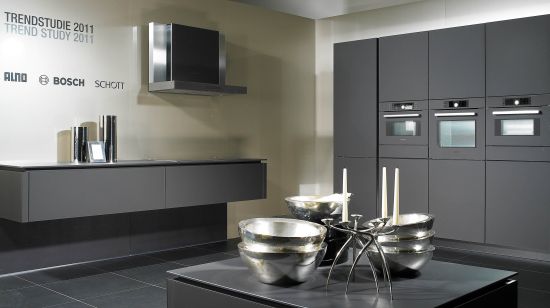 If glass is your thing, then you will surely love the design conceived by ALNO in collaboration with SCHOTT and Bosch. The surface of the model is made from SCHOTT Satin plus glass which is etched to create a satin finish, leaving a deep effect on the eyes. And you don't have to worry about safety as it is a high quality safety glass. The kitchen is so designed that it has many slots for in built appliances. The partial etch on the glass leaves it for late use as an oven window or a control panel. And the maintenance is not as strenuous as it may seem to be.
Ferrari kitchen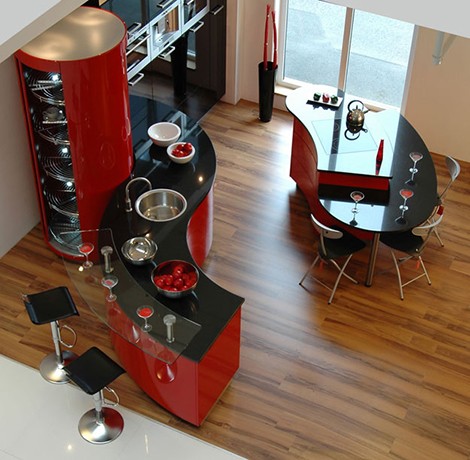 If you have a fast paced life, and a decent amount of money, then we recommend the Ferrari design for you. A design that will make you spend more time in the kitchen than in the bedroom, leaving your partner in fumes. The German company Kicheconcept gives you a palette of colors to choose from and a glossy, laminated finish which is a cynosure. The company has placed the sink in a 'S' shaped island, on one end of which is provided wall fitted ovens, and a tall storage. The electric stovetop is mounted on another teardrop shaped island which is raised to make you serve dished faster and efficiently.
French Modern Kitchen Designs from Mobalpa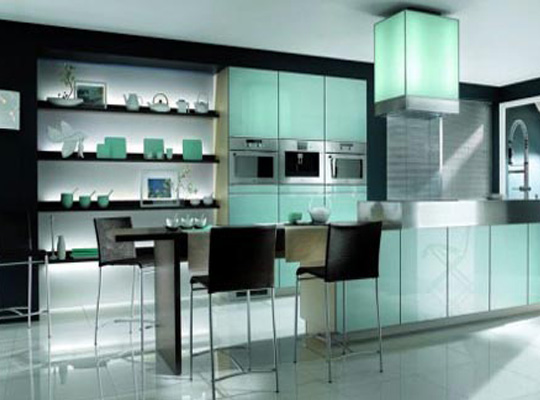 Mobalpa has come up with a kitchen design in French style. They take you back in time by the white and black design they offer. And if you think that such a design is old school, then do know that it is highly classy, and very sophisticated. And Mobalpa has made it look stylish by seamlessly integrating one component with another. The storage shelf fits neatly with the oven housing. The black and white if used intelligently can create one of the best looking products, an area in which Mobalpa knows what it's doing. The whole ambiance of the kitchen looks appealing and it's very nicely done.
Modium Kitchens by KicheConcept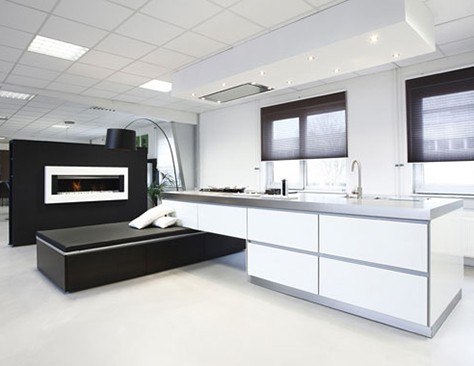 For those who tend to take breaks while cooking, things have just got better thanks to the German company Kicheconcept. They have fused together the concept of lounge and kitchen with their Modium design, a smart play of the word modern. Now, you can cook, eat and lie lazily on the bed and eat to your fill. The stove, sink are all provided on one island to which a lounge is attached. The island is fitted with lots of space for storage.
GE Kitchen of the future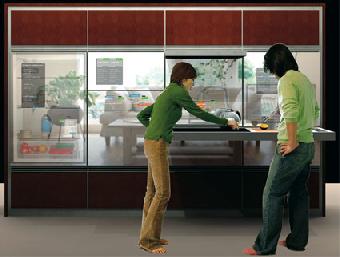 GE has upped the tech quotient in your kitchen by introducing computers. The appliances are fitted with small computers which interact with one another to determine what food is left in the refrigerator? What you need to buy more? The suite has a full width display with touchscreen controllers for easy information navigation. In this kitchen of the future, the lighting is organic light emitting diode (OLED) to keep the kitchen environment friendly.
Futuristic Ku-b Modular kitchen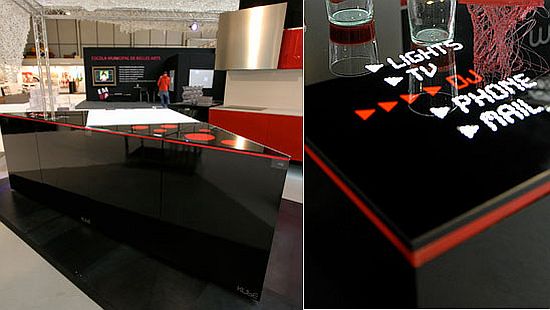 Envisioned by Innova designers, the Catalan interior's studio, the Ku-b modular kitchen is designed on the concept that the kitchen is the hub for all activity in the house. This design is a part of the Atipic house project which seeks on providing more with less. The kitchen shelf is provided with touchsreen panels on which you can even make a call, check your mail, and transform your kitchen shelf into a DJ. The wedge shaped design can be folded to make way for more space, and can make your modest kitchen look spacious.
Outpost kitchen

A perfect kitchen to suit your office needs. This innovation is designed by James Rennick, Simon Kingston for the German kitchen maker Miele. All units have been placed on top of each other to efficiently utilise space and the great thing about the design is that it can be extended further by attaching table tops and arrangement for seating. The boxes have been cleverly designed to place only Miele made appliances. It features a Bic-Biro cutlery, a tea set, a dining booklet and a fruitbox. This is just a work of imagination, and once it meets reality, be ready to cough up a lot.
MAN kitchen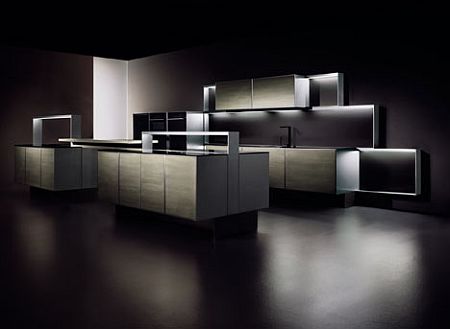 Here is a kitchen specially designed for male chefs. Porsche and Poggenpohl have come together to design a modern kitchen which makes your pulse race. The decor and styling will leave you wanting more, and believe me, you will dish out dishes you never thought you would. The black finishing and neatly trimmed sides of the components makes you want to spend more and more of your time in the kitchen. The kitchen is provided with modern monochromatic styling, handle-less cabinets, a high tech audio video system which is provided in Porsche cars, and everything is done in aluminium finish.
Enclosed mono-block kitchen design from Dada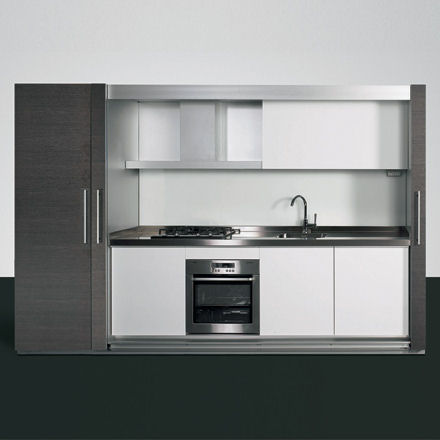 Designed for small kitchens in mind, the enclosed mono-block kitchen design will fit both your home and pocket easily. Now, you can keep your kitchen in your living room, and even fool the guests for an almirah. It is designed by Dante Bonuccelli and features dark wooden doors which you can fit in the storage space provided by gliding them to the side. A storage space is provided on the top, with the sink and stove neatly placed in between. An oven is provided at the bottom. And what's more, it also has the option of a fridge column on the side. For Dada, small is certainly big.
Tower Kitchen by Philippe Starck for Warendorf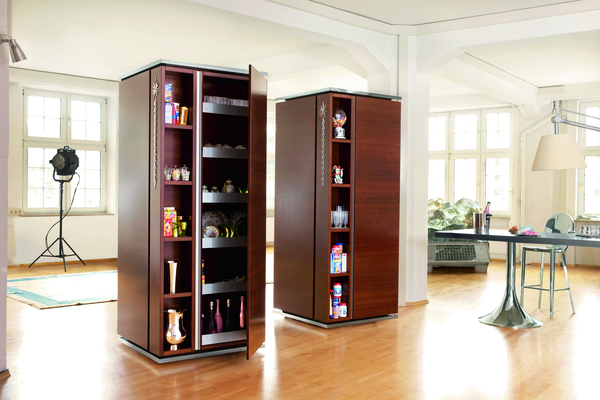 Another kitchen design which works on the model of small is less, this design will literally take you for a spin. The design encompasses two standalone units which do not take more than one square meter of space. One tower is hot tower which houses the oven, and another is a cold tower that houses the freezer. The three sides hide the appliances within, the fourth one can be used according to your needs. You can also use one side for writing food recipes, etc. The units rotate with a light touch. And what's more, the kitchen island can be transformed into a dining table as well.