It is annoying when you have prepared your bath but cannot find the soap and have to rush out again looking for it. Add to this scenario a ticking clock and your fury will worsen. To make sure that your toiletries remain patiently waiting for you in the bathroom every time at the same place you can use a shower caddy. This piece of organizing furniture for your bathroom will make sure that everything you need is available easily.
What is a shower caddy?
A useful piece of bathroom utility, a shower caddy or organizer can be used to neatly store your soaps, shower gels, shampoos, razors, and all other toiletries at a single place. The construction generally includes space for razor storage, shelves for holding shampoo bottles, shower gels, soap, shaving cream, etc. and hooks to hold sponges and brushes.

Corner shower organizer
Secured with suction cups or tension poles, these shower caddies are kept in the corners of your shower. A great way to save on space that would otherwise go wasted, corner shower caddies also come in freestanding versions that can be firmly set on the floor in the corners.
OXO Slide and Lock Caddy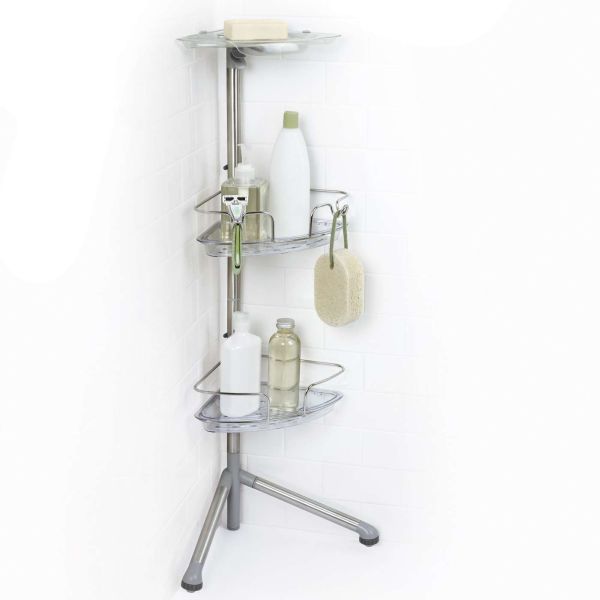 An ideal partner for the corner of your shower, this caddy is a freestanding version with non-slip feet. The storage shelves have drainage holes to allow drying if you prefer to use it in the shower.
Simplehuman corner shower caddy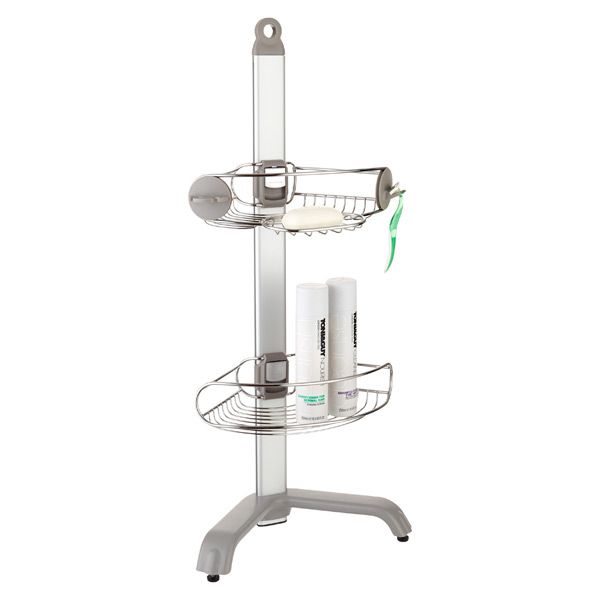 This organizer has adjustable shelves so you can accommodate larger supplies with great ease. The base has feet with a firm grip to avoid slipping in wet conditions. These feet are also adjustable for uneven floors.
Toilet Tree Products Shower Floor caddy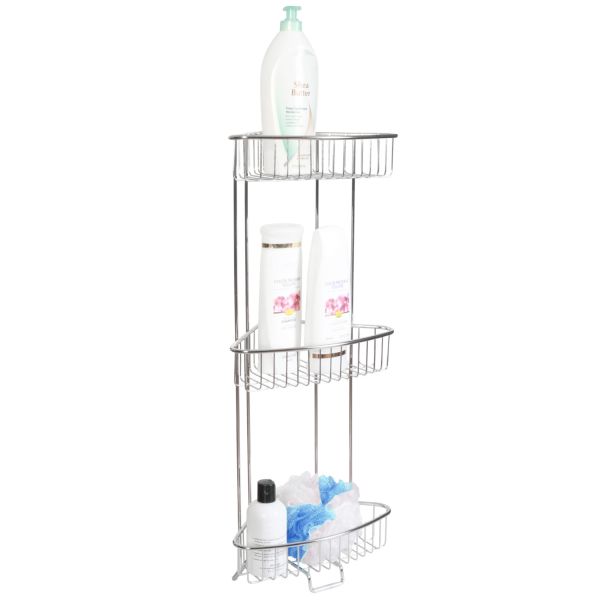 This caddy has three tiers of shelves that cannot be adjusted. Providing ample space for storing larger bottles, the complete structure is made in ultra-high durable stainless steel.
Over-the-door shower caddies
Organizers that come with special long hooks enabling them to be placed on any vertical surface are called over-the-door caddies. They have a sturdy structure and can be mounted on the support of the shower door or the wall of your shower enclosure.
York Lyra Bronze Shower Caddy is one such caddy with an elegant and contemporary design coated with a rust-resistant thermobond finish. It has large hooks for holding bath towels as well, and shelves for holding your toiletries. With a robust design that renders it an unparalleled durability, the caddy weighs 2.2 pounds and is easy to port.
Over-the-showerhead shower organizer
The most popular type of shower caddies in the market at the time is the over-the-showerhead caddies. Easy to install and remove, these can be placed over the support of the shower head or the shower arm easily.
The Umbra Bask Shower Caddy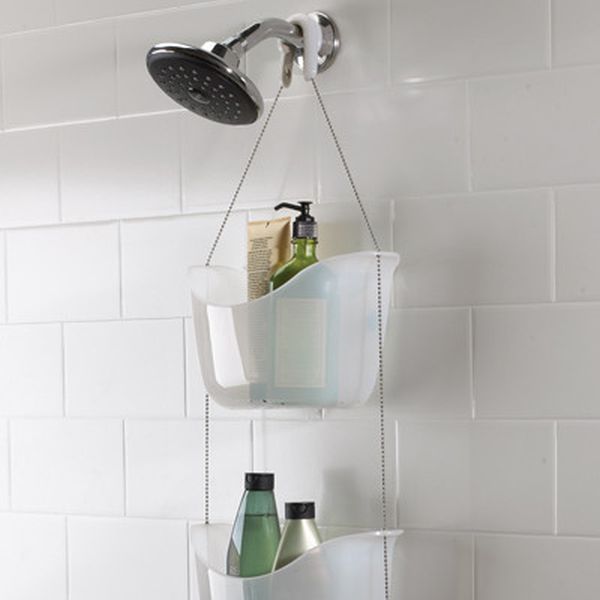 One such organizer that is extremely popular because of its design and storage capacity is the Umbra Bask. Featuring three basic-style storage baskets this piece is an affordable addition to your bathroom.
The Shower Wall Caddy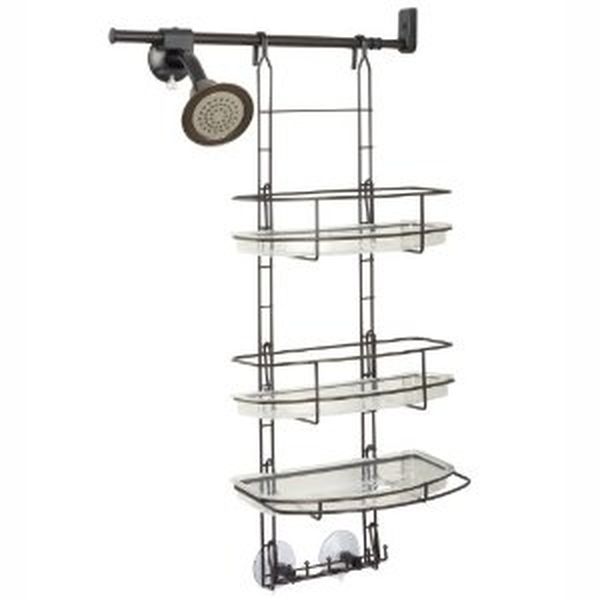 A versatile caddy that can be suitable for kid's bathrooms as well as themaster bathroom, this shower organizer is designed with subtlety without compromising on its elegant looks. The caddy is designed from high-quality stainless steel that has a high-strength and durability. The same comes with a five-year rust-free guarantee.
OXO Good Grips Stainless Steel 3-Teir Shower Caddy 2.0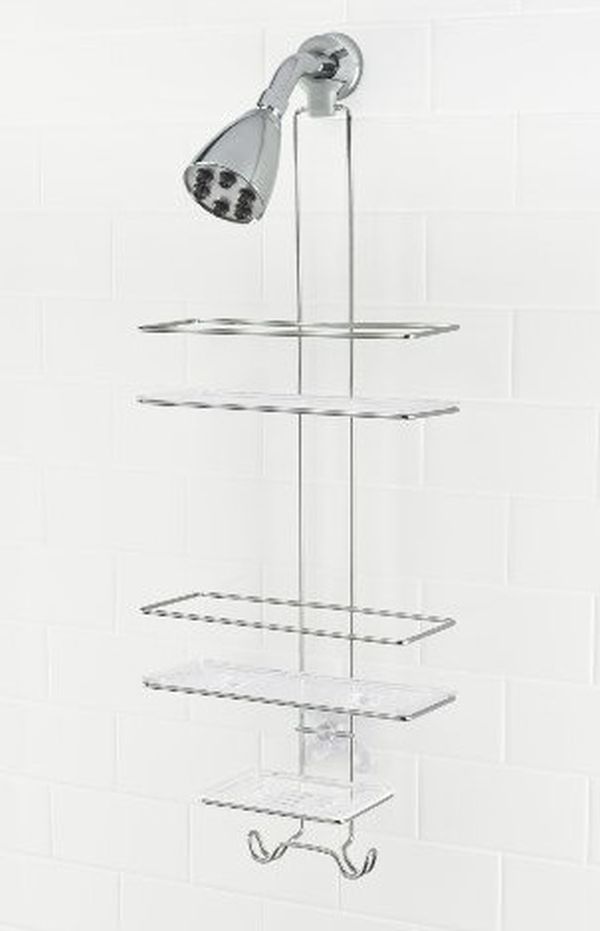 Just the right sized to hold all toiletries sturdily this shower caddy has a rubberized hook that attaches to the shower head and three suction cups in its spine for added grip. The structure is rust resistant and the plastic shelves can be popped out to wash.
Caddies are a neat and elegant way of organizing all toiletries in a single place. With robust structures crafted in elegant designs, these can last long and provide you with all you shower necessities at the same place.