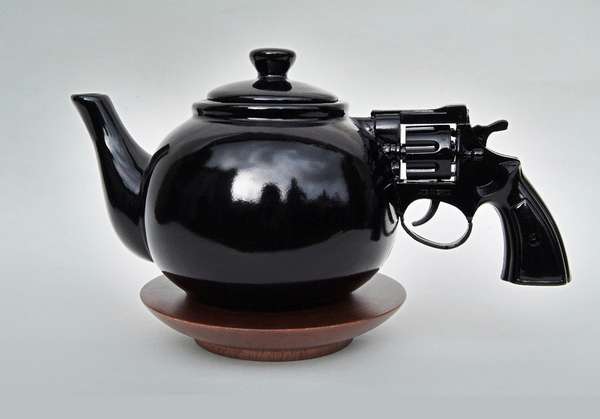 The designer/manufacturer
Dennis Shields, Lanarkshire
Overview
Dubbed as Let's Talk It Over, this teapot is a literal personification of its name. The edgy design has back-end of a pistol with a trigger fitted in place of handle. The half pistol has been merged very cleverly into the design rendering the piece an extremely menacing look. The spout of the tea pot emerges from the opposite side but right in front of the pistol. It looks as if the spout is the other end of the pistol, which has been curved upward. The whimsical design is for those who like things with an eccentric touch. It will be loved by people who stock quirky pieces or oddball objects at home.
What's unique
Fun loving people who want to show off their zany sense of humor, even when they are serving out tea to guests, will surely go for the piece. The tea pot has a ceramic body with a plastic toy gun fitted instead of the handle. It is available in two colors: black and white. But maybe, the black color suits it edgy look much better than white. Though the piece is meant to look bizarre, it has a very neat and clean finish. A rough or rustic finish would have suited its eccentric design much better.
High points
This is quite a handy oddball to have around the house. Fans of surrealism and mafia flicks will be raving about the piece. Hipster would also love to have this playful add-on in their home. Send out cold vibes to unwanted guests without uttering a word; it's guaranteed that they will never visit your pad again. If your little boy is giving you a hard time with his daily glass of milk, then just pour out a shot of chocolaty goodness into a mug using this teapot. Who knows, maybe this time he will glug it down without grousing.