A small apartment brings with itself a fair share of space troubles. You need to look out for super smart solutions, such as smart storage solutions that make your life comfortable in the limited space that these shoebox dwellings offer. One such extremely smart space saving storage solution is Pok, designed by Agata Nowak.
Design intended for small and narrow spaces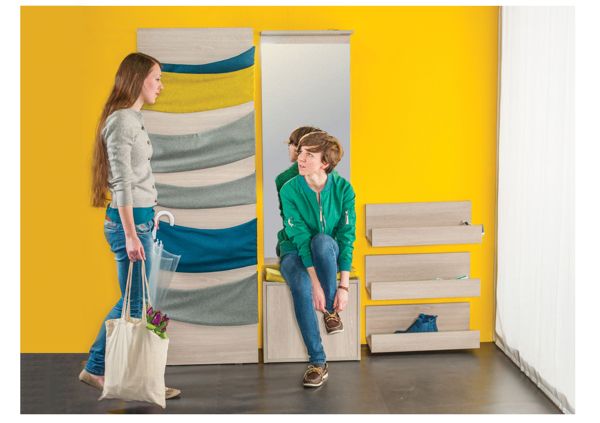 Narrow spaces and the small corridor demand a storage solution that is efficient. Agata Nowak came up with a solution that seems to solve this purpose perfectly. Pok is furniture especially designed for small corridors. It is a smart, small, compact space saving system you can bring into your small home. Here are the three main features of Pok, which prove what an efficient design it is.
Functionality
Pok scores big on functionality. By having a mere glance at it, you cannot make out how vast its storage capacity is. It is designed to be placed close to the wall, so that it does not create any obstruction. The seat that you see in front of the mirror is a comfortable seat but there is something more to it. Beneath that seat is a drawer or a rack that you can use to store your shoes. Coming to the three shelves on the side, you can use them to store anything you want.
Now coming to the most interesting part of Pok, the tall board with some cloth like thing wrapped around it. The board serves as a concealer for the storage area behind it. Such a smart idea it is, isn't it. And the pieces of cloth that you see, they are the pockets. They are cute little pockets designed to store your valuables, such as your accessories, scarves, hats or whatever. These pockets enable you to store your belongings in a clean and hidden way. These are detachable, so take them out for washing and attach them back.
Practicality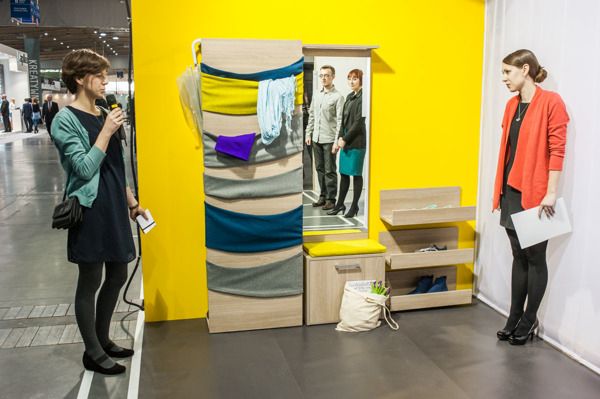 Pok scores high on practicality as well because it does not just claim to offer a space saving storage solution, it actually does. Such a smart design enables it to store a good deal of your belongings without taking much of the narrow space available in your home.
Space Organization
Space organization is a major feature that makes Pok so special. Such a good deal of storage in a small design like this is simply incredible.
Pok is not just a piece of furniture but a very special piece that serves as a smart storage solution for small homes.
Source : Behance.Net