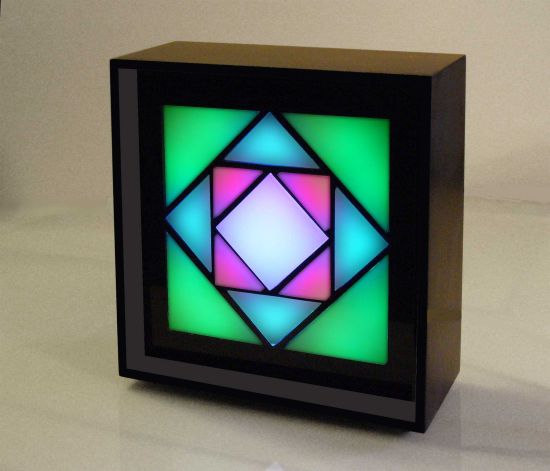 When it comes to fun, Chrono Art sure knows how to do it with time. Kaleidoscope binary clock, a puzzle like single digit binary clock is especially created for your amusement. Each of the display sequence lasts for around 10-12 seconds, starting over with a new selection of colors. An optional ¼ hour chime is integrated to add a little function. It also includes a nine level brightness control. The chime produces different sounds assisting you in reading time.
• It is "ding" on quarter hour
• It is "ding, dong" on half hour
• It is "ding, dong, ding" On 3/4 quarter hour
• On the hour, first there is a preamble of "ding, dong, ding, dong". Now comes a pause and finally chiming of the hour.
• It will chime on the hour and half an hour, even if you turn off the quarter hour chimes, but with no preamble.
• If you want no chimes turn off the volume control to zero.
It wears the price tag of $179 with the black case and $149 without the black case.