A U-shape kitchen, also known as the C or J-shape kitchen, is constructed using three walls inside the a kitchen, two of which are parallel to each other and one perpendicular to both of them. This type of kitchen layout is extremely spacious and offers you great working space with minimum distance between the three zones. Read this article to know the various types, designs, advantages and drawbacks of a U-shape kitchen layout.
Types of a U-Shape Kitchen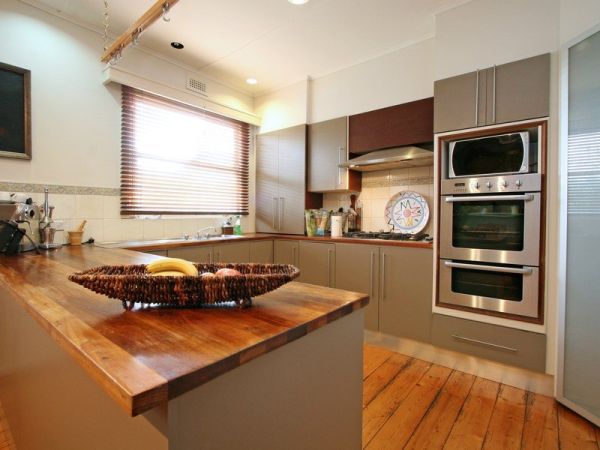 Thin U shaped Kitchens:
This is the most simple of all the U shaped kitchen designs and this layout bears walls or windows on its sides with sink generally placed below the windows. The space between the aisles in this type of kitchen is about 42-48 inches.
Mid Size U shaped Kitchens:
In a mid size U shaped kitchen, the distance between the aisles is 6 ft, which makes it extremely easy for two people to work at a time.
Large U shaped Kitchens:
A large size U shaped kitchen is sufficiently large to be used as a farmhouse kitchen with a distance of minimum 8 feet between its aisles. It has a large counter space and can bear large kitchen cabinets. Apart from the above mentioned types, you can even find a few irregular and unconventional U shaped kitchen layouts.
Various types of U shaped kitchen layouts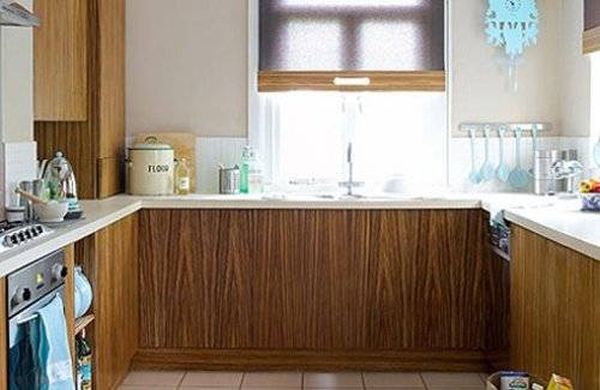 The most attractive feature of a U shaped kitchen layout is that it provides you plenty of space to cook and place your appliances at proper distance, plus you can even have a conversation with your family and friends while preparing meals. In addition to this, one bench of the U shaped kitchen can even be used as a platform to serve as a dining table. On the other hand, the open end of the U shape kitchen can be an excellent place to build cabinets and have some extra storage space.
Given below are few outstanding U shaped kitchen layouts: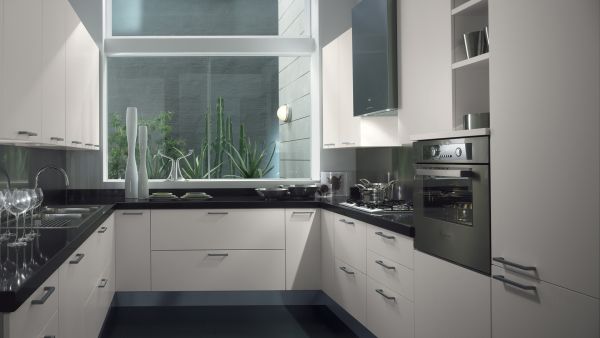 The Alameda Kitchen:
This amazingly designed kitchen from Howells architecture boasts an entirely contemporary look with classic royal blue color scheme an apron sink and a mind blowing architecture.
The Koof by RETO kitchens:
Designed by RETO kitchens, this extremely rustic and highly attractive U shaped kitchen is created out of veneer and a special kind of solid woof from Africa, called Kiaat. The wood is stained only slightly to maintain its earthy and rustic appeal.
Raleigh Contemporary Kitchen:
The Raleigh Contemporary Kitchen designed by Heather Garett Interior Design bears an amazing color combination along with an attractive backsplash and flooring that add to the beauty of the kitchen layout.
The Broad oak Painted U shape layout from Rooms by Design:
This amazing kitchen was created in order to increase the existing space of the kitchen to transform into a more spacious and inviting social hub for family and friends to enjoy. The kitchen boasts a high quality alabaster painted cabinets along with a dark shaded granite counter top and oak worktop. Then extended kitchen is a wonderful place to sit and enjoy together.
Advantages of a U shaped Kitchen layout: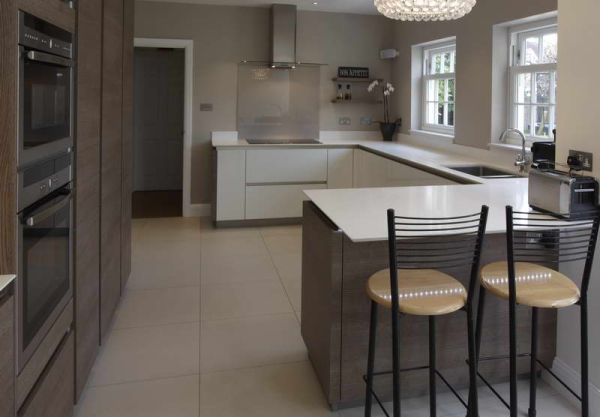 This design makes it easy to work within a small or medium size kitchen.
The bench space is large enough to be used for serving meals or even for writing or reading activities while cooking.
The distance between the aisles allows you to work with ease.
It makes the best use of the available kitchen space.
A few designing tips: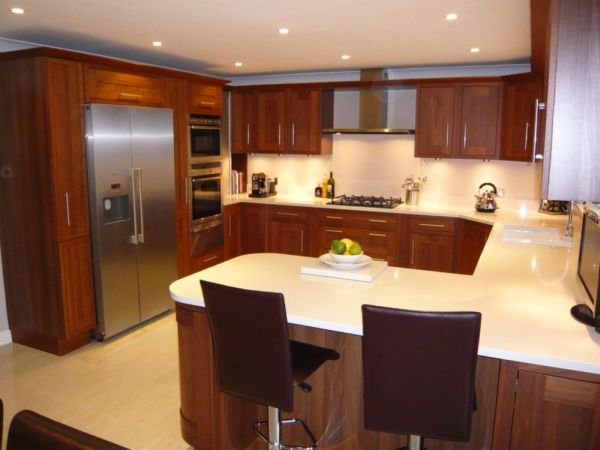 In order to have a beach inspired kitchen design, remove the cabinets over your kitchen countertop and color the walls with a light blue paint.
Install pull out wire drawers for cabinets where you need to store smaller items of daily use which might otherwise be very difficult to find in a deep drawer.
Replace laminate and wooden cabinet doors with frosted glass doors with stainless steel lining.
Summary:
With all the above mentioned useful information on U shaped kitchen cabinets you will now have a complete idea of what exactly these layouts offer and which one will best suit your kitchen.