Chairs have come a long way since being just a piece of furniture. There are standup chairs and amazingly comfortable reclining chairs. In all this, Rise-up: Kinetic chair finds it place as being one of its kind chair, which takes up shape to welcome you when you sit. The chair is specially designed from wood in a more chain-like style so that each part of the chair can alter independently to adjust to your posture.
Conceptualization
Like in a chain, where series of overlapping segments are connected via joints, the Rise-up: Kinetic chair features back rest with interlocking joints that allow movement of one joint to effect the movement of another joint to create a perfect kinetic chair that takes shape to welcome anyone willing to sit on it.
The idea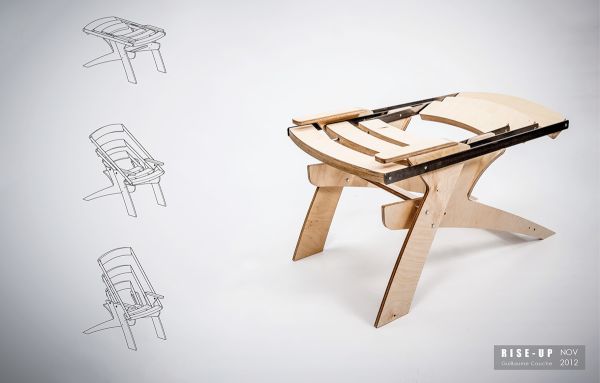 Conceived by designer Guillaume Couche; the Rise-up: kinetic chair is designed to play with movement. According to the designer, he wanted to play with movement and create a shape which evolves and interacts with the user.
For this, Couche came up with the idea of a kinetic chair – a chair that looks ordinary but has a very communicating aspect liked to it. The chair has been designed to use the energy produced by a person willing to sit on it to change the shape of the chair.
Rise-up: Kinetic chair
The chair powered by the energy of the person sitting on it explores how humans emotionally link with objects. It discovers the emotional link of humans to movement rather than to still objects.
The first small-scale prototype of the Rise-up: Kinetic chair was made out of MDF. With more insight and understanding, finally the full-size chair was assembled from basic timber wood. Each part of the chair has function; either structural or mechanical.
The chair has many geometric variations such as the height that varies on sitting, height before sitting or the angle of the chair back. In addition, the Rise-up: Kinetic chair's second version is going to be a combination of different materials and complex manufacturing, which will permit better kinematic.
Whether you want the chair for the living room or for the garden, comfort and functionality are two primary things to look out for in a chair.Rise-up fills the bill by being a highly comfortable chair that is structurally and mechanically very functional.
Source : Behance.Net