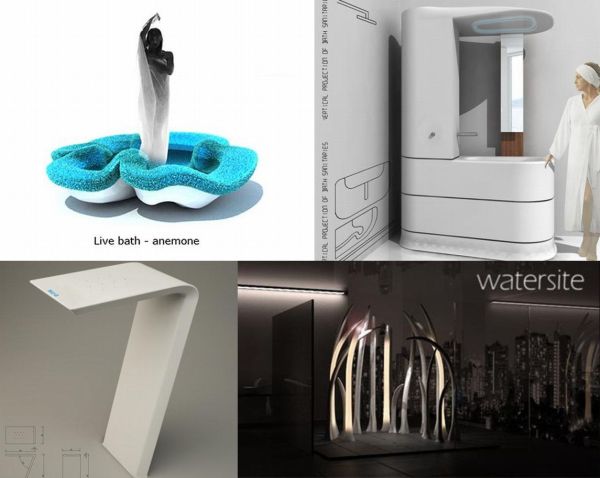 Bathrooms are an essential part of every household space. People like to ornament it with the best accessories, just like any other room. Roca has organized a competition that welcomes bathroom concepts, which have a unique and user-friendly nature. Thousands of enthusiasts from all over the globe participate every year and this edition is no different. Below is a list of finalists, for the year 2011, which managed to cause ripples during the contest with their attention-grabbing concepts/designs:
Bathboard: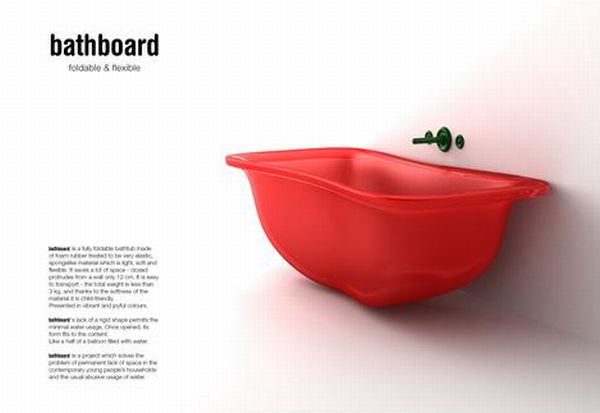 Thinking of installing a bathtub, but have to drop the idea because of lack of sufficient space? Well, your thoughts are about to become reality thanks to the Bathboard, which has been designed by SylwiaUlicka Rivera. The water saving bathtub can be folded when not in use, in turn saving precious space. The designer fetched heavy inspiration from the suppleness of a balloon. The lightweight product has been crafted from rubber, which has been made quite elastic. It measures 12 cm when folded against the wall and has a total weight of 3kg. The child-friendly product does not have a particular shape that helps save precious water. When filled with water, it takes the shape of an everyday bathtub.
Bana Bender: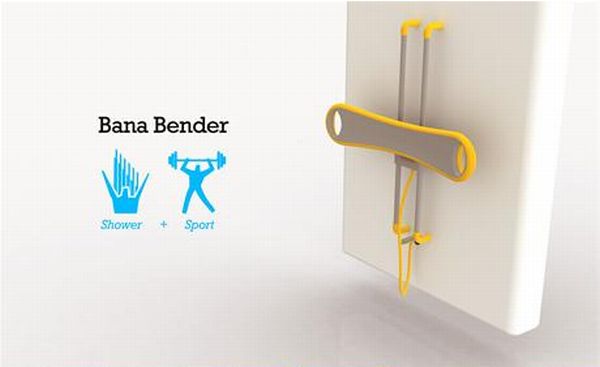 If you love working out but hardly find time for it, then read ahead. Hong ruei hong and Lin pin i have come up with an ingenious bathing option, which will help users stay in a healthy state. The shower set has been fashion in a way that helps exercising the upper body. The shower nozzle is quite supple and made from elastic. One can exercise by grabbing both ends of the product, while showering at the same time.
Bath The Transformer: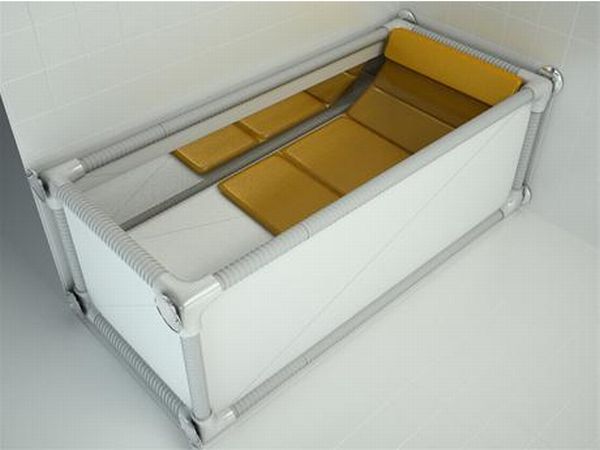 As is evident from the name, the bathtub has transforming qualities. Don't worry it won't transform into a beast or something nasty! Designed by Andrey Lebedev, Bath the Transformer is two tubs combined in one. If more than two people need to shower at the same time, simply swap it as per your needs with the help of a fastening on the wall. It has an elastic façade and the overall design comprises of a light framework.
Recycle Water: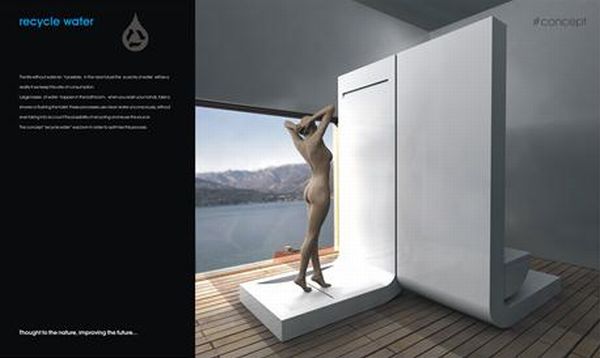 Water is precious and life without it is impossible. All of us know this fact, but still waste large amounts of clean water every single day. Taking this wastage into account, Helder Rodrigues has come up with Recycle Water. The design comes fitted with a sponge, which absorbs used water. Water is filtered with the help of capillary action. Further, with the help of a hydraulic system, water is squeezed into a reservoir when the sponge is full. This can be used for the bidet, flushing the toilet and even for a few household chores.
Mist: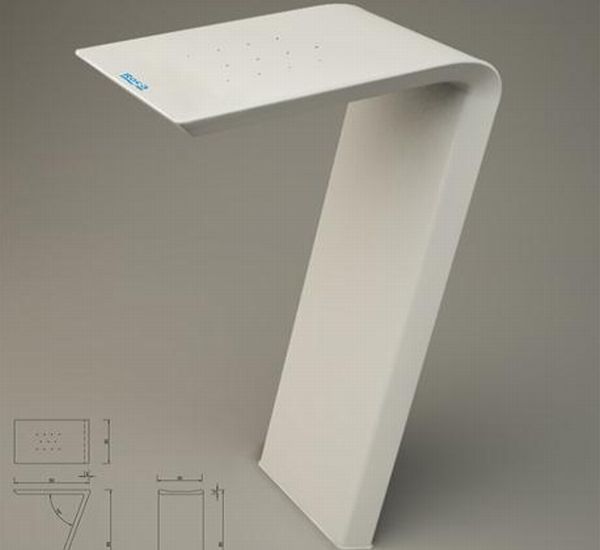 What looks like a faucet, in the above picture, is actually a washbasin. Surprised! Sylwester Szymanski and Katarzyna Hryniewiecka have crafted Mist, which vows to minimize water loss. The product beautifully combines a washbasin and faucet into one design. It fully exploits the concept of water circulation for a healthy living. Mist has been fashioned from breathable material that has the capacity to soak water and collected water slowly evaporates. Further, all the impurities are removed by filtering that makes water fit to be reused.
Bath 2.0: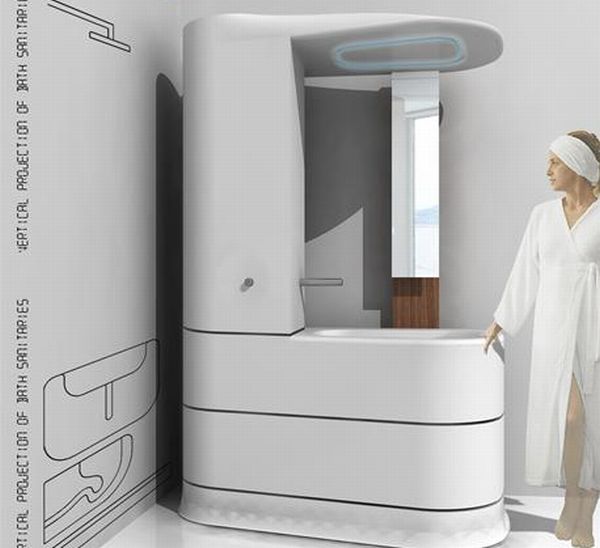 Nobody likes to comprise on comfort and Bath 2.0 understands this. Designed by Fabrizio Tozzoli and Eliana Salazar, the bath solution saves both space and water. The design comes fitted with a water purifying system, which makes sure that water is available for reuse. It will make good use of vertical space in a bathroom, which is normally ignored. The tank can store up to 230 liters of water, which is sufficient for a family consisting of 3 members. It has control panels and different functions for tap, washbasin and shower that can be easily selected.
In And Out Shower: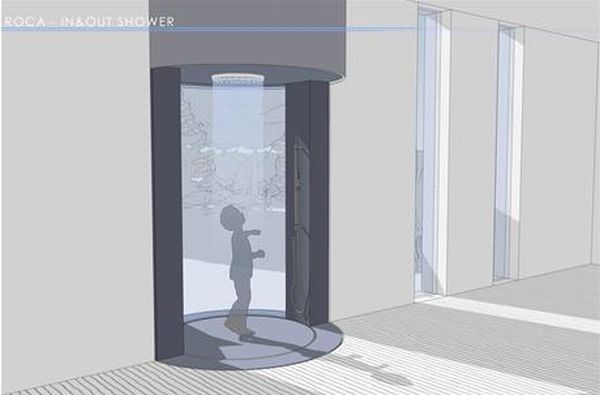 In and Out shower is a great way of switching between a bathroom and garden shower experience. The ingenious creation by Michal Warykiewicz can rotate 180 degrees, thanks to its circular base and hydraulic motor. Glass matting with the help of liquid crystals can be activated when using the shower in the bathroom mode. This will ensure complete intimacy. So, make summer time all the more fun and cool off on those sunny days with the garden mode.
Watersite: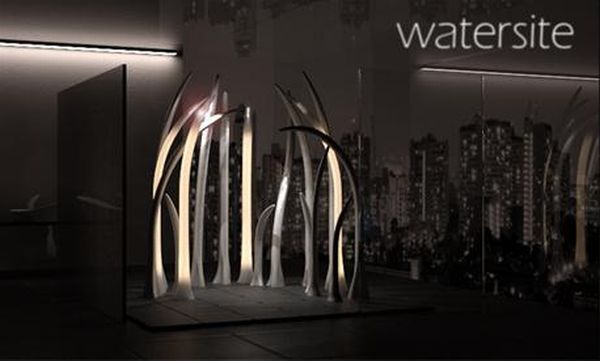 Here, to change the whole showering experience is Watersite by Agata Trybus. The unusual design will force you to push out cubicle showers from your bathrooms. The design consists of branch-like structures protruding from the floor. Each element can be switched to a functional mode by pressing the upper portion. Watersite is quite flexible and comes enveloped with soft materials. So, create a Watersite by twisting and turning each element as per you wishes.
Live Bath-Anemone: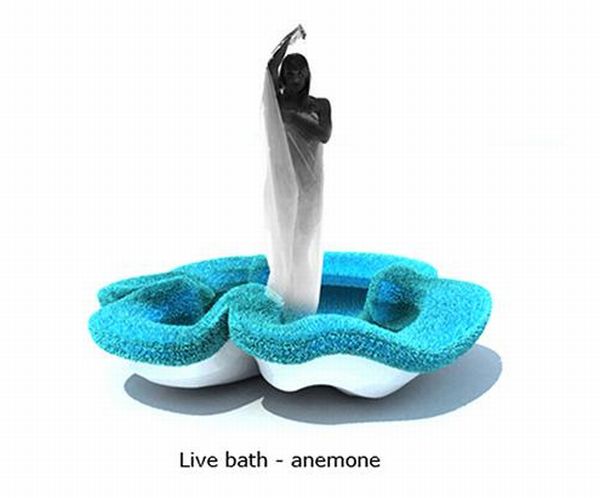 The eye-appealing bathtub has been designed by Irina Samoylova. Live bath-anemone looks like a fluffed-up cloud and comes coated with utmost comfort. It helps relax those frazzled nerves and the whole experience will leave you rejuvenated. The inside has been fitted with small finger-shaped coating that resembles anemones. These move up and down, because of water pressure, which feels as if someone is massaging the body. The fingers are illuminated when light passes through them, which creates a mesmerizing effect. So, dive into a relaxed state every single day with Live bath-anemone.
Sliding Shower: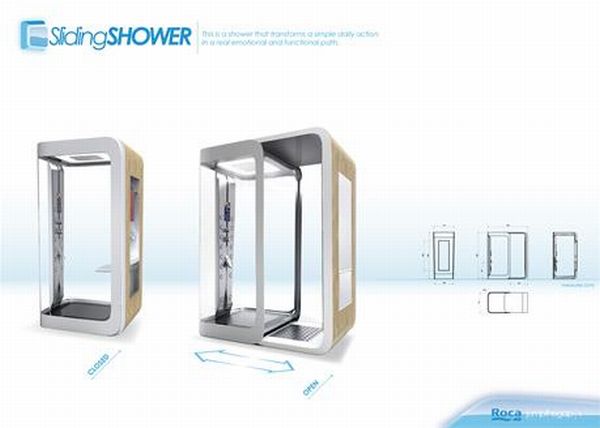 How does it feel to step out of a hot, relaxing shower and fetch a towel? The temperature difference can ruin the whole experience in a matter of seconds. Keeping this in mind, Mario Ginevro has come up with the Sliding Shower that promises to keep you warm. The central console can be rotated, which will immediately swap from a mirror to a towel rack. Sliding Shower has been wedged with a feet touch interface and touch screen panels. This helps save energy and endows a user with the flexibility to adjust programs as per their whims and fancies. Water pressure and temperature can be adjusted with the help of feet touch interface, which reduces wastage even when hands are full.