If you love to relax on a rocking chair, then you will also love the variety that has been available for modern rocking chairs. With time, rocking chairs have also changed their face and have been appearing with uniqueness and innovation. Joining these modern rocking chairs is the bentwood chair designed by David Laine and Guillaume Chery from Limelo Design. This stylish and elegant rocking chair can easily impress you with its design itself. Check out what it looks like and how it is made.
The design and development of Fauteuil Camille
Fauteuil Camille is such a cool rocking chair that is developed using bentwood. While it is not a variety of some wood, bentwood is actually created in a special way. The designers use high-frequency hot pressing technology to end up with such wooden flat canes that can be easily bent when they are hot. These bentwood canes are then used to create a wide range of furniture and items like tables, chairs, lamps, mirrors, and even back cushions.
The same bentwood is being shaped to form this rocking chair, Fauteuil Camille. The chair has several fine lines of bentwood that are finished well. These lines are framed by a minimalistic wooden structure. The chair comes with its dimensions as 66 cm length and 97 cm height. It also has a separate and independent footrest with it that also seems to be quite comfortable to use.In fact, the design of the rocking chair and footrest is the same.
Ease of use and usefulness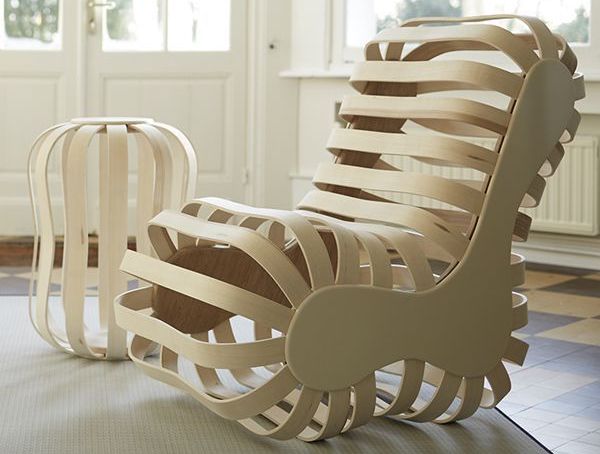 This rocking chair is quite comfortable to use. Whether you want to sit in your study reading a book or want to enjoy nature in your garden, you can conveniently sit and relax on it. You can even use a pillow to keep at your back while rocking in this piece of furniture. This can give you extra comfort. While the chair can easily be moved from one space to another, it is durable and sturdy. With strong wooden built, it also has aspecial style and classic looks. You can keep it anywhere in your home, and it will only add a touch of elegance and modernity to your space.
Fauteuil Camille is a comfortable bentwood rocking chair that can make you relax anywhere, anytime. You can even enhance the appearance of your space with this modern yet classic piece of furniture.
Source : Imwm.Org