Canadian designer Thom Fougere is wellknown for creating minimalist yet functional furniture designs. One of the minimally stunning furniture pieces by the designer is Saddle Chair. Although it looks like an ordinary chair at first glance, but it's designed to offer multiple sitting options.
All thanks to its moving armrests, the double-backed seat encourages different ways of sitting or reclining. Sleek layout of the Saddle Chair makes it suitable for any home or office environment, while it can be transformed as per your changing needs.
Structure
The sculptural form of the chair boasts thin profile that can be adjusted according to current needs of the customer. The layout is the result of combination of light steel frame that's covered with vegetable tanned saddle leather.
Seating section is stuffed with goose feathers covered in leather. Saddle chair features two interchangeable backs and a small tilted platform, which provides you enough space to stretch your legs. Leather covering is not only comfortable to sit, but also provides aesthetic appeal to this minimal piece of furniture.
Inspiration for the project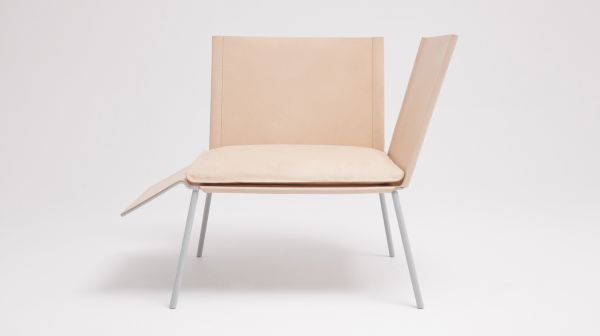 Fougere was inspired to create this sleek chair after reading of the book by Bruno Munari- "Finding comfort in an uncomfortable chair." While reading the book he realized that to seek comfort in traditional chairs is heck of a task. So, he thought of an easy way to offer different sitting positions. Why not a single chair can provide comfort of both recliner and seat? This question led to the creation of this stunning piece of furniture that can serve both purposes with ease.
Transformation
This modular chaircan be used as a typical chair besides your work desk at home or office. But when you get tired while working for long hours, you can simply convert it into a relaxing recliner. By shifting the position of its movable armrests, one can turn it into a lounge chair. Meanwhile, the lounge seating position also offers a small leg rest for complete relaxation.Instead of spending on different furniture units, the customers can purchase the Saddle Chair to get benefits of both recliner and chair.
Saddle Chair is characterized by fine craftsmanship that combines the use of materials, aesthetics and functionality. Such simple but functional furniture is a perfect fit for any modern day homes or limited space apartments.
Source : Thomfougere.Com