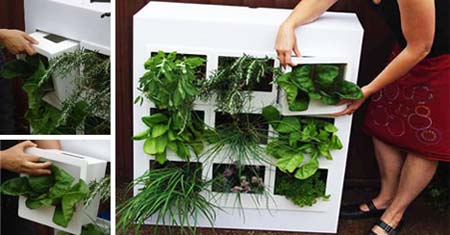 The concept of growing your own vegetables and fruits at home is nothing new. It has always been one of the most beneficial ways of helping to sustain your kitchen needs, as there is nothing more gratifying than to coax vegetables to grow. Even if you are constrained for space in your urban setting, you can make good use of your rooftops and windows to feed yourself and others. Learning to grow your own food is an ultimate act of greener life as it cuts down food miles and saves you on green notes. The best part is growing your food without any toxic pesticides by using some of the best green living concepts for the green thumb. Here are some unique gardening design concepts.
Urb garden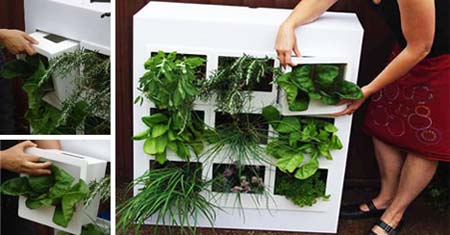 People who do not have the space for traditional gardening can now bank on this Urb concept which is vertical in shape and can be used indoors on windows. Designed by Xavier Calluaud, this vertical food garden concept encourages urban dwellers to grow their own vegetables and plants right inside their home. There is a drip watering system in the planter which keeps the plants hydrated. It can also be used as a plant fertilizer for organic recycling.
One pot, two lives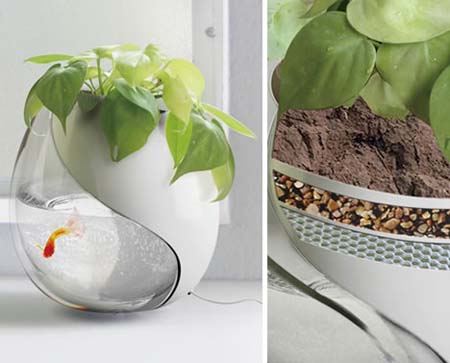 This unique planter makes up simultaneously as a fish tank and works together for the healthy growth of both fish and plant. The neutral PH quality of water is maintained for the fish due to the filter system, while fish poo acts as a moist fertilizer for the plants. The watering period for the plants is also extended for up to a week in this design concept. The designers of this dual concept are, Ling Yuan Chou and Sheng Zhe Feng.
PC green computing concept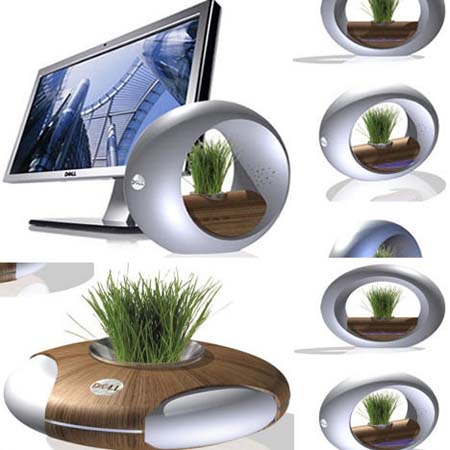 This concept has been named O by designer, Luis Luna which has been inspired by the photosynthesis cycle and emitting of oxygen by the plants. This concept is linked to the computer which in turn reduces the carbon foot print generated by computers. The CPU is no ordinary technology gadget but is meant to encourage a greener thought in computer users. The CPU while acting as a part of the computer becomes a decorative and healthy part of the whole system.
Office partition and foot rest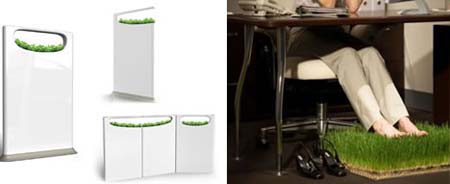 Plants kept in offices in not a novel idea but then it was meant only for the visual effects rather than truly understanding their benefits on working environment. In this new concept, the office has been given a great lift by the use of plant partition for cramped office cubicles. This not only makes the office space look green and refreshing but makes the occupant enjoy the oxygen benefits as well. The breathing partition is guaranteed to make an ever lasting oasis into your otherwise bleak and dreary office. The foot rest is another concept for green office and can be kept under the desk for a person to feel at one with nature while working. These two unique concepts were designed by Jinsun and Seonkeum Park.
Kitchen garden and moss bathmat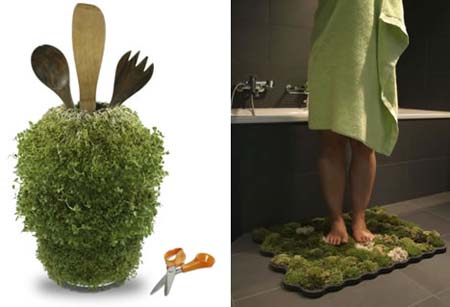 This is truly an amazing vertical plant concept with kitchen plants literally growing out of the pot which holds your kitchen utensils. The kitchen plant concept will certainly make it convenient for you to cut some fresh herbs right inside your kitchen without having to rush to the market. The designer has even designed a moss bathmat which uses the moisture and dripping bath water to stay naturally watered. It certainly makes you feel one with nature as you step off your bath to wipe yourself dry while standing on the moss bathmat. These two concepts have been introduced by La Chanh Nguyen.
Ekokook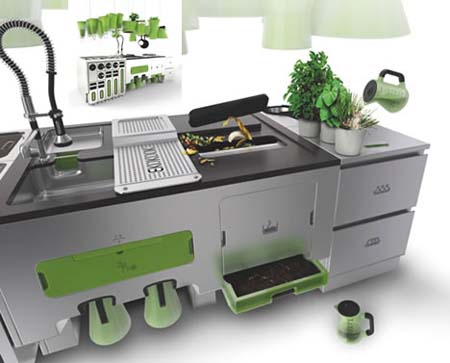 This kitchen concept has been designed by Faltazi and named Ekokook as it does everything possible to make growing plants at home very functional. This concept works towards using and re-using the kitchen solid waste, organic waste, liquid waste and even makes it cook. This concept has the combo features of a freezer, fridge, a two-tier dishwasher and a steam oven. The non smelly waste which is placed in a bin is compacted into briquettes and the water is filtered through the double sink for use on the plants above it. The organic waste is treated by earthworms placed inside and recycled into food for outdoor and indoor plants.
The concept of the living roof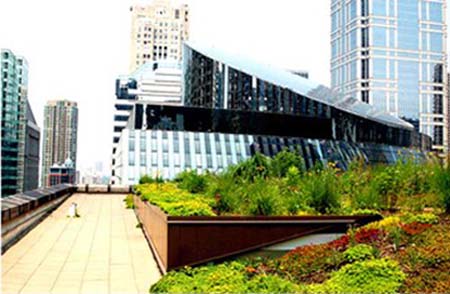 Another ingenious concept which is an improvement on all other roof top gardening in the living roof. This is really a green roof which can be incorporated from an existing roof or by constructing a new one. If you already have a roof then this is the ideal gardening concept for you. For this, a corrugated aluminum sheet is placed on the roof with water proof membrane and then a sheet of foam with another layer of water proofing. The drains are already incorporated into the design of this garden. Upon this layering, about 4 inches thick of soil is laid and planted with various greens. This is a very advantageous method of growing your own plants and vegetables. By absorbing the sun light a green roof will bring the temperature down while still thriving for your platter. Since there is proper insulation of earth upon your roof, you will be immensely benefited with cool summers and warm winters inside your house. Apart from giving you good harvest, this type of gardening can protect your roof structure by preventing the wear and tear of the elements. The plants on the roof soak up all the carbon dioxide to emit fresh oxygen back into the air. By absorbing rainwater, there is less pollution and storm run off is controlled.