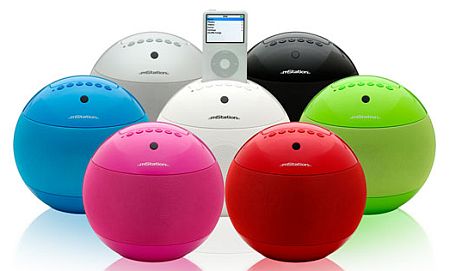 'Made for iPod' speakers have been praised for their sleek design and good sonic quality and now mStation's Orb, available in seven colors (White, Grey, Green, Blue, Red, Black and Pink) with an unusual bowling ball sized speaker has a cool funky look as well. This stylish, with good sonic quality and fun design orb is made of plastic with a matching knit fabric covering over the front speakers and rear sub-woofer.
All of the six control buttons located on the top of the Orb are made of hard plastic and have good demonstrative view. To the Left of the buttons is the power status LED, which glows blue when the speaker is powered on and red when the speaker is powered off. But factually it is never 'off' as it is in the standby mode and charges the batteries for the docked iPod in this mode and even when the power is switched on.

Connections are located on the base in the back of the speaker. From Left to Right, there is a 3.5mm line in jack, mini USB, Firewire and DC power in. The speaker can also be connected to your computer and can be used as a charging / syncing dock for your iPod, located on the top of the Orb. Along with this speaker are six adapters that are customized for the iPod mini, iPod nano (2nd generation) and older iPods like the Video. Also one does not have any problems using the remote from across the room as whenever the Orb does receive a command from the remote, the power status LED blinks.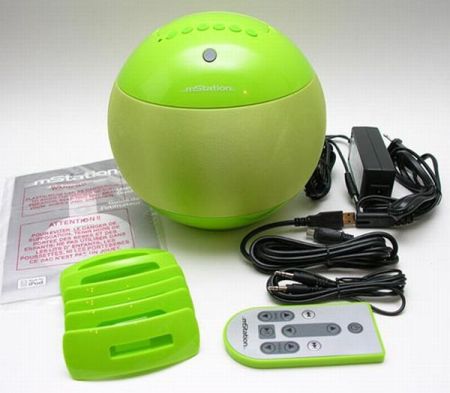 Though with not an excellent but good sound quality, every Orb includes a 10 Key Remote that allows you to navigate within Playlists from a distance, as well as adjust the volume, bass and treble. At approx 8 inches in diameter the mStation 2.1 Stereo Orb is the perfect addition to any Home, Office, or Dorm Room. This could be yours for just $129.95.
Via: Gadgeteer