Located in Samford, Queensland, Australia, this particular designer
kitchen was created by Sublime Architectural Interiors' Kim Duffin. The kitchen
was designed to be a flexible space that can be used by homeowners as they
please. Open to the adjacent terrace, the bright and spacious kitchen was
designed to allow the outside to come in.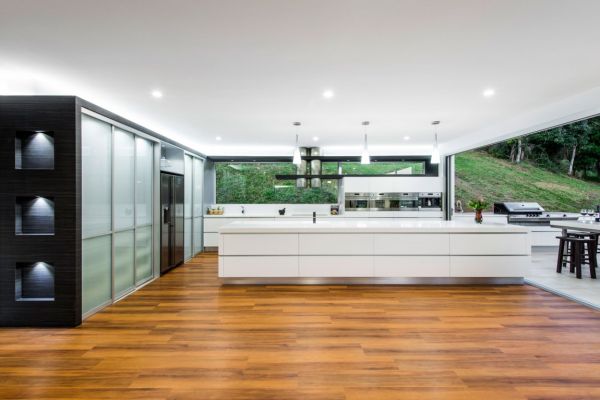 This was one of the major priorities for the home owners which
is why the designers decided quite early on in the project to use and position
glass strategically to achieve this effect. Being one of the key spaces in the house,
the kitchen needed to be filled with natural daylight and the homeowners also
wanted it to capture the view of the surrounding bush and valley.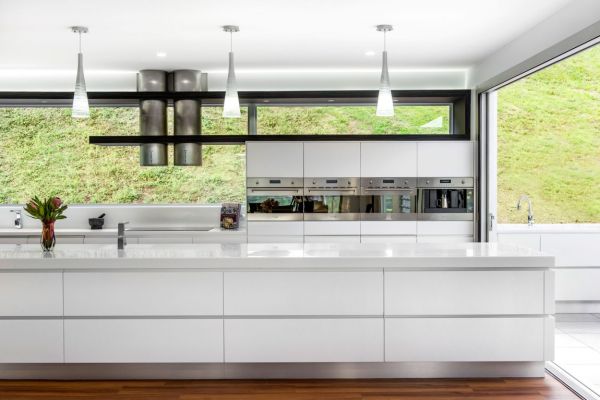 The home is well connected to the city though it is located
within a hamlet and the homeowners wanted to ensure that the space was visited
by family and friends regularly. Since the family of 4 also required the
kitchen to be practical enough on a day to day basis for their regular
breakfast, lunch and dinner, the kitchen was given a homey touch along with the
necessary changes to make it more suited to entertaining guests over the weekend.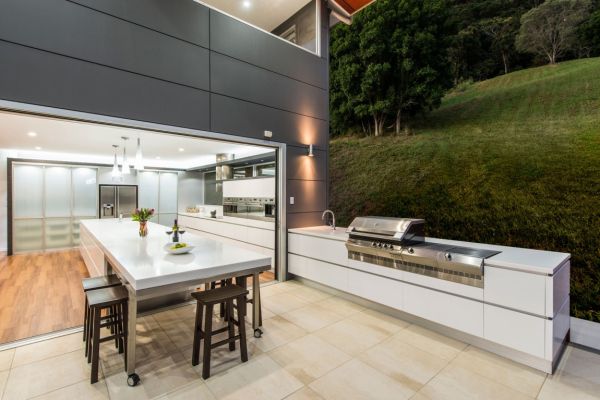 To catch the morning sun and to showcase the natural
elements around the kitchen, the rear wall's splash back was used as a fixed
window. This was used as a focal point for the room by providing a seamless
connection with the range hoods through the flyover that helps frame the view
on the outside.
To ensure that the featured surrounds were not overpowered
by the interiors, all surfaces in the kitchen were finished in "Quasar White"
Staron color scheme which was simple and timeless. To highlight and frame the
views textured "Blacken Ash" wood grain laminate was used.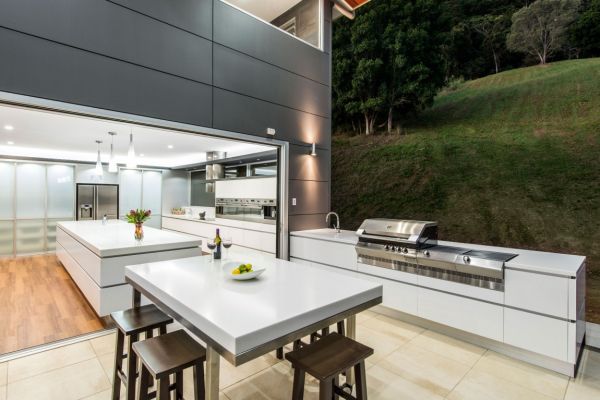 To draws the eye out to the cabinets on the deck and in and
around the kitchen, a strong linear line of aluminum channeling was used on the
door panels and throughout the cabinets while framed glass aluminum sliding
doors were used between the breakfast hub, the appliance pantry and the
kitchen.