You are an eco-conscious person and you love throwing barbeque parties at your place. A solar powered grill is an ideal solution to this situation. So here, get to know the SUNPlace solar powered grill, created by designers Francesca Lanzavecchia and Hunn Wai.
Modern outdoor furniture set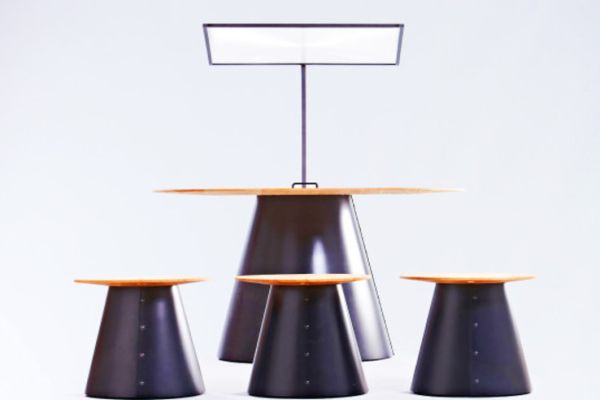 SUNPlace is an innovative design that is a solar powered grill. However, this is not the only feature that makes it so special. Its gorgeous design makes it so popular, as SUNPlace serves as beautiful and happening outdoor furniture set that you can flaunt in your patio or your garden.
The set features a table with matching stools. The table and the stools have a wooden round surface mounted upon a cone shaped barrels that are powder-coated steel. The big BBQ table has a cast iron grill at its center. The Fresnel lens installed over the table concentrates sunlight on to the cast iron grill, thus cooks food in an environmentally friendly manner. The use of the lens and the overall design of the SUNPlace make it one of the most happening and a green BBQ.
Designers ensured to give this eco-friendly grill a beautiful and a flawless design. The grill nestled in the oak tabletop is so clean, which contributes to its sleek appearance. The Fresnel lens used to direct sunlight towards the grill was a special lens designed by a French physicist Augustin JeanFresnel. The use of such unique and special materials in its making has made SUNPlace outdoor furniture that would evoke many conversations.
As an integral part of the BBQ grill, designers have also created a collection of cooking tools. All the tools are made of cast iron hat are fit to use with the SUNPlace grill. The cooking tools, stools, and the BBQ grill all complement each other.
Not only in looks, but the tools match up the functionality of the grill. As the tools are also made of cast iron, you can put them under the lens to heat up, and then use them to cook the top of meats and vegetables, to make it more crisp and yummy. Designers have included a pair of heavy-duty gloves also, to ensure the users do not hurt themselves handling hot cooking tools.
If barbequing is your thing, getting this super efficient eco-friendly BBQ grill home is beneficial for you. It has such a beautiful design that it can amp up your garden or patio décor.
Source : Ippinka.Com