Do you prefer to eat your food while watching television? Not only you, but most people around the world do the same. But don't you think this way you're simply decreasing the level of interaction with your family? What if we say the solution this problem is a mere dining table? Yes, you read that right. Swedish designer Sofia Almuvist of Kompaniet has created one-of-a-kind Umami dining table, which creates more interactive dining experience like never before.
Material
The tactile table is made from ash and steel materials, with custom ceramic and glass tableware that are meant to fit within 'scoops' of the table effortlessly. Usually for dining table – streamlined and clean structures are framed, but this table features unorthodox grooves on tabletop to encourage diners to interact. Perfect blend of minimalist and unexpected design makes this dining table stand out from conventional furniture pieces.
Design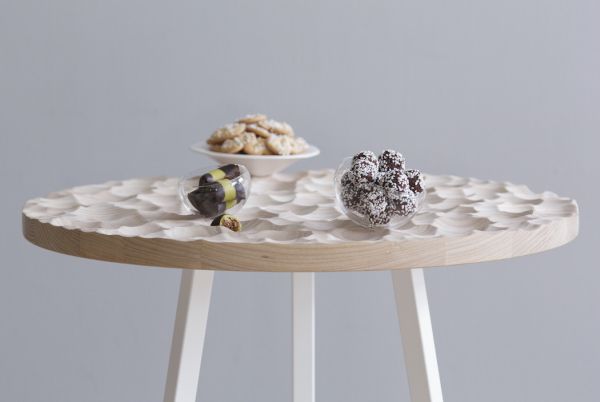 The irregular, curvy design of the tabletop is to make people rethink the way they fill up their plates. Itscarved-up layout with a wooden surface also reminds people of meals at the very moment. By adding such eclectic and extraordinary pieces of furniture will certainly add a splash of personality to any room.Plus, it also shows us how family-style dining can be encouraged by being technology-free. Unlike regular dining table on which you simply place your food, this one is literally meant to hold food for you, while making you communicate with each other.
The design philosophy
You may not realize, but according to various studies – eating in front of the TV may actually lead to weight gain. This is because while watching television your complete attention is on a program you're watching on TV rather than your meal. But researchers say that you can't satisfy hunger if you don't remember your meals. This way you're likely to eat more than required, which obviously leads to weight gain.  So, if you don't want to follow a strict diet, the Umami table is the simpler solution that seems to curb your hunger by making you aware about what and how you eat.
This piece of furniture is designed to curb TV dinner plague, while enhancing playful interaction between family members and friends during meals. It offers a great way to bring families together by making mealtime social all over again.
Source : Ignant.De