A garden adds too much beauty and life to a home, provided it is a well-kept garden and has enough of interesting features. To make your garden visually appealing, you keep trying new things and do not hesitate taking several DIY projects that can add the desired amount of pleasant features to it.
One such DIY project is to add a flagstone path to your garden. It has a certain timeless design that looks glamorous no matter what shaped stones you choose and in what order you place them. Here is a systematic guide you can consider that will help you with your flagstone path-laying endeavor.
Choosing a design for flagstone path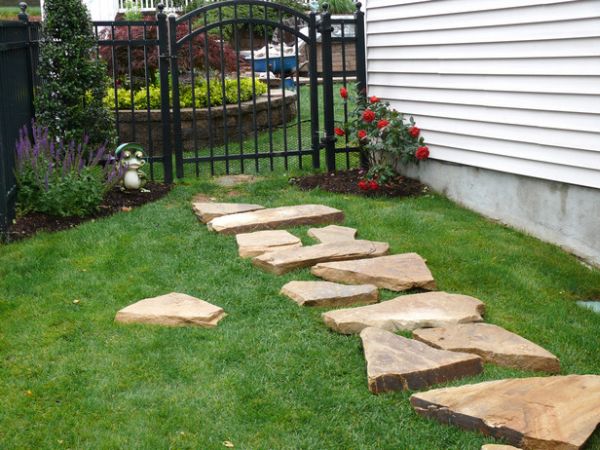 There are numerous designs you can choose from when it comes to design a flagstone path in your garden. Factors that usually influences this choice the most is the existing theme or the style of a garden because depending on it you can decide to give the flagstone path a formal or an informal design. If you ask about the difference between these two styles, well, an informal design is the one with curves and bends in it, while the formal flagstone paths have a straight design.
Things to consider while buying stone
You need to consider numerous factors like the style you want, the climatic conditions and the functionality while choosing a stone for a flagstone path in your garden. If it is warm where you live, choose soft and porous stones, and stones like granite or bluestone that are dense are well suited for cold areas.
The shape and texture of a stone should match your home's architectural style. For instance, irregular shaped stones go well with the look of a country style home, cut stone blocks like brick suit traditional style homes, and for a contemporary look, you should geometric shaped and the stones that have clean and sharp lines are the best choices.
Coming to the functionality of a flagstone path, you can use stones without much consideration if it is going to be a low traffic area. However, if it is going to be a high traffic area, you must choose uniformly cut and smooth stones so that they are easy to walk upon.
Temporary layout of stones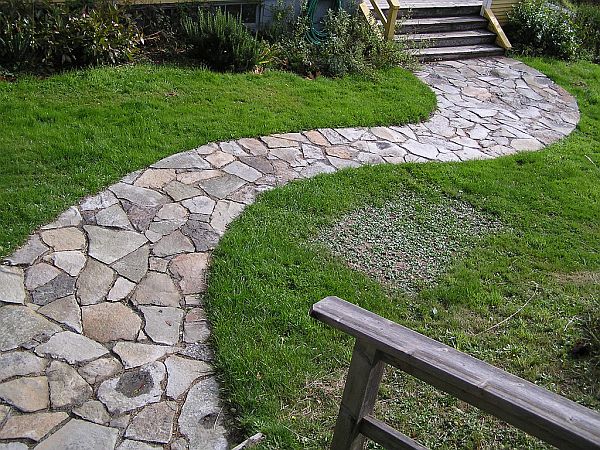 You must remember that you are not a professional or an experienced mason, so there is a big room for mistakes. To avoid mistakes, you should try out the entire plan temporarily, as in lay stones on the grass just as you would like to see the final design. You should learn one thing as a rule that two small pieces go with every large stone. You can make bends and curves or give it a straight appearance. Walk over the stones and check whether they are comfortable to walk upon or not. Mark the joint spaces and then go for the final placement of the stones.
Placing the stones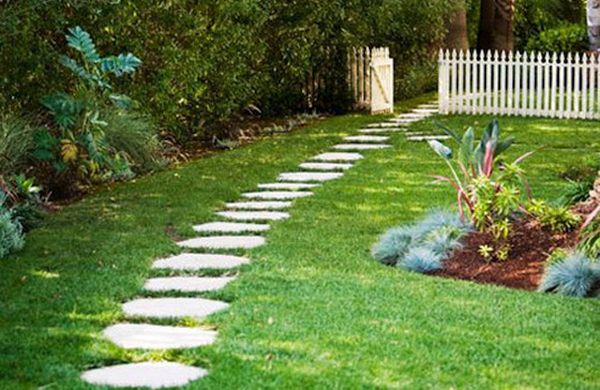 You will have to remove the existing lawn in order to place the flagstones. It is your luck whether you get an easy to remove surface or get a one wherein you have to toil much to remove it. Spread crushed gravel and then place stones on top.
If the stones you have chosen are thick then there is no need to spread gravel, as its weight is more than enough to keep it in place without moving. For the joints between the stones, you should try to put soil so that after some time grass grows in between. The grass growth certainly looks too beautiful and manages to keep stones in their place.
A flagstone path looks gorgeous in a garden. You can design one on your own with the help of basic knowledge required.