People living in small apartments always have to fight for that extra space when it comes to making their place look appealing and not cluttered. This forces them to delete many pretty decoration items, like beautiful vases, lamps, etc. from their lives just to make way for essential furniture items and other household products. An aquarium is one such thing, which consumes quite a lot of space but undoubtedly makes the space glow with its bewitching charm. Tetra Tank by Autumn Workshop is one beautiful aquarium that can double as a furniture item as well.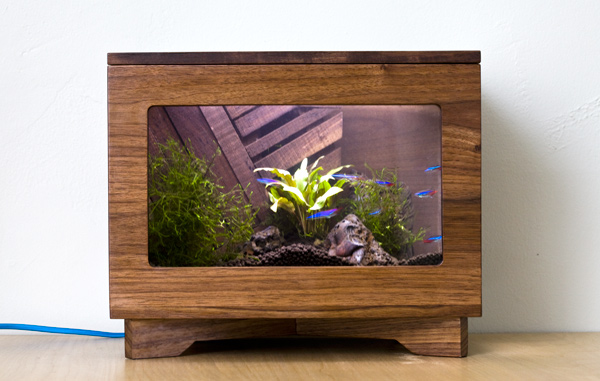 Tetra Tank is an enclosed aquarium, which works in a different way than its terrestrial versions. The cute looking aquarium has been fixed with a submersible filter, LED lighting as well as a heater that is submersible as well. All the parts present in the design have been put inside the frame. There are two switches in the design that further control the functioning of these components without much trouble. The heater and filter have been well concealed inside the frame, as these have been nicely placed behind the walnut screen which is a part of the Tetra Tank and is further is responsible for providing ample circulation.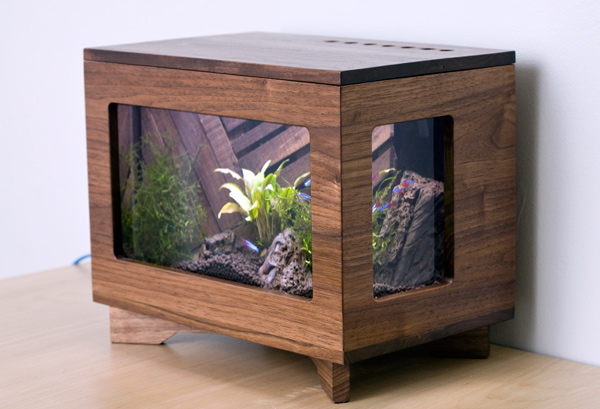 The top frame can act as a table, where one can place a variety of things while seeing fish swim from one end to the other. It also has a small compartment that can be primarily used to keep fish food in a neat way. Tetra Tank is a very interesting design, which will create a very sweet and warm environment as it unfurls additional space to keep your favorite things, like a lamp or a beautiful vase.
Via: Autumn-workshop