Some of us love to have that unique item in the house that we can show off to our guests. If you belong to the same category, then this post is definitely for you. World renowned for its unique range of luxury bathroom designs, Maison Valentina recently unveiled one of its most extravagant designs yet, the Newton Bathtub.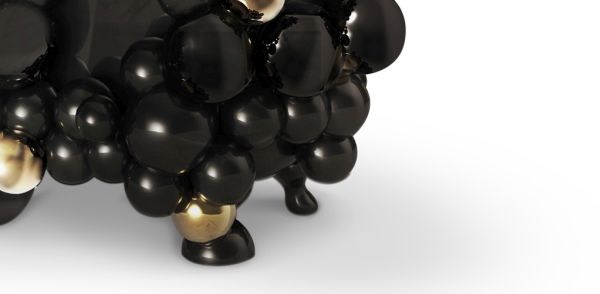 Design Features
The Newton Bathtub clearly seems to defy the laws of physics with a futuristic design that allows the bathtub to stand out from all other international designs as well as other futuristic forms.
The tub's unique design features a surface completely filled with large lacquer brass spheres. Complete with a high gloss varnish finishing, the spheres give the impression of the bathtub literally having developed giant sized bubbles on its surface. Near the bottom of the bathtub, there are some more gold plated spheres to break the monochrome look.
The elegant look of the bathtub and the use of gold plated decorations surely make the Newton Bathtub seem like an outstanding ode to the heights of inspiration. The bathtub would surely make a fine addition to the homes of those who are in search of the best in high quality, luxurious contemporary furniture design.
Customizable Features
Maison Valentina prides itself in the fact that is can customize nearly all of its designs for it clients. The Newton Bathtub is no exception. It can be made to measure and is available in different finishes that would appeal more to customers with differing tastes.
Design Inspiration
The Newton Bathtub was unveiled at the Maisonet Objet show in Paris along with several other extravagantly designed bathtubs from the same designer. The Newton Bathtub in particular, managed to grab a lot of eyeballs, thanks to its catchy design and elaborate decorations.
Like the Newton Bathtub, all the other bathroom designs by Maison Valentino are known for their bold and striking plans. They utilize only the finest quality materials as well as the highest level of craftsmanship and inspiration to transform into a range of unique bathtubs, washbasins, lighting solutions, mirrors and case goods. Their unusual designs make them stand out in any space they are used in.

The luxury bathroom brand Maison Valentina has unveiled its newest bathtub design called the 'Newton Bathtub'. With its unusual design and strikingly bold look, the Newton Bathtub would make a great addition to any contemporary home.
Source : MaisonValentina.Net