Times have changed and how! We have moved on quite a bit from the time we used to inhabit forests and literally lived in the trees. Today, nearly all of us have moved to more lavish lifestyles in homes, apartments and bungalows, etc. In doing so however, we have left behind our sense of freedom of movement, and have become a sedentary society that is least concerned of how to use our body freely.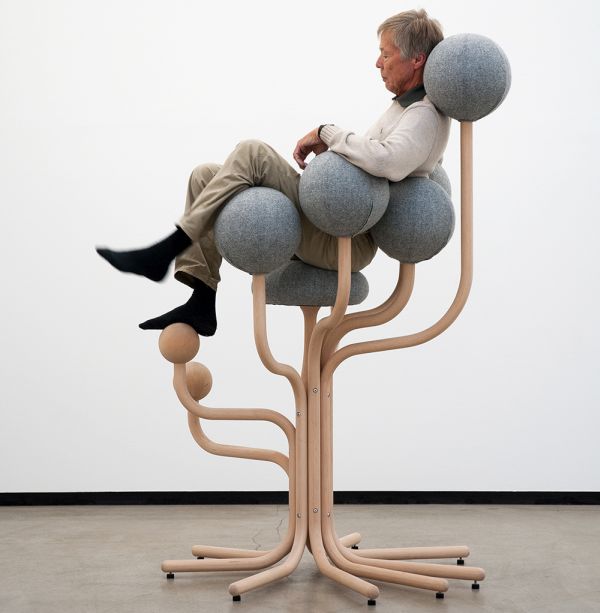 Innovative Seating Option
Perhaps, this is what furniture designer Peter Opsvik had in mind when designing the Glove Garden, an innovative seating option that would allow the user to make use of his limbs to the fullest when sitting on it. The Glove Garden is an inspirational piece of furniture that encourages you to not sit still or nicely, but just be yourself.
New Versions
Although its predecessor may have debuted several years ago, the new version of the Glove Garden made it to the headlines after being relaunched by Moment AB at the Stockholm Furniture Fair. The newer version of the chair comes with attachments that look like the branches of a tree which move downwards to form the legs aka footrests of the chair via a bunch of supporting roots.
Design Features
The Glove Garden chair comes with a high seating position that allows for better reach and ergonomics. It features a rounded seat and back which is shaped like a ball so as to support the upper body as well as the arms. The flexibility of the seat allows for a variety of sitting positions, each being more comfortable than the other.
Standing at a total height of 177 cm, the Glove Chair is made of beech laminate. The seat is fitted at 102 cm, thus making the chair a really unique, artistic object that would catch eyes for sure. The spectacular height offered by the chair makes it the perfect choice for public places like meeting points and forums, allowing the speaker to be more visible to everyone in the audience. As the chair's designer Peter Opsvik indicated, the Glove Garden chair would surely inspire individuals to rethink sitting.
It is time to rethink sitting with the newly relaunched Glove Garden chair. Designed by Peter Opsvik and showcased by Moment AB, the Glove Chair encourages individuals to take up a variety of positions while sitting on it. This in turn, would encourage maximum use of limbs as well as free movement when sitting on the Glove Chair.
Source : Knstrct.Com