Those who have desk jobs know how hard it is to remain stuck to the desk for hours on end. Thankfully, the Ken Desk can be a possible solution for these woes. Designed by London based designer Kenyon Yeh, the Ken Desk is the perfect desk for all those workaholics out there who simply don't have the heart to move away from their workstations.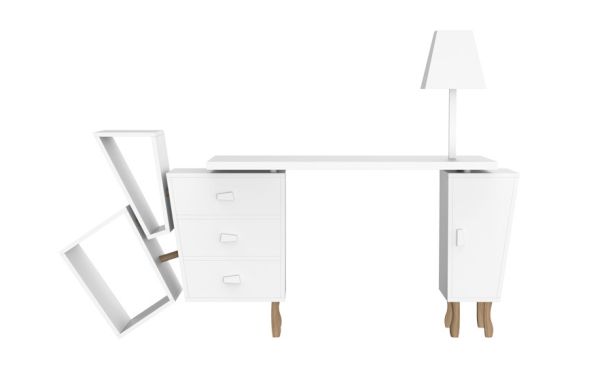 Coupling extraordinary looks with more extraordinary features, the Ken Desk is a unique work station that would stand out in any workspace.
Design Features
Just like any other desk, Kenn is designed to be a work desk that would fit any office or study room. However, it is the design aesthetics of the Kenn desk that sets it apart from other so called work desks.
The Kenn Desk has been made of wood. While the writing desk has been crafted out of de-structured wood, the legs of the table are made of natural. A matt white finish offers an elegant, sophisticated look as is needed for work desks in an office environment.
The dynamic desk comes with a variable length and myriad storage solutions. The variable length of the desk has been appropriately used to add in extra features, including extra drawers and cupboards.
Additional Storage Options
The main desk console features a standard cabinet, drawer and a shelf. The other additions come in the form of individual pieces that can be added and rearranged as per user specifications. This supporting shelf unit is available in two color variants, black and white. The supporting shelf unit can also be opened from both sides, thus increasing is versatility. A lamp placed on top of the writing desk allows for soft lighting for all those late night work schedules.
Design
The Ken Desk is a true form of art from Kenyon Yeh who is known for his unique masterpieces and has several renowned clients like Menu, Seletti, Harto and Bolia to vouch for his work. Yeh has been known to focus on lighting and furniture products in his works. The Ken Desk takes its inspiration from the need to minimalize the necessity of mundane everyday objects.
It stands as a perfect example of a design that combines varying production possibilities with modernistic manufacturing techniques to create characteristic as well as amiable products.
The Ken Desk is the perfect work desk for homes, offices and study rooms. Designed by Taiwan based product designer Kenyon Yeh, it features a standard work desk along with several additional attachments to increase the versatility of the space used.
Source : Kenyonyeh.Com