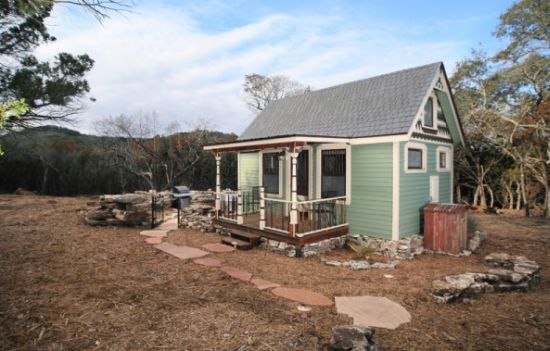 Today I saw this cute little Victorian house on my favorite blog. And, I just could not resist sharing it with. At the same time I thought I should also show you some amazing counterparts of the house, but that's after the jump. First thing first, from Tiny Texas Houses, this Victorian house is 12'x20' and is located in Canyon lake, Texas. With a rounded loft front, it has been installed with 1800 circa metal roofing tiles and has a new ladder design. The warm interiors of the house are just too good. This house also reminds us of how we do not need a lot of place to living. The tinier the living, the better it is for us and the environment.
Brad Kittel, the owner of the company says, "I also believe we don't need as much space as we have become accustomed to in this country. Therefore I have created Tiny Texas Houses to demonstrate just how great it can be to downsize our carbon footprint, simplify our lives, and live in a house with a soul that will be energy efficient as well as beautiful".
This house is just a representative of the amazing repertoire that lies in store for you. Tiny Texas Houses is one company that uses salvaged and renewable materials in the making of its houses. The company and its houses has been in news for a long time now. And, for all the good reasons, which you know by now. These tiny houses cannot only be used for living, but also for various purposes like studio and bed and breakfast. See the images below to see various models of Tiny Texas Houses.