Although the year has just started and Christmas is over, it does not mean that the trends will come to a rest. Every year, there is always something new hitting the market that makes up a trend for the next one year. The same is applicable to Christmas decorations. We have compiled a list of some of the best and unique decorations and DIY ideas that were found on the internet which were definitely a stand apart. The beauty of these decorations is that they are not just restricted for the Christmas season, but in fact, you can change and mold them the way you want so that they suit any festival. Let us look at some of them.
Making welcome boards with the Christmas Wreath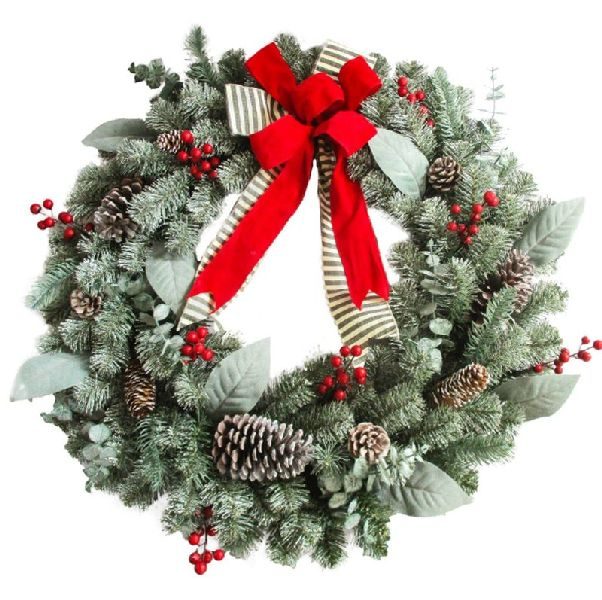 For people who host Christmas parties in their houses, this idea will definitely work well. You can make your very own signboard to welcome your guests. For this idea, all you need are a few large/medium sized wreaths, some paint, old wooden planks and a few minutes of your time. The Christmas wreath was used as a part of the decoration on the signboard. This was used as a replacement for the letters that had a circular kind of look like O, A, B, etc.
Making wooden sledges and decorating it
A few people went ahead and did a great job with their decorations. One such idea that flooded the internet was the sledge made from wood. Not only that, evergreen leaves (natural or even artificial) were used to decorate these sledges. They were complemented with mistletoes, ribbons and Christmas ornaments as well. Without a doubt, this was a unique way to set the mood for Christmas.
Decorating the front porch with red ribbons and green streamers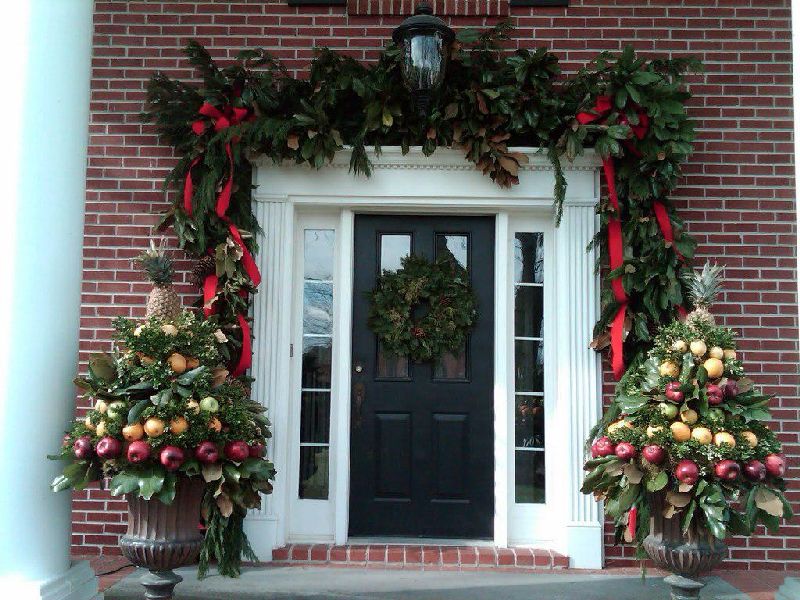 Another beautiful way that people decorated their homes was using Red ribbons with green artificial leaves streamers. These decorations were seen in areas like the front porch, the driveway and even various other parts of the house from the outside. Some of them even combined the string lights to go along with the theme.
Using pots and wooden logs to make snowmen and garden gnomes
In some parts of the world, the white Christmas was not a benefit that people could enjoy. Nevertheless, the spirit of the season did not fall short. Differently sized white painted pots were used to build a nice snowman. Some people also used wooden logs and painted them in different ways to make their garden gnomes match up with the festival.
Using differently sized evergreen trees as a planter option for your front door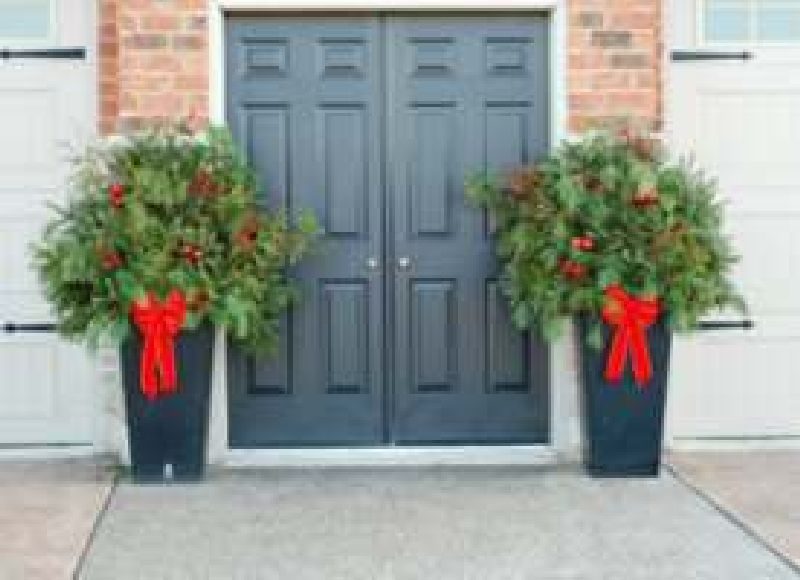 There is no doubt that evergreen trees are ideal for all seasons. During the Christmas season, many homes decorated the front door with different sized evergreen tree planters. This not only blended into the theme of Christmas but also, in fact, made a beautiful addition to the house decorations. Along with that, they also went ahead and decorated the planters with Christmas ornaments, streamers and other such ways to make them look beautiful.
Concrete blocks to make them look like gifts
The unique idea of converting concrete blocks by painting and decorating them to look like gifts was another perfect outdoor decorative idea. These blocks were placed near an artificial Christmas tree to give that special finish. In some places, they were used to decorate the driveway or entrance of the house with LED light bulbs placed on top of it.
Making large sized ornaments with old tires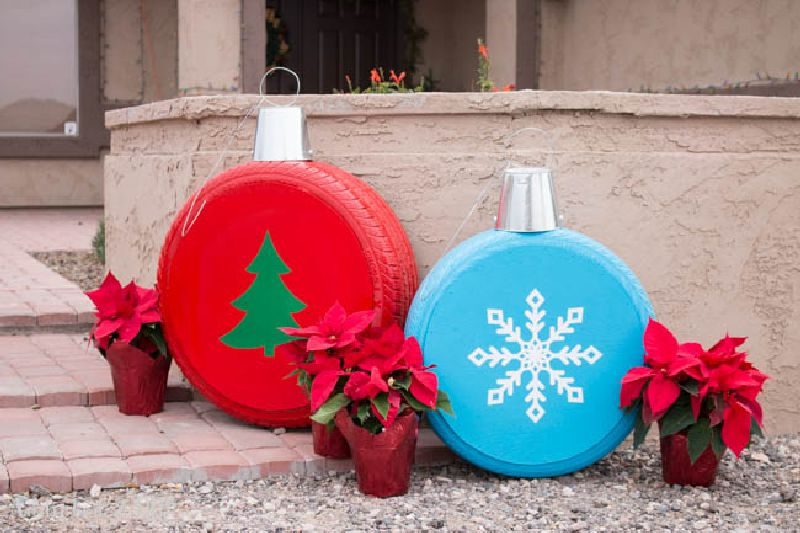 With the growing concern of environmental damages, some people took their Christmas decorations to a different level. The whole recycle and reuse concept was seen beautifully when some homes hand in large-sized ornaments made from old rubber tires. They were not only painted in different colors but for uniquely designed to suit the mood of Christmas.
Using wooden planks and string lights to make a Christmas tree
Another way that people care for the environment and chose to go all-natural was by reusing their old wooden planks. These wooden planks were cut into various sizes and arranged to replicate the Christmas tree. What made this idea more interesting was the use of the Christmas ornaments to decorate the planks. Indeed, we can say that many people did have an eco-friendly Christmas for the year 2017.