Furniture companyEfasma has teamed with Bureau De Change Architects to launch a truly unique collection of dining chairs and table, complemented with a coffee table and a room divider as well. The unique furniture range was showcased by the company at the 100% Design Show in London this year.
The Design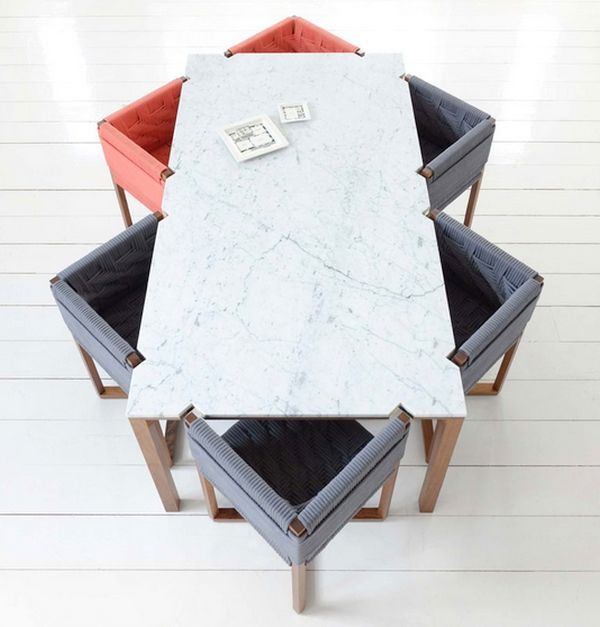 The new furniture range from Efasma features natural materials that have been artfully combined with traditional techniques and the local craftsmanship of basket weaving. The distinctive feature of the furniture range is the way the designers have made use of the crafted slotting system to carefully and artfully slide every piece of furniture into place.
The cut-out edges on the dining table surface allow for the Efasma chairs to slide into the table, almost looking like they had been pushed into the edge of the table. This allows for a more modernistic appeal to the furniture which is otherwise mostly traditional.
Materials Used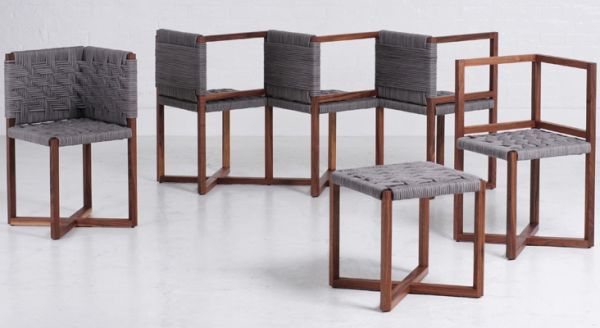 The new Efasma Furniture range is made entirely of natural materials and hence, is ecologically friendly. While the frames for the chairs have been made of walnut wood, the tabletop features a majestic marble slab that would offer depth and richness to the arrangement. Timber has been used to make the coffee table, table and room divider.
The handwoven chair seats feature 100% cotton rope that has been painstakingly handwoven by the country's numerous weavers and basket makers. The single piece of cotton rope is used to bind the individual chair frames, offering them more rigidity and stability in the process. The richness of the handwoven design is further amplified by the clean, graphic forms that make the design stand out.
The marble table top of the dining table features slots that have been cut out at appropriate intervals. These slots are where the dining room chairs will slide into the dining table. This makes it easier for one to store the chairs appropriately to maximize the use of free space. The end result is a visual delight that is truly and mesmerizingly beautiful as well as comfortable for users.
Efasma has teamed up with Bureau De Change to launch a new range of furniture that is aesthetically beautiful as well as functional. The furniture range features dining chairs, a dining table, a coffee table and a room divider. Made of natural materials like walnut wood, timber and cotton, this furniture range is ecologically friendly, thus adding more value to its name.
Source : 100PercentDesign.Co.Uk