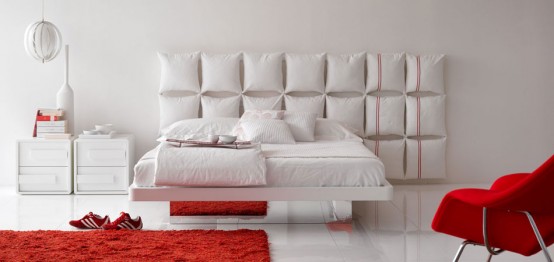 A right headboard is a key piece of furniture that can make or break the entire appeal and look of your bedroom. A trendy, stylish and contemporary headboard can add an element of fun and uniqueness, thereby making a bold statement in your personal space.Where simple designs can be chic and elegant, more complex ones impart a more dressy and gaudy get-up to the whole backdrop. With a wide range of options available in this segment, it has now become convenient to transform a simply done up room into a more trendy and modern looking space, without making it heavy on your pocket. It gives you an opportunity to play with colors and themes by choosing from simple yet fabulously upholstered ones, to more trendier options like utilizing a painter's canvas and carpet tacks for a rustic headboard.
Unusual and Creative Headboard – Pixel By Olivieri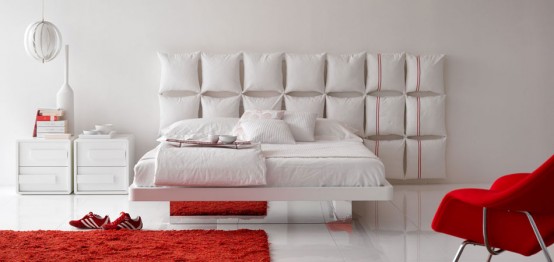 Price: On request
Pixel by Olivieri is an unusual-looking cushioned headboard which is connected with the help of clips and the composition of which can be altered and organised as per the user's wish. It is made out of high quality cotton and is available in a variety of hues depending on the bed finish opted for. The most attractive creation in this collection is the white lacquered one with a mirror pedestal bed base. This unique and creative idea is a perfect combination of coziness set against an ultra modern design, just appropriate to fit into any contemporary backdrop.
What's unique
Its pillowed headboard looks awesome. Being clipped on to the board, these cushions can be arranged in any composition and can also be utilized to comfort and relax oneself while lazing in bed.
Butterfly's wings headboard Design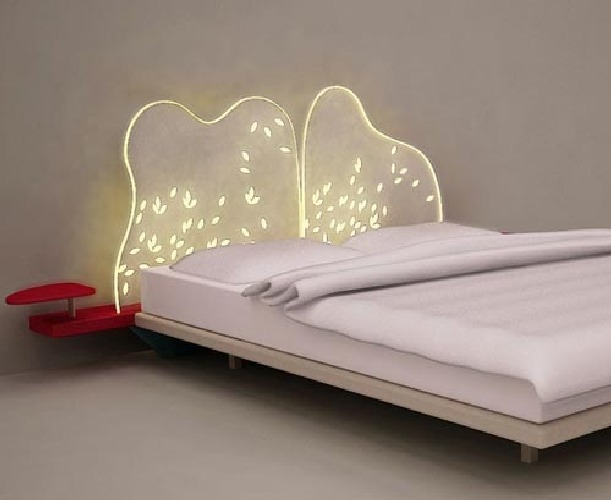 Price: On request
Inspired by the beauty of a butterfly, the designer created this beautiful and elegant headboard design resembling the wings of a butterfly in an attempt to translate its metaphysical dimension of dreams into reality. It has been crafted out of clear acrylic and has been supported by painted shelves. The entire design creates a mesmerizing bright and dreamy atmosphere within the room premises which is quite unique and captivating. To add an element of utility and also to reduce the intensity of brightness reflected by the wings of the creature, one can place a book case behind the headboard.
What's unique
The wing shaped headboard has been created in a manner that it glows and reflects light at night, thereby sufficing the need of a night lamp as well.
Unique Italian Furniture Beds Headboards by Bozlan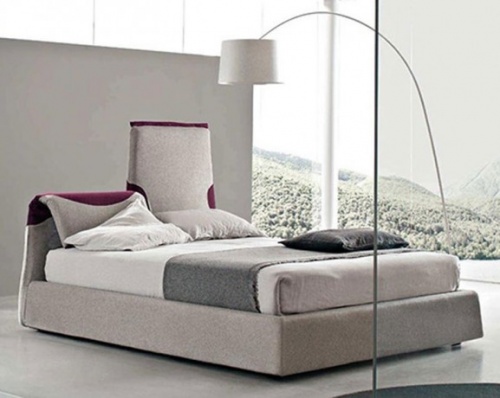 Price: On request
Keeping in mind the activities that most of us indulge in before going off to sleep, a group of Italian designers named Bozlan have come together to design and create this exceptional and unique headboard which eases you off while performing activities in bed like reading a book or watching television or working on financial statements of work etc. Most of the beds have stiff backrest which leads to back pain but this multi-functional headboard is fully cushioned which provides you with a more relaxed and comfortable setting by placing your muscles in a more conducive and relaxed posture when reading and doing other activities at bedtime.
What's unique
This Italian design headboard has been built with a pillow which can be bent to rest and relax your body as per your choice while watching your favorite programs on TV or while reading an exciting book before catching up with your sleep.
Unique Headboard Design by Chelsey Bowen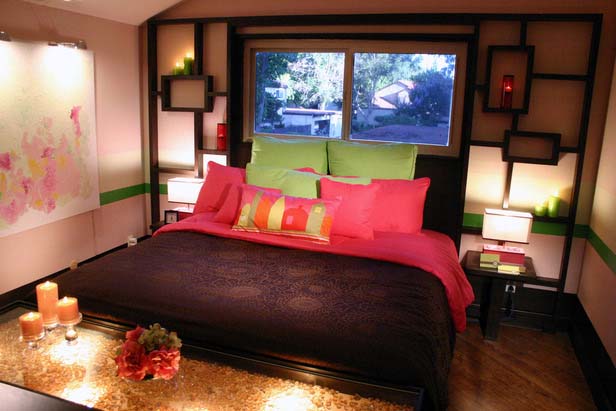 Price: On request
The design, motifs and color options, if carefully and smartly coordinated, can create a magical headboard which can alter the very interior design pattern of a bedroom, just as opted by designer Chelsey Brown. Using smart options like a beautiful painting as the focusing router and layered style beds, well blended and synchronized with headboard wall shelves, has enabled him to create a dramatic and artistic appeal within the room. The designer uses bright color scheme pattern which has helped him in drawing the inspiration for the special effects and features imparted to this creatively done-up headboard.
What's unique
The beautiful textures of the layered style bed have been well complimented with wall shelves of different dimensions on the headboard of the bed which can be used for displaying attractive decorative pieces and even for storing books for bedtime reading against a contemporary line concept.
Super Cool Modern Unique Headboard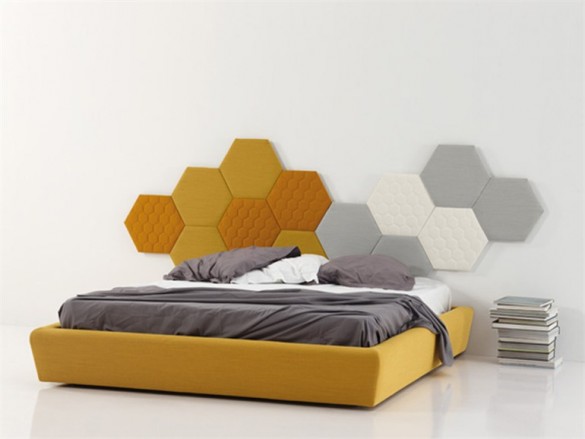 Price: On request
A super-cool design concept which best describes the youth of today, this headboard design is sure to steal the heart of millions of the present generation all across the globe. Created to attract and allure the cool fanatic freaks of today's modern world, this headboard design is a remarkable modern-style art-work, a very cool concept indeed. It consists of eight squares in a hexagonal pattern available in many different colors and hues, capable enough to brighten up any contemporary backdrop.
What's unique
The modern sense of being cool is well conveyed with this abstract design pattern. Just by churning your grey cells a little and adding this strange modern design element to the headboard, a simple and ordinary looking bed can be easily converted into an ultra-modern furniture piece, without having to spend too much on it.
Comfortable headboard by Angelo Tomaiuolo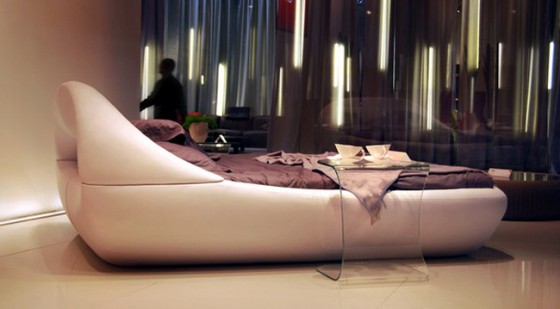 Price: On request
Designed by Italian interior designer Angelo Tomaiuolo and manufactured by Tonin CASA, this upholstered bed is just ideal enough to gel within any contemporary house. The base of the bed, along with the headrest, has been upholstered and cushioned using fabric or eco- leather in different finishes. A minimalist glass addition can further enhance its beauty and harmonize well with the design of the bed. The king size dimensions of this unique furniture piece is quite impressive which comfortably suits large bedrooms and the quality incorporated within it transmits guarantee and durability par excellence.
What's unique
The unusual shape of the product's headboard has been sculpturally wrapped in an attempt to impart it an originality of its own.
Bristol Queen Headboard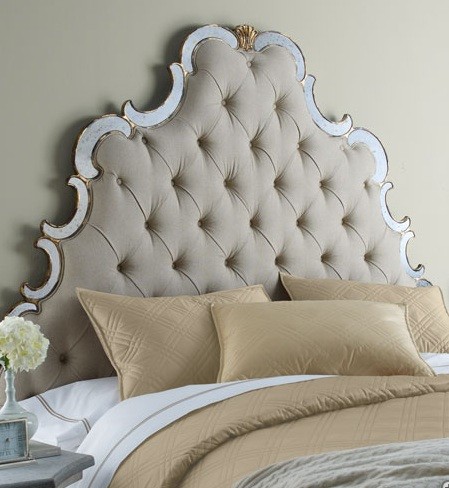 Price: $ 1,329
If you love to live life king-size, this royal looking bed with a decorative and sparkling headboard is the perfect choice for you. A product from Horchow Furniture, this broad dimensional, regal tufted linen headboard in medium taupe has been edged with twirling antique mirror and wooden accents along with a touch of hand painted golden streaks as highlights. The entire creation is a combined effort built out of solid hardwood, mirror glass and linen. The dimensions of this extraordinary headboard is 80″ in width, 4″ in depth and 82.875″ in height.
What's unique
Apart from adding an element of aesthetic beauty and an essence of royalty to your bedroom, this attractive looking headboard even provides for a comfortable and relaxing backrest while reading a book or watching television just before dozing off to sleep.
Ming Hand Painted Black Lacquer Headboard with Mountain Landscape Design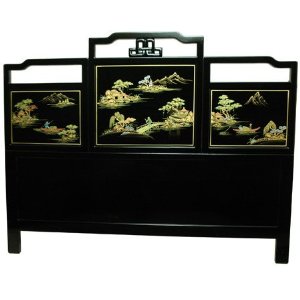 Price: $549
Created and marketed by Oriental Furniture, this beautiful headboard in timeless design concept, inspired by the Ming Dynasty, has been made using classic Asian mechanism for the joinery, and is finished in stunning black lacquer-coating. Crafted out of Rosewood and decorated with extraordinary hand paint in gold to formulate a daub mountain design, this stylish headboard design bed is sure to add an essence of natural beauty, dressed in picturesque landscapes, within the four walls of your bedroom.
What's unique
This piece of art has been created in three different designs namely Triptych 3 Panel Design, Attractivie Geometric Key Lattice and Hand Painted Mountain Landscape Art. Also, each design is available in four different sizes to choose from as per space availability and personal preference of the buyer. The height, however, is standard for all.
Dynamic Headboard– Oasis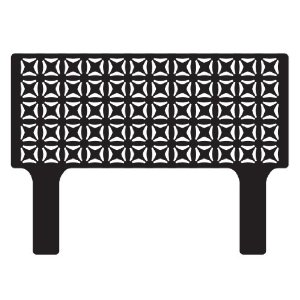 Price: $793
This beautifully carved OASIS design king-size headboard by Dynamic Headboards has been made out of 100% Post-Consumer Recycled Plastic & High-Density Polyethylene, by using High pressure water-jet cutting technology which gives it a sturdy and durable effect and is capable of transforming any boring bedroom into a more lively interior space.The dimensions of the headboard measure 29.9″ in width, 0.4″ in thickness and 22.8″ in height.
What's unique
This bed design with a spectacular headboard is extremely light weight, thin, space-saving and non-toxin, which is just the appropriate pick for today's urban dwellers who always have constraints of space within their small apartment houses and are on the look out for compact, trendy and stylish furniture pieces.
All Bookcase Headboard in White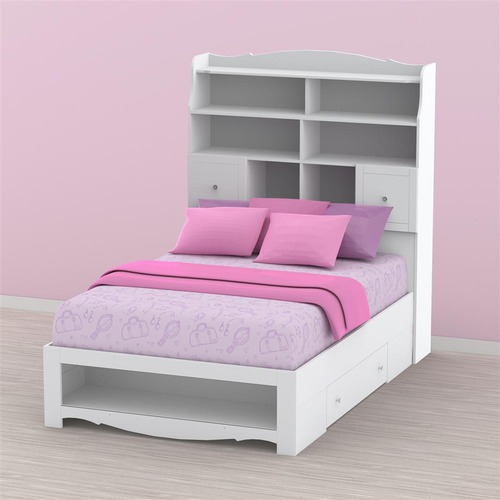 Price: $614
A product from the Pixel collection by Nexera, this beautiful white headboard dispenses multi-tasking features and lets your young barbie-doll store all her valuables and precious belongings in a more organised and stylish manner. Manufactured in Lacquer/melamine white finish, this headboard consists of two closed storage compartments and six open shelves in addition to one top shelf with metal handles. It forms part of a highly functional, spacious and stylish bedroom suite which can completely enthrall any young teenage girl.
What's unique
This particular headboard design is available in many dimensions to comfortably gel with 39″ and 54″ bed sizes. The design features a dual dresser with bookcase hutch and a unique bookcase desk which can be conveniently clubbed with the bed or used as a standalone.