Are you looking for unique ideas to renovate the kitchen? It is true that kitchen renovation is required as you need to create more space to keep it organized. A kitchen is one of the crucial areas in your house for most of the activity.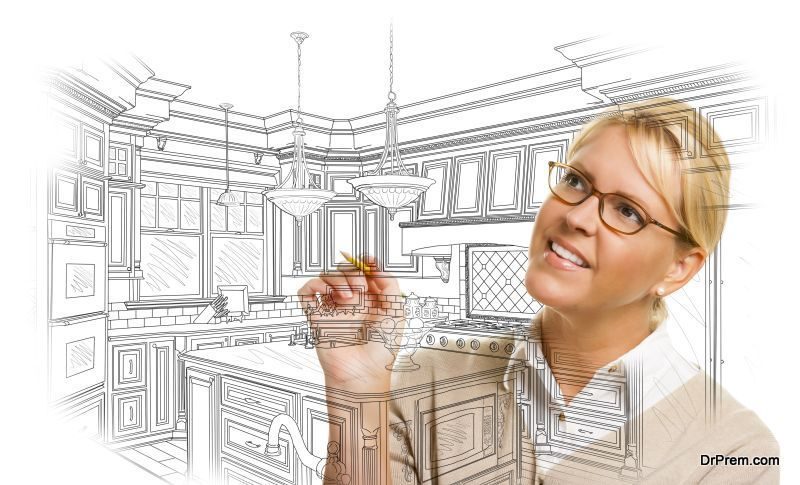 Most of the homeowners are renovating the kitchen to make their kitchen look beautiful and more organized. You can renovate your old kitchen and create your dream kitchen with the following ideas discussed below.
If you are renovating the kitchen for the first time, then you need to know some unique design ideas for remodeling your kitchen. Here are some useful kitchen renovation tips which you need to implement to achieve a modern and stylish kitchen:
Create a good design without splurging: You can renovate your kitchen even after retaining the original layout of the kitchen. Invest on cabinets and shelves on the walls to keep the counter top clean. Start remodeling your kitchen in the existing layout to increase productivity and comfort within your budget. Make sure you cover the flooring while renovating the kitchen to protect it from any damage. You can save from burning a hole in your pocket if you retain the old flooring while remodeling.
Color coordination:Colors have a great impact on one's eyes and mood, so it is important to choose the right color paint for the kitchen. If your kitchen is too small, then use light color paints like white or cream, to make the room appear bigger and more spacious. Generally, light color walls reflect more light than dark color walls. If you want a funky kitchen, then paint images of fruits and vegetables on the kitchen wall to give a quirky look to the room.

Spot lighting:Lighting is an important factor in the kitchen, so find places where you can placethe spotlights to highlight the important areas of the room. You can use wall-mount lamps to brighten the place where you need to work like areas near the sink and stove top. This is one of the important ideas for your kitchen as it gives a new dimension to your kitchen.
Work with shelves and cupboards: You can give a new look to the kitchen by painting the cabinets and shelves instead of replacing them. If you want you can keep the retro look of your room with stainless steel sink and metal cabinets. Look for a smart kitchen storage like the upper cabinets where you can shelf your extra crockeries to create more space in the kitchen. However, if you have a small kitchen opt for open wall shelves as they create a sense of space. You can get frugal kitchen shelves with a simple use of brackets and plywood. Always remember, there is beauty in simplicity, so try out these kitchen renovation tips.

Opt for stylish backsplash tiles: Backsplash tiles in your kitchen can change the entire look of the room, and the same time protect walls from messy splashes. You can play with the colors on the backsplash tiles like bold colors, mosaic pattern or look for an old wood barn style.
Storage forthe appliances: You can store away the small appliances in the cabinets. You can keep them out of sight and at the same time keeping them handy by creating some space in the cabinet. The cabinets can hide all your home appliances making your kitchen look more spacious.

Mix and match your kitchen furniture: You can add a little color to your kitchen witha bright red color rug and steel stools. If you have chosen pale colors for kitchen, then add that zing with some bright color furniture. You can either opt for wood or steel furniture for the kitchen to get the trendy look of this season. Avoid stuffing your kitchen with furniture and keep it as simple as possible.
Go green: You can place different fresh herb pots in your kitchen. This can be your small kitchen garden from where you can pluck the leaves of the herbs and use them in your food. Place small pots on the kitchen windowsill as they look stylish. The best part is that the fresh green herb will clean the kitchen's foul odor and make the room look fresh.
These are a few basic ideas for your kitchen you can keep in mind to renovate this area of your house. You can simply achieve a stylish kitchen my making it look bright and cozy as it the ideal mantra for renovation.