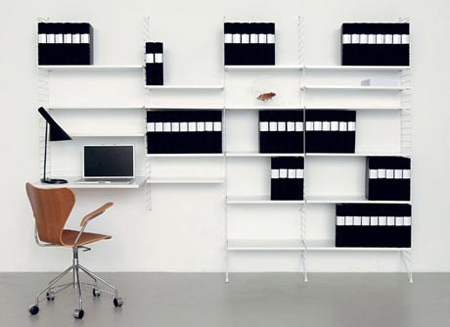 Storing books and other items around the house can be made easier with the use of shelves, which are neatly mounted on walls. These mounted shelves are more contemporary and are a great way of displaying your literature and other favorite collections without hindering space. You can even change the location whenever you feel like it. They are not only pleasing to look at, but also are very practical and more lightweight than free standing shelving units or bookcases. Let us have a look at some of these fabulous wall mounted shelves, which come within reasonable budget for your home.
Colorful hillside modular shelving system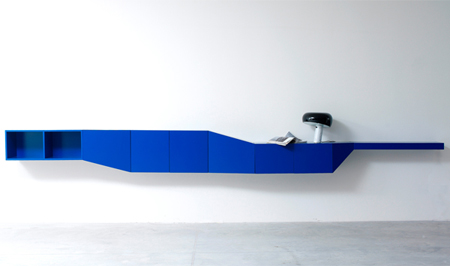 This is both an interesting and efficient looking shelving system designed by Claesson Koivisto Rune for the Arflex Company. This chic looking wall mount has been inspired by hills and valleys to form unique shelving units with individual cabinets placed together. You can opt for colors such as blue, yellow, red or black to brighten up the look of a room without taking up much space.
Wall mounted system from Atlas Industries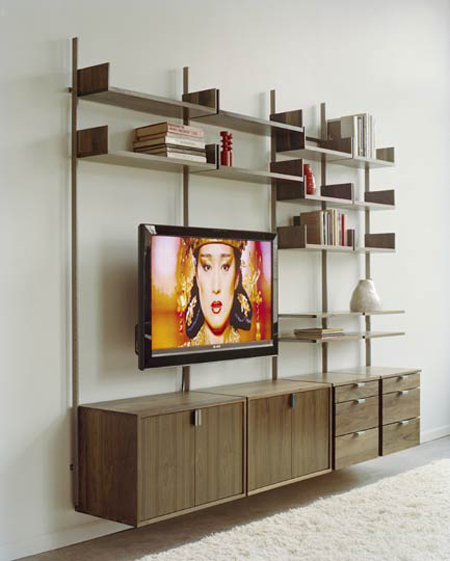 This is a unique shelving system with hand crafted components and configurations, which can be set according to your choice. The shelves and drawers are made of solid hardwood and dovetail joint construction with overall solid steel structure. The level of craftsmanship and the quality of the material used is apparent in the beauty of the design, which is very versatile.
Magnetique shelf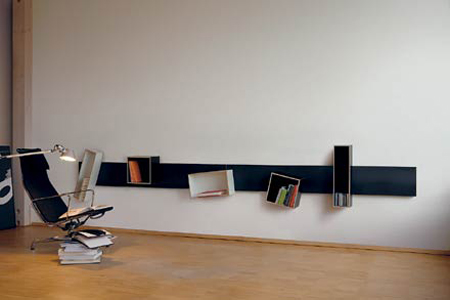 This is truly amazing as you can arrange the shelving boxes any which way you like it, whether in the vertical or horizontal way. This shelving unit has been designed by Nils Holger Moormann, this shelving unit had been made out of birch plywood and sheet steel boxes. The boxes have extra strong magnet foil on the backsides, which helps to stick to the wall attachment. This can enable you to keep changing the size, number and arrangements of the boxes as the way you like it. You can get different results each time with your rearrangement.
Recto Verso: Flexible, wall mounted bookshelf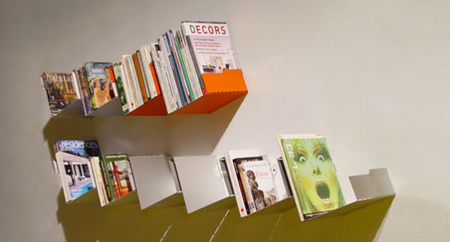 This shelf can be mounted on the wall in two different ways and is made out of aluminum, created by Krizalid Studio. Following the assembly line, the shelves can be bent by hand along the seams with 2 mm perforated sheet of anodized aluminum. The aluminum adds a touch of class to these shelves as well as being eco friendly and recyclable. The color choice comes only in aluminum foil and its dimension when laid flat is 1312 x 230 x 2 mm and when folded, it is 594 x 230 x 215 mm. These shelves, which are almost invisible, are unique pieces of art by themselves.
Trendy shelves for audio video components


This BWS-101 component wall system is perfect for holding your audio video components in a most trendy way. Specially designed by Bell'O International, the makers of innovative home theater furniture, this wall system is gracefully crafted to complement your flat panel TV in style. It has two shelves, which are capable of holding 50 pounds each, despite its sleek look. The system comes in a paintable panel as well as with decorative wood panel finish. This flexible wall system has extraordinary versatility in its design and color. It is slated to be launched in July and will be priced at $299.99.
Tentacle multifunctional and modular shelving unit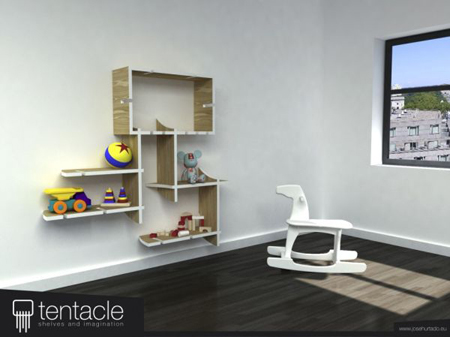 This shelf has been designed by Jose Hurtado and can take up various forms to cut down on monotonous style. The basic structure is made from pine wood and mounted on the wall and has several simple shelves. The structure has various slots for fitting in the shelves according to the user's fancy. The basic structure made of pine measure 36 x 60 x 20 cm and the shelves, which are also made of pine, measures 60 x 20/50 x 20 cm each. The beauty of this shelf lies in the fact that it can be used as clothes cabinet, display case and various other forms as the need arises. The structure can be given a fresh form of appearance whenever the user wishes to change it. This shelf has a pleasing appearance altogether and is very compact in its space requirement.
Nisse Strinning's string shelving system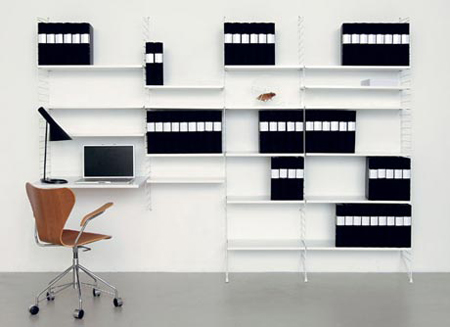 This string shelf system has been updated this year since it was last designed by Nisse Strinning in 1949. It has been given more options and new colors which is discreet and distinctive. This shelf is suitable for large and small spaces and is lightweight, flat packed and easy to assemble. It can be easily expanded with the addition of more shelves according to the requirement of the individual.